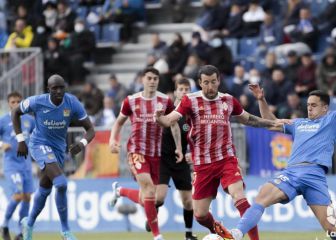 La Ponfe catches wings and sinks Fuenlabrada in a crazy game
First part of alternatives, but with few scoring chances and little football. He began dominating Ponferradina with the ball, some timid arrivals and above all, many lateral centers from the wings. Naranjo tried it with a first low centered shot and from then on, Fuenla went from less to more. Those of Sandoval joined lines to close spaces and take advantage of the cons. And so came the two goals of the match. The first was put by Kante after a run from the left and the second by Bouldini after a good drop inside the area by Mikel Agu. So we went to rest.
The second half didn't have much history until the 85th minute. Fuenla had the game under control. The Ponferradina could not get too clearly, although a penalty revised by the VAR in favor of the ponferradinos was the clearest occasion. I would fail Orange after a great stop by Belman. Bolo put in the field the best he had yen the 88th minute, almost unintentionally, Enrich closed the gap. 7 minutes of discount were added, but we would go until 101. In 92 Pascanu tied the game and in 99, after a clear chance from Fuenla, with the team and the goalkeeper up and after Pascanu had taken a ball under the sticks, Dani Ojeda caught a lethal counter to make it 2-3 and unleash the madness.
Fuenla would be left without a goalkeeper in the 100th minute after Belman's expulsion due to the desperation of the result and the match was taken by Ponfe, which sinks Fuenla further at the cost of approaching the promotion playoff.
[