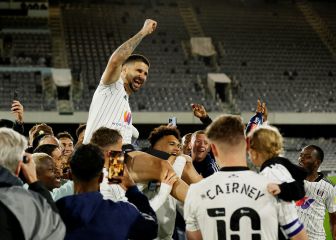 Craven Cottage vibrated one more night with his team. Fulham swept Preston North End 3-0 in the first half and confirmed their return to the Premier League. A round trip after relegation less than a year ago, on May 10, 2021. But the 'cottagers' recovered, and since the beginning of this campaign, they have become the leaders of the Championship.
So, With four games to go until the end of the English second division, Fulham have collected 86 points that place him as the first of the classification and allow you to promote directly to the Premier League being 13 points above Huddersfield, in third position, which forces them to play promotion playoffs.
In the last five years, Fulham has chained relegation with promotion from the Premier League, where he has not managed to stay for more than one season. "It's the epitome of a yo-yo," they humorously summarized in The Times, but the London team wants to break that dynamic, and has entrusted that task to Aleksander Mitrovic.
The proper names of the ascent
Mitrovic has been the best player in the Championship this season, and if there are any doubts, just take a look at his goals: 40. A record in the silver category of English football, where Fulham has been far superior to the rest of its rivals, largely due to the role of the strong striker.
But Mitrovic has not been alone, and if it had not been for the Serb's whirlwind of goals, another of those who could have competed for the 'Player of the season' of the Championship would be Harry Wilson. A midfielder as precious as he is effective, he arrived in west London in the summer and has scored ten goals and 14 assists. so far this season.
Although if we talk about proper names, we must also mention Fabio Carvalho. The Anglo-Portuguese pearl is the clear favorite for the EFL best young player trophy (English Football League) and has dazzled even Jürgen Klopp himself, who will sign him for Liverpool next summer. He already tried it in winter, but hiring him was frustrated at the last minute, fortunately for Fulham, who is already in the Premier League.
[