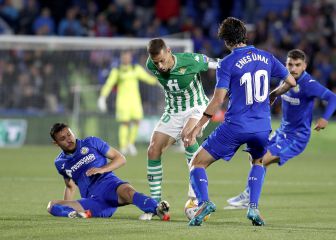 Syria: He made a good save from the start to Pezzella's header and settled everything else with authority. Another day at the office.
Damien: The record man continues to do his thing. He successfully competed with Álex Moreno, whom he surpassed in his own field. Haia forward he dared little.
OK: Thrown to the right wing, he played a great game as a central defender without any problems. Few complications with the ball and safety without it.
Mitrović: Sufferer from below, winner from above. Again he was a good defensive boss with authority and no serious mistakes.
Djene: Once again it was the definition of a defender. He was not outmatched by anyone in heads-up play and he exerted total dominance in his area.
Olive: He tried to launch an attack to scare his opponent, but his teammates couldn't find him. Approved without highlighting.
Arambarri: More than an orchestra conductor, this time he had to solve problems. very well positioned and with some dangerous starts. Good.
Oscar Rodriguez: He started very uncomfortable with the team thrown back and he appeared more over time without standing out. Good job and little shine for his level. Replaced.
Maksimović: His level of pressure and intensity balanced in many cases the technical superiority of Betis when Getafe had the worst time. With the ball he did not stand out.
An I: A day of struggle without success. He did a great job without scoring chances. For what is customary, it was a discreet game.
Borja Mayoral: He did a magnificent job of ppression and defense. In attack, his thing, he started with good unchecks and did not find his space.
Aleñá: He looked for the ball a lot with some good action. Little time and a lot of travel for his game.
Sandro: He entered the field with a tremendous desire. Good effort that he did not find chances.
Florentine: Minutes of good work without excellence. Good placement and little participation.
[