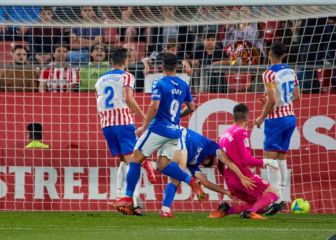 Tenerife assaults Montilivi and takes a giant step towards the Play Off
Tenerife has prevailed in its visit to Montilivi thanks to the goal of Mario González in the final moments of the first part. The Ramis set, which is confirmed as the best visitor of the categorypulled from craft and defensive solidity in a second part where Girona looked for a tie in every possible way.
Both teams tried to endanger their rival with a bombing of lateral centers. In one of them, Mario González was ahead of Juan Carlos' exit to score the only goal of the shock.
Right on the next play the first controversial action took place. Arnau received an elbow from José León in the area that neither the referee nor the VAR considered punishable. Shortly after, Larrea he had to leave the field due to a knee injury.
In the second half Girona squeezed like a charm. arnau He tried his luck on several occasions, but he was not successful. Either Aleix García hanging the actions from set pieces.
The clearest was Stuani finishing from the small area a death pass of one's own Alexbut Meillot, with more than half the ball inside the goal, he threw himself to the ground to save the goal. The Girona players protested, but the ball did not completely cross the line.
In the final moments of the game, the island team was able to increase the lead in several counterattacks in which it was not successful. Even so, he did not suffer more than necessary from the siege of a Girona that will have to suffer to ensure a Play Off that could mathematically seal Tenerife next week.
[