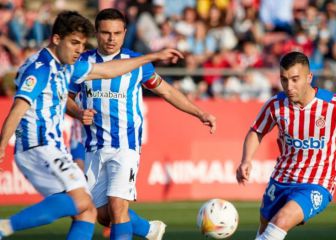 Girona's scoring duo wants direct promotion
Girona beat Real B 2-0 thanks to goals from Stuani and Nahuel Bustos in the second half. The job of the Girona team allows him to place himself six points from direct promotion and leave evicted to a Real B who barely shot on goal once in the entire match.
There was little noteworthy in the first part. beyond a great Zubiaurre stop a stone's throw from Baenathe goalkeepers hardly appeared. Lobet Y Stuani they did not find a goal in two clear actions.
The match was uneven with a dubious penalty by Urko González on Stuani that the Uruguayan striker himself was in charge of converting. 18 goals to match Stoichkov and Borja Bastón.
Nahuel Bustoswho received the award for the best player in March, made the sentence on the counterattack. Real Sociedad B, practically harmless in the rival field, could not do anything else to take a few points that would allow him to dream of a salvation that becomes impossible.
[