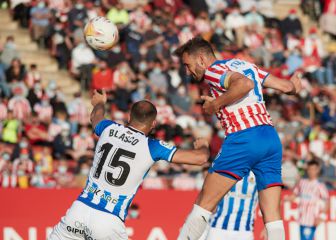 The Girona aim high. The rojiblanco team surpassed Real Sociedad B with as much clarity as ease and in the city the illusion of direct promotion is unleashed. It is only six points behind Almería, second, thanks to goals from Stuani, from a penalty, and Nahuel Bustos and the sensations that Míchel's men give off mean that they must be taken into account in the fight to climb. Instead, the Donostiarra subsidiary looks dangerously into the abyss of the First RFEF. It has the permanence already at ten points.
And that the day did not start well for a Míchel who was forced to reinvent his starting block due to the last-minute absences of Santi Bueno (he suffers a left adductor injury) and Aleix García. Arnau formed the third central defender and Valery was the right-handed lane. The latter was the most incisive rojiblanco player in the first half and thanks to his appearances, Stuani enjoyed two good chances. Girona was more established on the pitch, tried to punish each error of the reserve team in the ball coming out from behind and Álex Baena was at ease. The midfielder, at 38′, had a good opportunity, but a Zubiaurre emerged that kept a Real Sociedad B standing with no glue and in which Lobete and Navarro barely met.
Already in the second half, Girona raised the level, put more vertigo in their actions with Arnau and Valery as assistants and, andn the 53rd minute, Stuani made Zubiaurre shine and, in the 57th minute, Iván Martín ran into the post. The rojiblancos then smelled the rival's blood and there is no one better to bite than Stuani. González de Zárate fell into the trap of the Uruguayan striker and knocked him down inside the area. Penalty and goal. Stuani already adds 18 this course. The people from Girona, with more than half an hour of the game ahead of them, prepared to sleep the duel but arnau he did not want. In minute 84, he still had the strength to go on the counterattack and provided perfect assistance to a Nahuel Bustos who did not fail in the heads-up. The perfect icing for a Girona that is rising again.
Changes
Jon Ander Olasagasti (63′, Luca Sangalli), Pol Lozano (66′, Valery Fernandez), Jon Karrikaburu (72′, Julen Lobete), Nahuel Bustos (75′, Stuani), Biel Farres (76′, Alex Baena), Samuel Saiz (81′, Borja Garcia), German Valera (84′, Urko González), Robert Lopez (84′, Robert Navarro)
goals
1-0, 62′: Stuani2-0, 83′: Nahuel Bustos
cards
Referee: Oliver De la Fuente Ramos
VAR Referee: Eduardo Prieto Iglesias
Borja Garcia (27′, Yellow) Juanpe (31′, Yellow) Henry Clement (37′, Yellow) Alex Alone (52′, Yellow) Jonathon Gomez (76′, Yellow
[