The British firm wants a farewell in style for the emblematic 12-cylinder engine. That is precisely the reason why we know today the new Aston Martin V12 Vantage limited edition. We are talking about the fastest and most powerful Vantage ever created, something that can be guessed only with a first look at its aggressive bodywork.
On the front they are novelty a 25% larger grill to improve cooling, a more prominent front splitter and a ventilated 'horseshoe' hood. The bodywork has been widened and they have incorporated 21 inch wheels with satin black or satin black diamond finish. There are other lighter ones that subtract 8 kg from the set.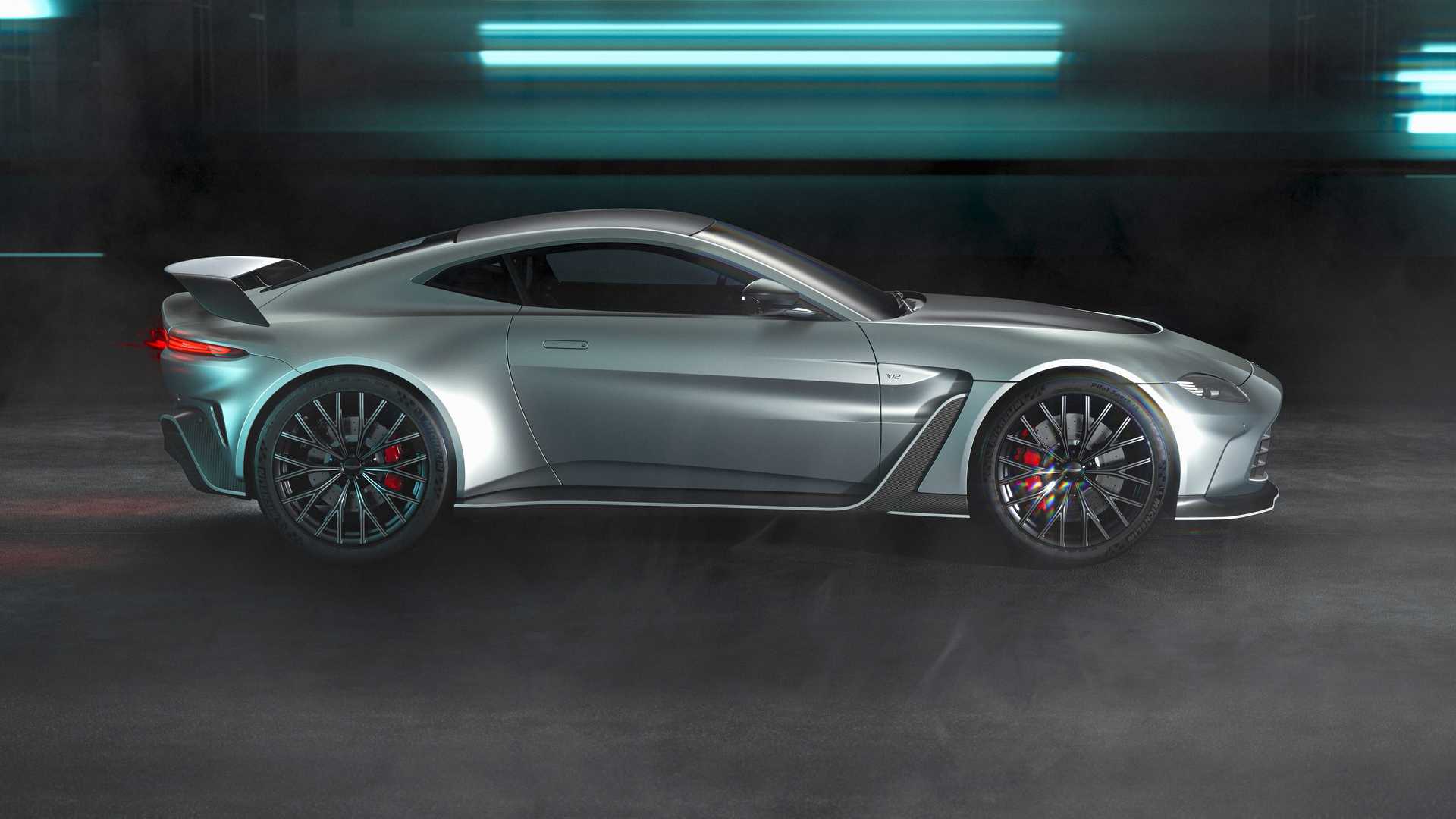 Aston Martin's Q division offers a wide range of customization.
At the rear, the huge spoiler allows for a 204 kg downforce at top speed. If you are not convinced, calm down, Aston Martin allows you to remove it. Finishing off the set are painted brake calipers, smoked taillights and blacked-out exhaust tips. No less interesting are the multiple elements in carbon fiber.
The interior does not bring many changes, but yes trinkets interesting. This is the case with the V12 badge on the center console or the Sports Plus semi-aniline leather seats with heating and electrical adjustment of 16 positions. They are joined by a sports steering wheel, gloss black trim, lightweight floor mats and an Alcantara headlining.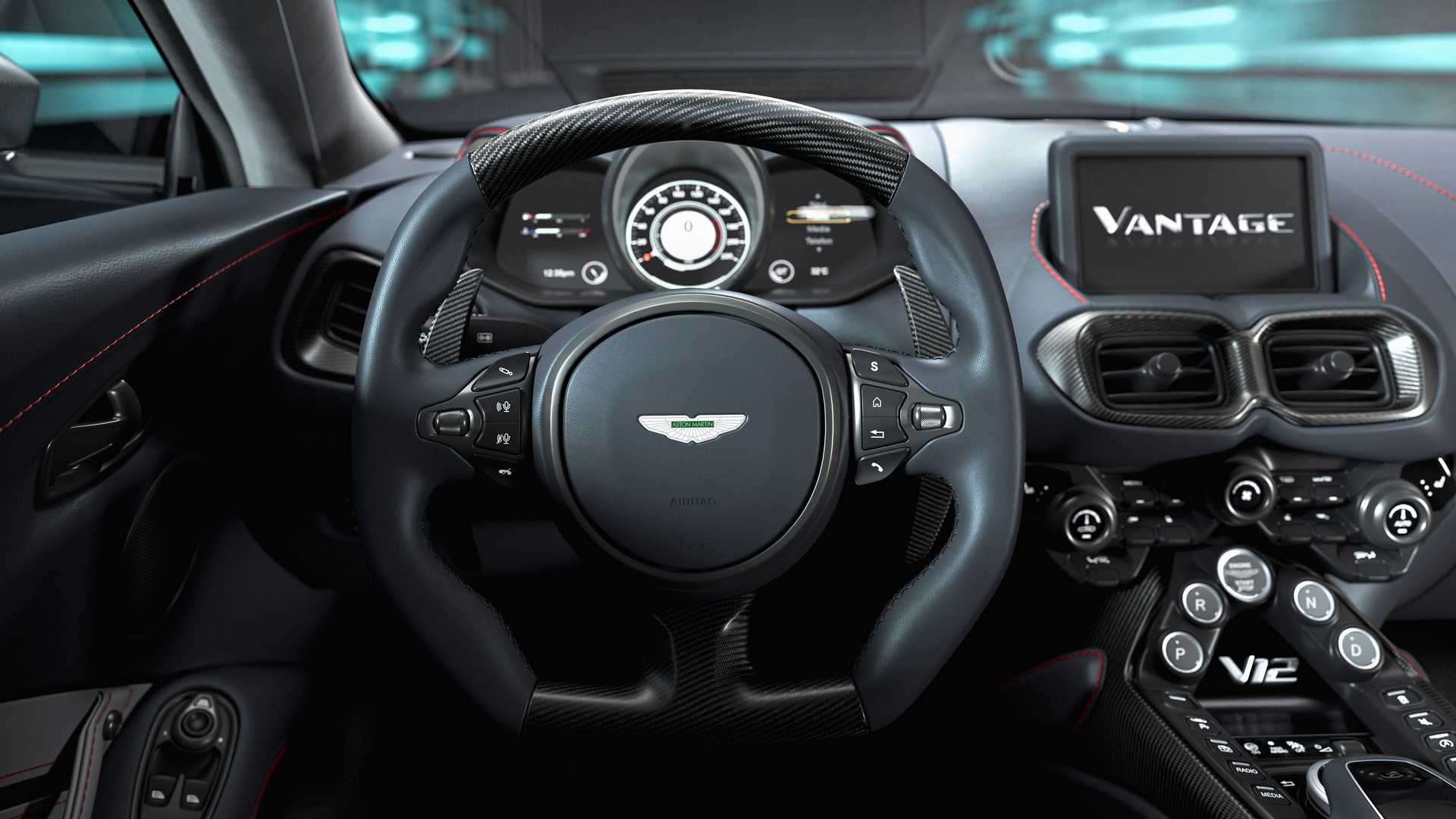 The multimedia system has a size of 8 inches and are offered multiple comfort options. We can opt for an audio system premiumcarbon fiber trim, carbon fiber racing seats with an exposed carbon fiber shell (reducing weight by 7.3kg) and the various 'Q' customization options.
The Aston Martin V12 Vantage is a 700bhp beast
Production will be limited to 333 units worldwide. All of them are equipped with the powerful 5.2-liter V12 biturbo engine. This time it produces an unreasonable 700 hp (515 kW) and 753 Nm of maximum torque. In essence, that's 190 hp (140 kW) and 68 Nm more than the V8 Vantage. Thanks to this, it completes the 0 to 100 km/h in 3.5 seconds and reaches 322 km/h.
We must bear in mind that the new Vantage V12 boasts a power-to-weight ratio of 390 hp (287 kW) per tonne. To drastically reduce weight, it equips a series of carbon fiber components. This is the case of the hood, the front bumper, the front fenders and the side sills.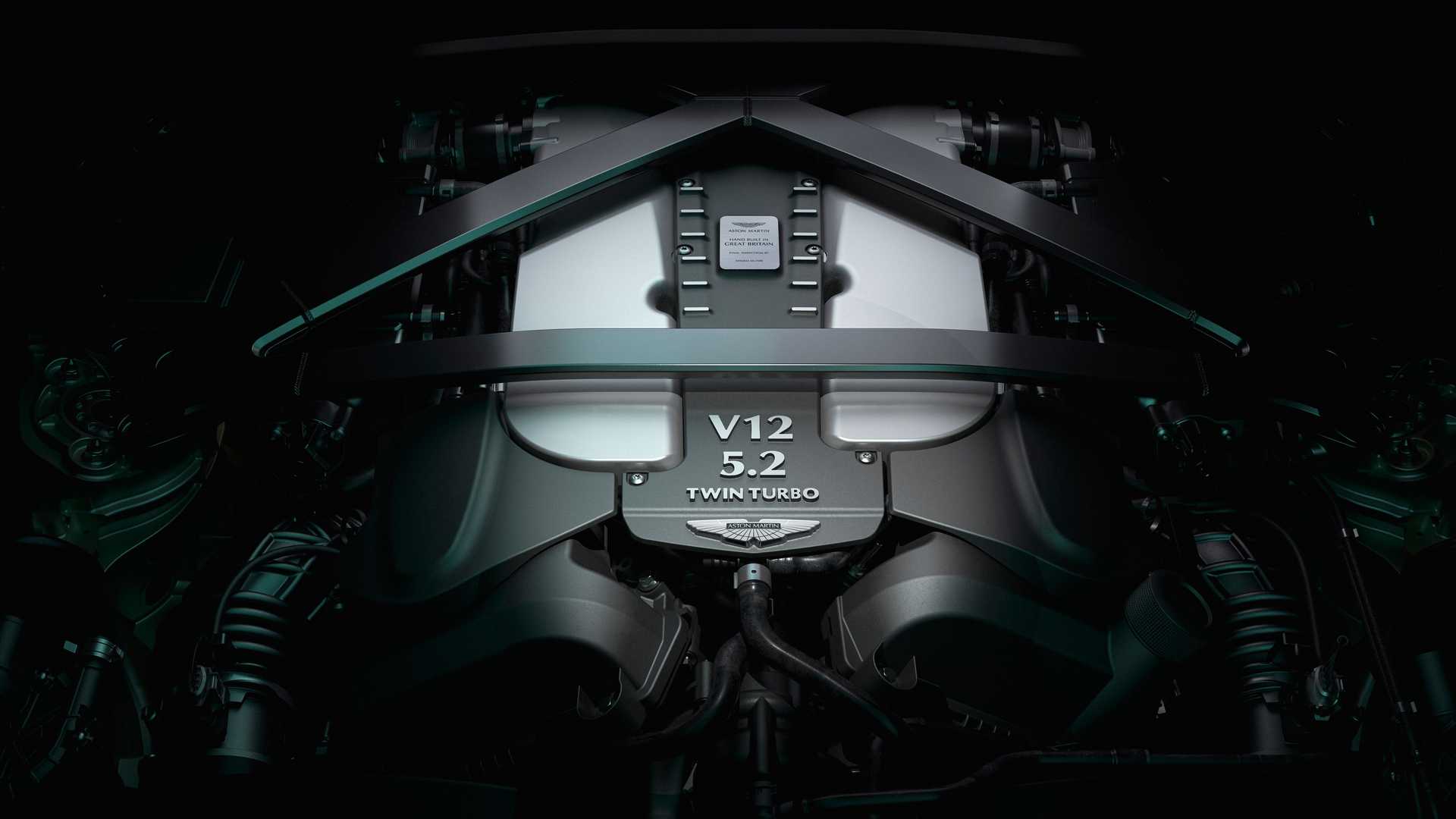 They're joined by a composite rear bumper, a lightweight battery and a center-mounted dual exhaust system. The latter is made of lightweight stainless steel and reduces the weight of the Vantage by 7.2 kg. we see series eight-speed automatic transmission like that of the V12 Speedster and the Vantage F1 Edition.
Aston Martin claims to have introduced a single calibration which improves responsiveness and interaction with the driver. It also promises to be in the right gear at the right time, as well as being more refined.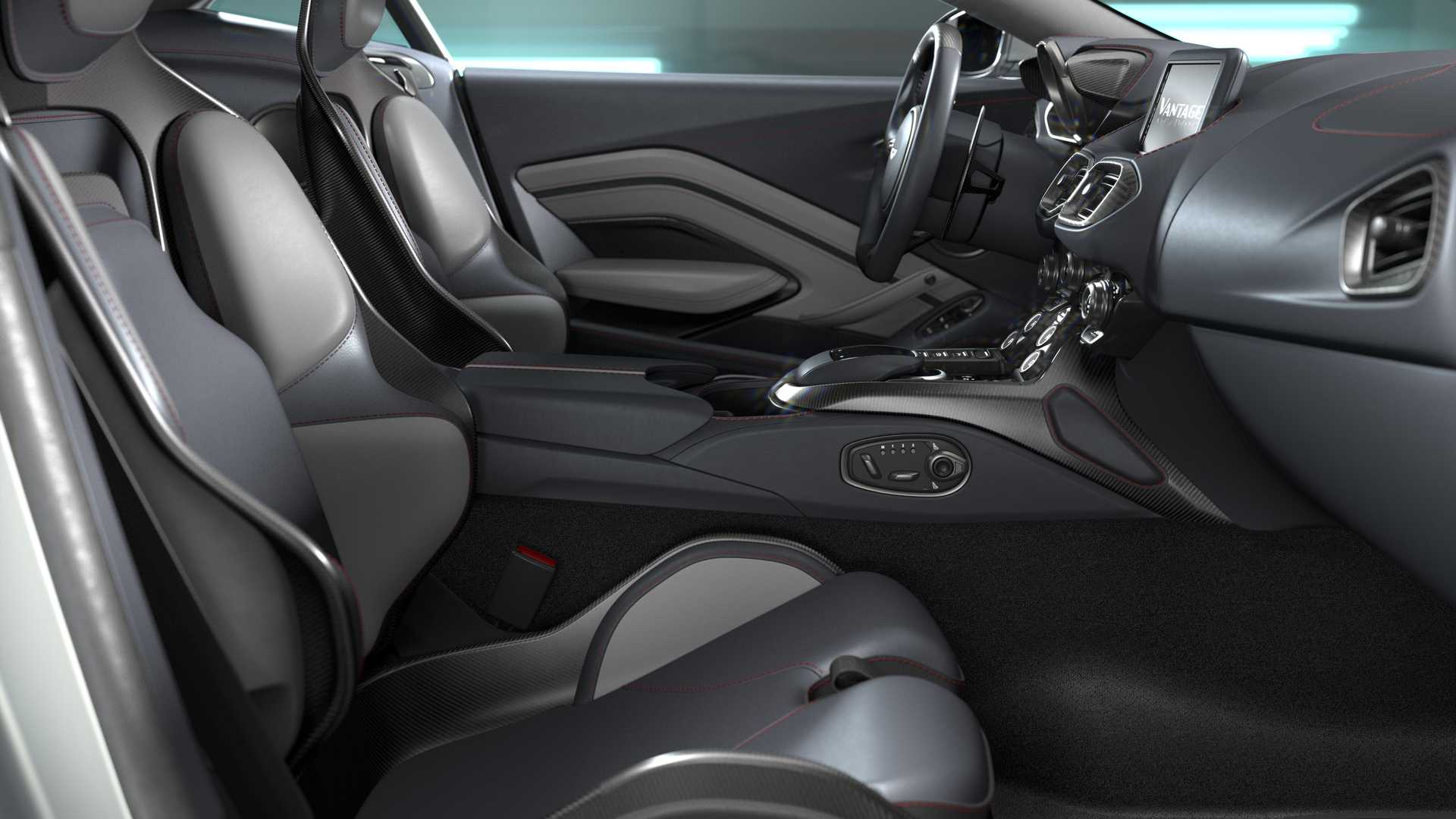 Inside the Vantage V12
The Vantage V12 has also been equipped with a new adaptive damping suspension. The changes are numerous and include new bushings as well as stiffer springs (50% front and 40% rear). They are joined by new roll bars that are 5% stiffer in the front and 41% softer in the rear.
The sporty also gains a rear secondary auxiliary spring. Body stiffness has increased by 8%, while lateral stiffness is up 6.7%. This has been achieved thanks to the addition of new panels, a rear suspension strut and fuel tank reinforcements. They put the icing on the cake limited slip differential and a recalibrated steering system.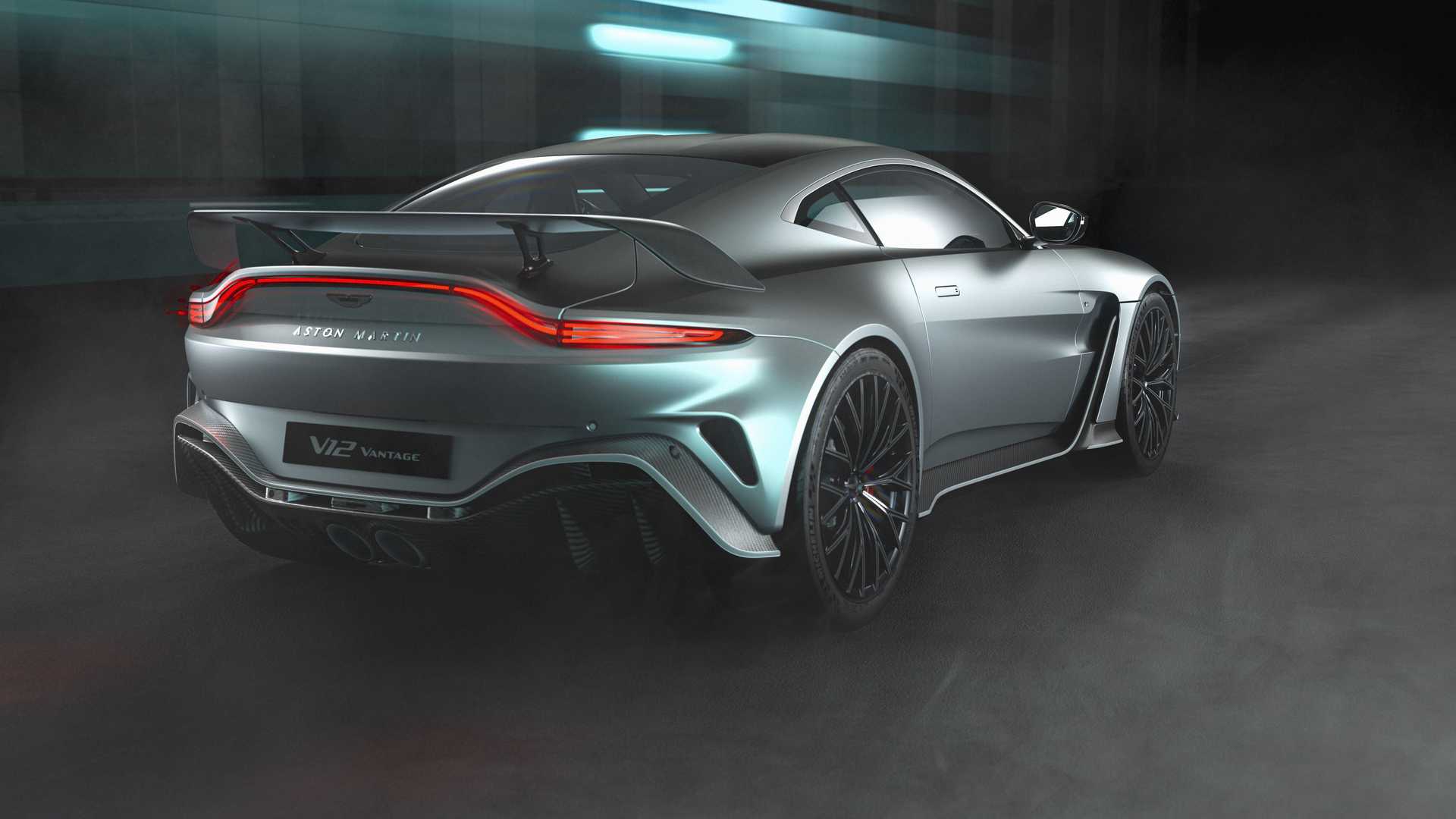 For the brake system, the engineers have resorted to a system of carbon ceramic brakes. Save 50lbs weight and resist fading at temperatures up to 800 degrees. The system features six-piston calipers that grip 410mm front discs; while four-piston calipers bite into 360mm rear discs.
Image Gallery Aston Martin Vantage V12