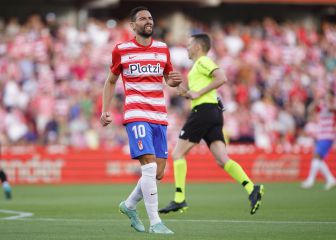 a drama. This is how the match ended in Los Cármenes. Granada arrived as the best placed to achieve salvation, but did not do their homework. He had to win to be able to stay, without more, without looking at the rest of the fields. But Espanyol put on a good game against a Nasrid team weighed down by nerves and pressure. He even missed a penalty in Jorge Molina's boots. An afternoon that started as a party ended in drama. Granada returns to the Second Division…
Granada came out wanting to solve their salvation in their field. Without looking at others. Without suffering for what happens in other fields. That impetus, initially, worked. Suárez did not get to a free ball, Puertas, after a steal from above, met Molina's save and Vilhena avoided Suárez's shot. However, as the minutes passed and the ball did not enter, Granada faded away. Little by little, Espanyol gained possession and reached Maximiano's area. The goalkeeper had to prevent Melamed's goal. The nerves gripped the legs of the Nasrids and the parrots did not finish looking for the Granada goal either. The night was still twisting half an hour when Milla, the team's helm, was injured. Another handicap for a team that was weighing heavily on them and the pressure of risking relegation. Melamed did damage and Maximiano had to prevent the goal from the youth squad, Petrovic also intercepted a great advance of his. And, in the final stretch, Granada was reborn again with a dangerous foul and another shot by Molina that Diego López caught.
After the restart, Mallorca's goal tightened the legs even more if possible. Granada was still alive, but just barely. And Espanyol was the one with the ball, they reached the rival area and had the best chances. Granada was once again the ghost of a month and a half ago. Without soul. Without faith. And with great anguish. The minutes passed looking at Vitoria. While Maximiano continued to support his team and Diego López lived in peace. The parakeet occasions followed one another. Until, andn minute 69, Hernández Hernández was called by the VAR for a handball by Cabrera and the referee awarded a penalty. Jorge Molina took the responsibility, but the one from Alcoy sent the ball directly out. While Vitoria, Cádiz scored. Granada had to score yes or yes. But the nerves took their toll, the inaccuracies, the rush and the lack of impetus prevented Granada from even approaching Diego López's goal. Time passed very quickly for the Nasrids who, in discount time, enjoyed several corners and even a ball hit Bacca's post. But the afternoon, which began as a party, had already turned into drama. Granada returns to the Second Division well after two historic seasons with the first classification for Europe.
Changes
Eteki (32′, Luis Milla), Myrto Uzuni (60′, Luis Suarez ), Oscar Melendo (72′, Melamed), wu lei (72′, Embarba), Goals (84′, Eteki), bacca (84′, Njegos Petrović), German (84′, Alex Collado), Didac (87′, Tony Vilhena), lime (87′, David Lopez), Luca Koleosho (89′, Javier Puado)
cards
Referee: Alejandro Jose Hernandez Hernandez
VAR Referee: Ignacio Iglesias Villanueva
Squire (86′, Yellow
[