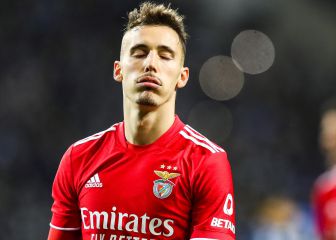 Alejandro Grimaldo is in the portfolio of several big clubs and his season, even without having been able to win any title with Benfica, is what he argues. He has recently entered the ideal XI of the campaign for WhoScored and with 7.3 he is the best winger in the Portuguese league according to said portal. His data this season in Portugal are fantastic: five goals and five assists. In the Champions League he did not score, but he left three assists.
For Olocip, an artificial intelligence company, the performance data is equally as high. He is the 2nd winger/winger (also includes footballers who play a little ahead on the pitch) in the Liga NOS who has had the best performance this season. With his total actions (offensive, defensive and game construction) he has contributed to Benfica generating a difference (score/avoid) of more than 9 goals than expected.
In game construction (Total passes, passes from set pieces, band passes. Successful and unsuccessful. Driving and second plays) has been the player with the most impact in the competition. Compared to the top 5 leagues and the value they have generated per 90′, Grimaldo is the 3rd best winger in Europe this season with a value per game of 0.35. With his total actions, he has caused Benfica to score/avoid a goal every 257 minutes. Perisic (Inter's lane) needed 214′ and Nuno Santos, 230′.
Comparing him with the Spanish left-backs, he is the footballer who has had the best performance. Especially striking is the comparison with the international sides of Luis Enrique. Unlike Grimaldo's 257 minutes to score or avoid a goal, Jordi Alba needed 300′, Gayá 428′ and Marcos Alonso 529′. At this point it is necessary to differentiate the goals (quantity) they have scored with the impact they have had on the team (value), that is, how they have contributed with their actions to their team scoring/avoiding a goal. Both positive and negative actions are taken into account here.
[