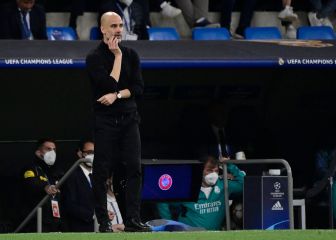 After being defeated by Real Madrid and staying out of the Champions League final, Pep Guardiola appeared at the press conference at the Santiago Bernabéu with a sad face. "The Madrid players had experienced it, we had not experienced this", explained the Manchester City coach, who suffered a new comeback from the white team.
On whether it's his toughest loss: "I had very tough defeats in Barcelona with Chelsea… We were so close… In this competition it's normal. In the second half we played better. We found the game good. Unfortunately, we didn't achieve our goal."
Recuperate: "We have time now, these days before the end of the week. We were really close but this happens in the history of sports. We have been dominated by many problems created by them."
The psychological factor: "The Madrid players had experienced it, we had not experienced this. We were brilliant throughout the tie, but this is about who scores the most goals".
How he lived the minutes of the comeback: "We were suffering harassment from Madrid. We knew that they had done it in their history and they have done it to us. When we were better, they came from behind".
In Movistar

Loss analysis: "In the first half we didn't have a game and when we had it the best… We had it 2-0. There was no need to waste time, we had it under control. They have put a lot of people up front and they have found the goals".
Was it seen in the final?: "No, not from experience in this field, but we had them very close. They had to score two goals, but they are capable of doing it, their history says so. Congratulations to them and to Liverpool."
City football: "It's a hard blow, it's normal. But we lacked play in the first, we didn't have continuity. When we were better…".
Did he deserve more?: "I don't know if we deserved more. It is what it is."
Are you missing the Champions?: "I don't know. I'm very happy here. We've done great things, we missed out at the end. We're still here, we'll see in the future."
On TNT Sports
How do you explain the defeat? "In the first half we didn't find our game but when we found it we did it. First goal and then the second… We weren't there".
Did you get to see yourself in the final?: "I didn't suffer, but they found the goals and I congratulate them. Even in the 89th minute I didn't see myself in the final because I know the Bernabéu. We also had the opportunity to score the second, but what happened in Manchester happened again today. Now Liverpool and Real Madrid are in the final and we are going to have some bad days.
[