On February 12, 2021 we enter the Year of the Metal Ox, so perform these rituals according to your Chinese horoscope for abundance and prosperity.
Happy Year of the Ox 2021! CContacting your inner power to overcome blockages is what the Ox cycle offers in the Chinese New Year, as well as seeing in challenges an opportunity to evolve.
Here you can discover your Chinese horoscope: How to know which one is yours and what does each one mean?
You are stronger than you think and in 2021 you will find out!
You will find the tools to keep your body, mind and heart full of vitality. The first step? Stay active, as hard work brings rewards.
The second is to plant your feet on the ground, do not base your decisions on assumptions!
The third is to stabilize yourself; After what collapsed in 2020, it's time to rebuild and get it right, as the Ox doesn't like cheating people. And do not forget that all the unconditional help you provide, the universe will return it to you with a shower of blessings. Be empathetic, feel the pain of others and dare to become a channel of light and abundance. Good luck!
Do you want general rituals? Here are rituals for the Year of the Ox 2021 that you can do at home.
Tips to succeed
1. 2021 will flow slower than expected, so it is not recommended that you accelerate, thus you will avoid hindering the processes.
two. Try not to do anything that goes against your essence, as you will get unfavorable results. Be TRUE to your values.
3. HAVE FUN! Remember that life is not just work. Doing so will help you relax your mind and strengthen ties with your loved ones.
In 2020, the headlong Rat transformed the world and forced you to see life from another perspective
The challenges faced helped you get away from the superfluous and be aware of what is important. Now, in the year of the Ox, focus on new goals and strengthen your spirit. Do not waste time on the banalities of the past, if you work in a dedicated and constant way in what corresponds to you, without a doubt, you will touch success.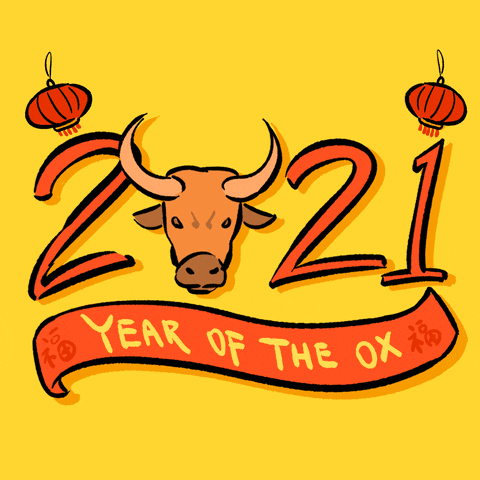 On February 12, 2021, with the new moon, the year of the Metal Ox will begin and will end on January 30, 2022.
To call good luck
• Gold and silver jewelry will be your charm for good fortune. Use them on important dates.
• If you want to attract money and abundance, launch a navy blue wallet.
• Place chrysanthemums in your home for wellness and health.
Your key rituals according to your Chinese horoscope
To feel fuller, happy and grow in all aspects of your life.
RAT
What do you need for your goals to materialize? Once you recognize it, light a golden candle and ask the universe for everything to come at the best time.
OX
Fall in love with you! Every day in the morning, look in the mirror, which is a magical portal, and identify five unique qualities in you to strengthen them.
TIGER
In this 2021 always have plants in your room. Choose flowers with bright colors, such as yellow or pink, because they will lift your spirits and make you feel happy.
RABBIT
Recognize the 10 things you need to feel at peace with yourself. Write them on paper because it will be your decalogue. Don't let anything or anyone stop you from doing it!
DRAGON
Every Monday write your main tasks for the week; This practice will help you to be more organized and not fall behind. The onyx will help you have more vitality.
SNAKE
Always keep a purple quartz by your side. Take it when you are tense or upset about something, as it is able to relax and stabilize you. Clean the stone once a month.
HORSE
Practice an activity that you have never done. You will open your horizons and you will no longer be pigeonholed in the same. An astrology course is a possibility.
GOAT
On a sheet of paper write your limitations. Then burn it in a purple candle and ask the universe to give you the strength to overcome obstacles.
BOW
Every morning, before you start your work activities, visualize a blue light enveloping you. It will serve as protection against injustice.
ROOSTER
In gold ink, write on a piece of paper 10 goals that you want to achieve in 2021. Put it in a place where you can see it every day. You will attract success!
DOG
It is important that you resume some physical activity. It will help you better channel your energy and not be anxious. High impact exercises are a great option.
PORK
Meditate for 15 minutes every night before going to bed, it will strengthen your intuition and bring you back to the present. No longer live in the past or future, life happens today!