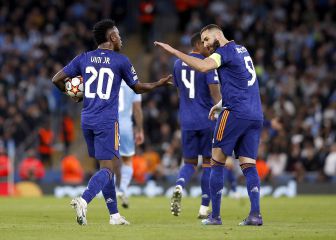 Superheroes, supervillains, magnificent creatures and Real Madrid in the Champions League. As if it were science fictionGabriel Rufián, spokesman for the Esquerra Republicana de Catalunya in the Congress of Deputies, compared Real Madrid on Twitter with several characters from different movies and series that are famous for being tough.
The deputy quoted on his Twitter account up to fourteen different characters from different audiovisual works, including Dragon Ball, Terminator, the Rocky Balboa saga, Alien, Predator, the supervillain of Harry Potter, Voldemort or the Blade vampire slayer. With a "hard things to kill" enumeration began. "Alien, T-800, Voldemort, John McClane, Predator, Godzilla, John Wick, Ethan Hunk, Blade, Beatrix Kiddo, Sarah Connor, Rocky Balboa, Michael Myers, Vegeta and Real Madrid in a Champions League tie", tHe tweeted just as the match between Real Madrid and Manchester City was about to end, which ended in a 4-3 victory for the Celestes.
Real Madrid survived a very difficult night at the Etihad Stadium. A first cross from the side allowed De Bruyne to score one of the fastest goals in the history of this Champions League round in minute 1. Just nine minutes later, an error by Alaba and the good execution of Gabriel Jesus left the Brazilian alone to end up 'calling' his team in his characteristic celebration after the goals.
After conceding both blows and bordering on the KO, Benzema hooked his team into the match, taking advantage of one of the first white chances. Foden would answer with the 3-1 and Vinicius signed an anthological play to put his team back in the game with the 3-2 sitting Fernandinho. In minute 73, an oversight on the edge of the area gave Bernardo Silva the option of making it 4-2, but Madrid did not give up, as luck smiled once again. Laporte committed a penalty for a handball and Benzema, who had just missed a couple previously, shot like Panenka from eleven meters to give the Whites life for the second leg at the Bernabéu. Paris is 90 minutes (or 120) for one of the two.
[