Key facts:
Monero hashrate went from 2.29 GH/s in April 2021 to 3.51 GH/s in April this year.

More than 9 million private transactions were made via Monero in a year.
Monero (XMR), one of the flagship privacy cryptocurrencies, turned 8 years old this week. The moment is propitious to review several of the milestones that this project has reached in the last 12 months and that demonstrate the growth it has had.
Monero mining, which as in other block chains is responsible for processing and verifying transactions, grew significantly in a year, according to its developers. To calculate this, they took as a reference the figures reached in April of last year and compared them with those currently averaged by the network.
according to their own data of the project, shared on its official website, the hashrate (computing power or hash rate) increased by 53.27% year-on-year. In April 2021, the network hash rate was over 2.29 GH/s, and a year later it stands at 3.51 GH/s, on average.
Advertising

For Monero, this means that network security experienced steady growth, driven, for example, by the arrival of new mining pools, which contributed to this increase. They cited P2Pool, which joined Monero mining in the past few months.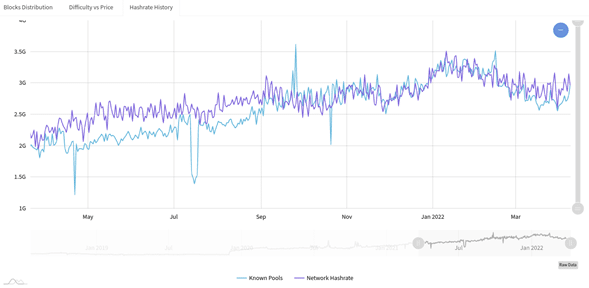 Fees in Monero also set the tone
Transaction fees (fee) have also been the talk of Monero over the past year. According to official data, users of this cryptocurrency spent, on average, about 1,510 XMR on fees. This was about 4.12 XMR per day.
This equates to a 19.84% year-over-year decrease in Monero users spending to get a transaction executed. On average, it was about 0.00016 XMR per fee, or what is equivalent to USD 0.041 per transaction fee.
Advertising

That average figure for fee it also registered a drop, of 48.24%, which was due to the fee model in Monero and the increase in the use of this cryptocurrency over the course of a year.
According to Monero, a total of 262,567 blocks were generated in one year, with an average total fee of 0.0057 XMR per block. This is a little more than 9 million transactions made after 12 months.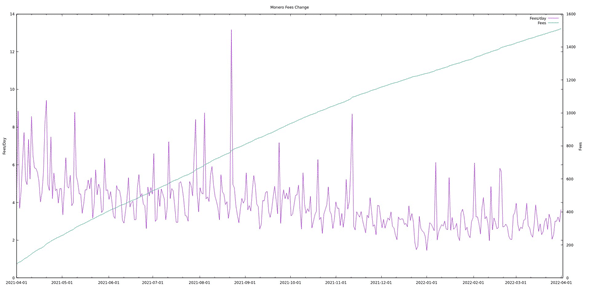 Subsidies per block mined in Monero are falling
Regarding the rewards for Monero mining, on the website they indicate that as the network approaches the final emission or tail emission, subsidies per mined block have fallen below 1 XMR
Advertising

It is good to clarify that the final emission is, as Monero defines it, an incessant subsidy of rewards per mined block, which prevents the earnings from the activity from falling to zero and rather gradually reaching 0.6 XMR, number that will remain forever.
In that sense, they specify that, in the last year, 237,822 XMR were created for block rewards, which allowed for an average subsidy of 0.90 XMR per block. They also indicate that daily issuance fell from 803 XMR in April 2021 to 458 XMR in current figures.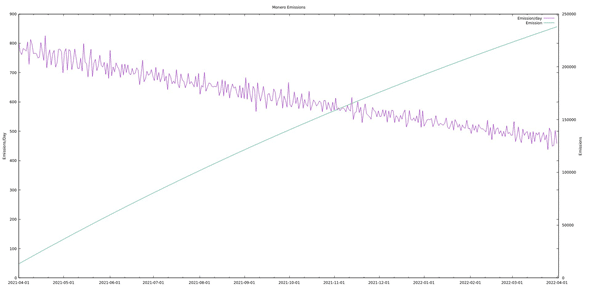 All this, as a consequence, caused a significant drop in the coin's inflation, up to 34.3% year-on-year, according to the figure provided by the developers of the cryptocurrency.
Weight was added to the Monero blockchain, but it wasn't that much
As said, in one year just over 9 million transactions were made. In general, 9,087,482 operations were executed from April of last year to the current date.
This shows an important growth, if one takes into account that last year 23 thousand daily transactions were registered and now they are just over 40 thousand per day.
This is nothing more than a 154% year-on-year increase in the use of the network to carry out the private transactions characteristic of Monero, which, by default, they protect the sender, the recipient and the amounts transacted.
Such magnitude of transactions added a weight of just 19.24 GB to the Monero blockchain in a single year. On average, each transaction weighed 2.11KB and the average block weighed 73.27KB.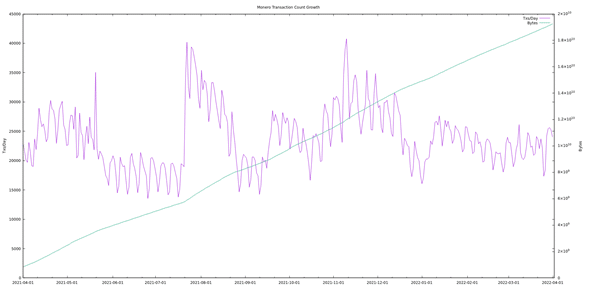 According to the developers of Monero, this slight growth in the size of the blockchain was due to the "relentless efforts" of those dedicated to research and development of the technology, "working to improve the efficiency of Monero over time." , they indicated.
Usually, the Monero blockchain grew 144% faster in size compared to the previous period.
Monero, which in the last week was one of the cryptocurrencies that showed the best performance, even surpassing bitcoin, has a long way to go and that is confirmed in these graphs, which areshow a high rate of preference for privacy.