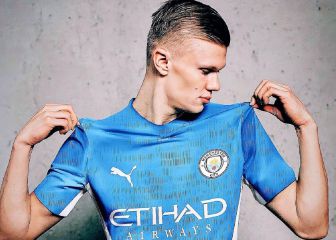 The Haaland operation for Manchester City dragged on for months and was a tug-of-war with other clubs that finally turned out to be satisfactory for the 'citizens'. The work of Omar Berrada, the club's operations manager, and Txiki Begiristain, director of football, was outstanding. The ties with the footballer and with his father were strengthened until they were both convinced. Despite the great competition to hire the Norwegian, City knew how to play his cards and handled the operation with great tact.
The figures with which he closed the deal can also be considered positive. As AS has learned, the English club will pay Dortmund 60 million termination clause, not 75 as it had been leaked at some point. The player's agreement with Borussia allowed him to leave for a very reasonable price considering that his market value is 200 million. To this must be added the commission to father and agent, which will finally be 30 million (two payments of 15).
Salary of Top-4
The salary is another point of maximum interest in this story. City will pay Haaland 20 million net, which will make him the fourth highest paid player in the world. The reality is that other interested clubs offered him similar conditions, so the striker's choice was not only purely economic. Being head of the project and the sentimental bond that unites him to City (his father played there) also had a paramount weight.
In addition to all this, Haaland has always had Guardiola as a differential point. The coach is enthusiastic about him, as he is with the option of being managed by Guardiola. At City they believe that he fits perfectly into the team and that he is the icing on the cake. In addition, his signing legitimizes the action of not signing a nine last summer (Kane was close) when Agüero left the club. The great claim was Haaland and hard and concise work, with two Spaniards at the helm, Berrada and Txiki, has borne fruit.
[