First professional network in the world and in France, LinkedIn is the essential step for all entrepreneurs looking for clients, but also for people looking for a position. For the latter, creating a complete and attractive profile increases their chances of being noticed by recruiters.
> Download: How to Use LinkedIn for Business Development and Marketing" align="middle"/>
This requires a catchy description, an interesting list of experiences, as well as the publication of a CV. This document, far from being obsolete, actively contributes to the selection of candidates by companies. It is therefore essential to add him to his profile. Here are the different methods to do this, step by step.
Why put your CV on LinkedIn?
LinkedIn: an essential professional network
To understand the importance of this social network, here are some figures for the year 2021. In France, LinkedIn has more than 10 million monthly active users. The platform hosts 840,000 French companies and permanently offers 20 million job offers. Finally, every day, 6,000 people find a job there. It therefore seems essential to exploit this social network which has not yet experienced any serious competition. Not taking advantage of all its possibilities is to close the door to many professional opportunities.
Better user experience
By uploading their CV to LinkedIn, users benefit from an optimized experience. Job recommendations are offered to them based on the information it contains. During searches, the available positions are classified by relevance, which facilitates this sometimes tedious task. Another important point: the suggestions for connections related to skills. This feature allows you to reinforce your network in an intelligent way. Finally, thanks to the addition of the CV, users see their personalized feed: they primarily receive publications that can help them in their job search.
Virality, a feature of social networks
Job search platforms such as Indeed or Welcome to the jungle can be very useful, but they do not have the main advantage of social networks, namely the virality. On LinkedIn, a profile and a CV that please can be shared by other users. A publication containing a CV can be liked, commented on and thus achieve significant organic coverage. It can also be shared over the network or sent to a potentially interested recruiter via messaging.
How to put your CV on LinkedIn?
There are 3 methods to add your CV on LinkedIn. All have different uses.
Upload your CV to respond to job offers
This method is carried out even before proposing to apply for a job offer. Once the CV is saved, it can be used endlessly.
To start, you have to go to your profile and click on the "Jobs" button located in the top bar menu.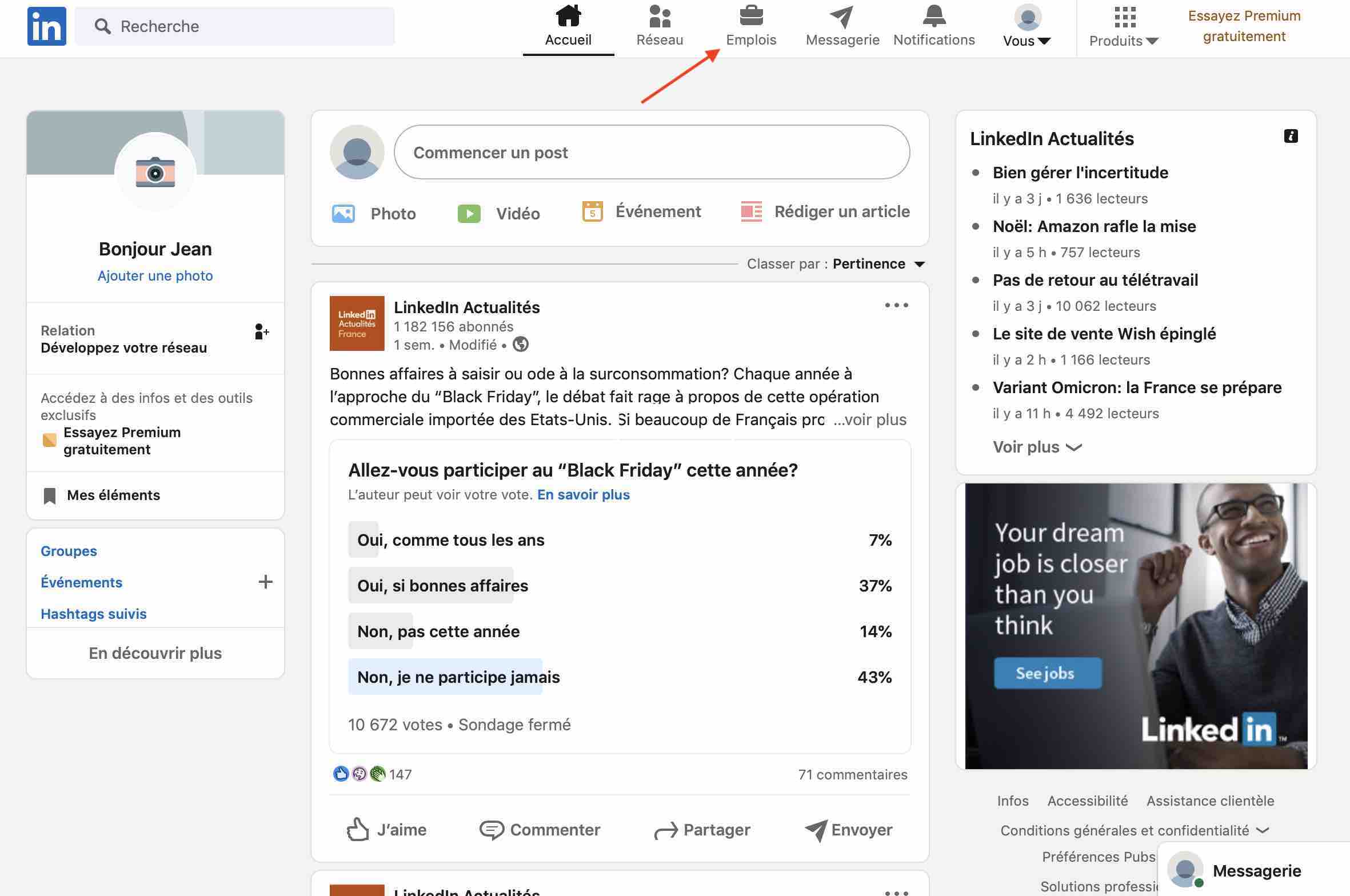 Then, click on "Application preferences" in the side menu on the left of the page.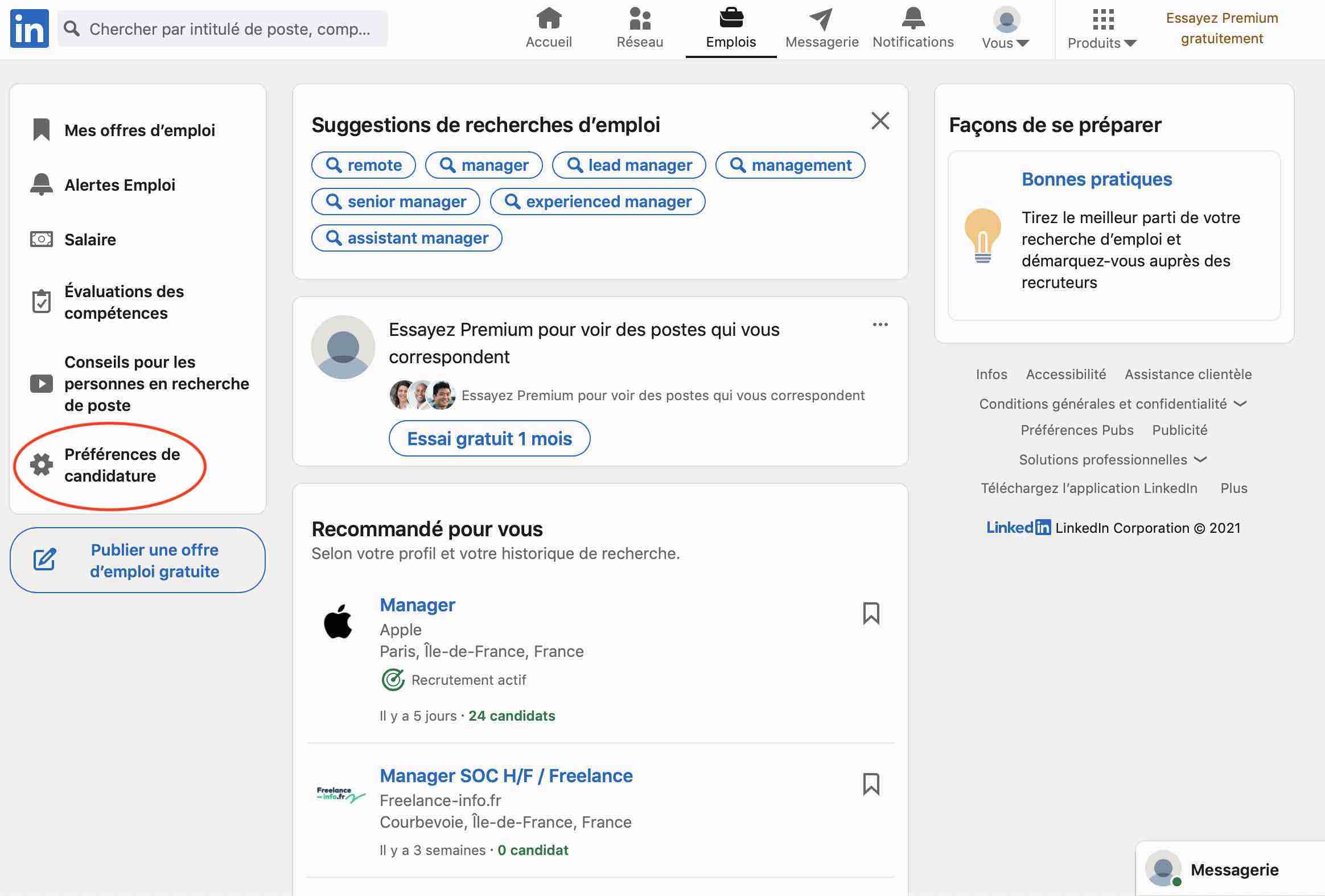 Once on the CV upload page, all you have to do is click on "Upload CV" and choose the correct document from the files on your computer. Please note that the accepted formats are DOC, DOCX and PDF.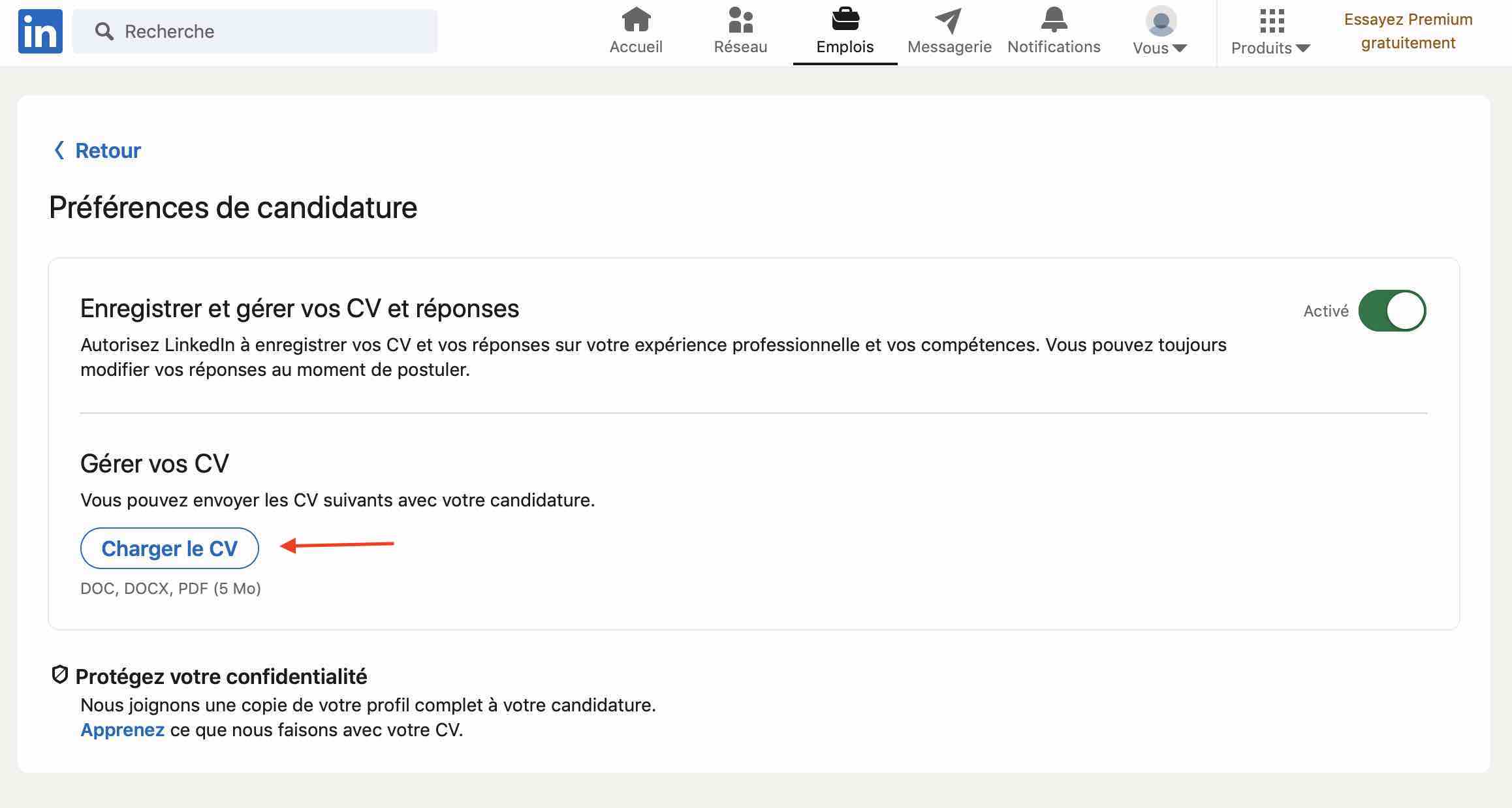 Once the CV has been loaded, it appears above the "Load CV" button.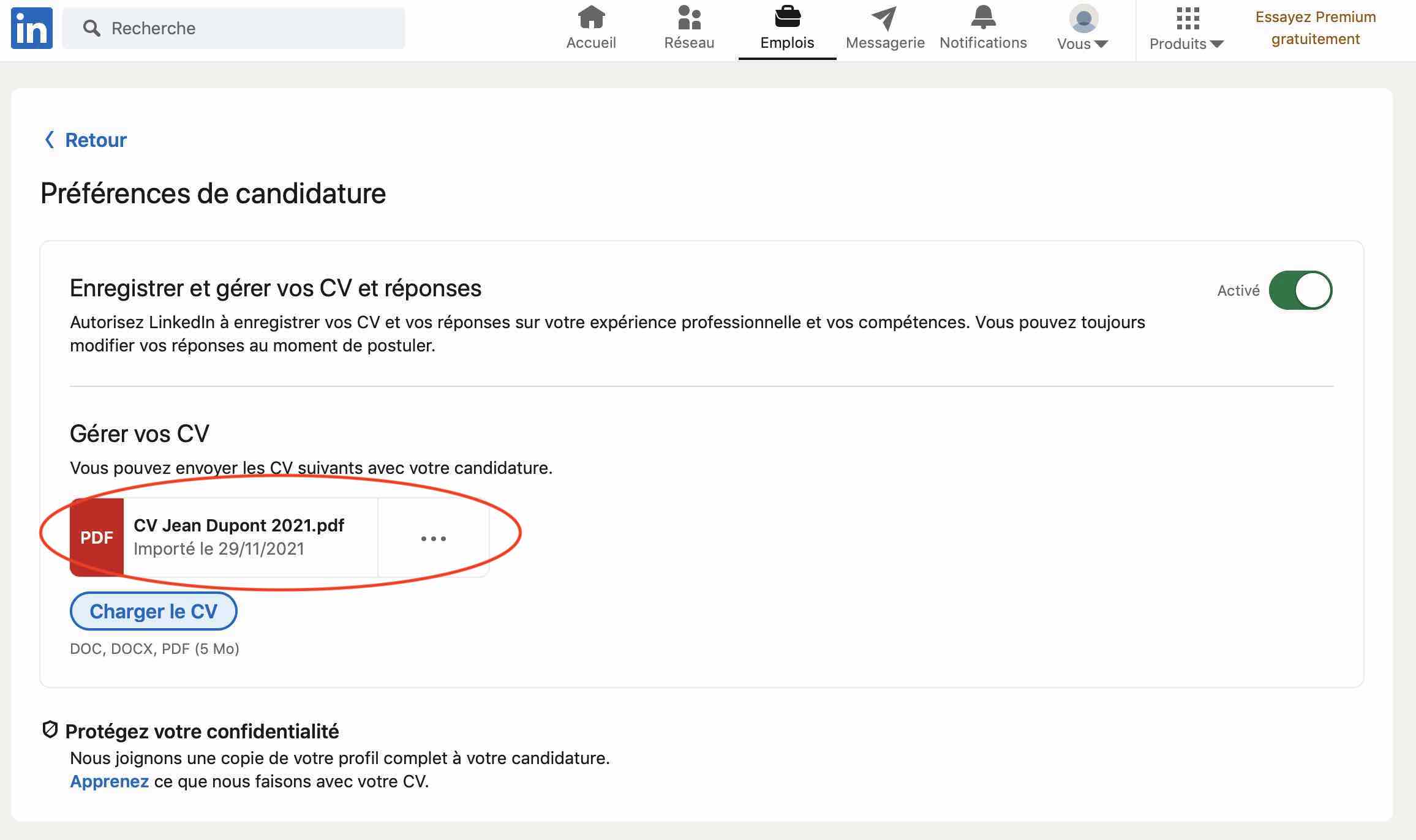 It is possible to put more than one. LinkedIn only keeps the 4 most recent.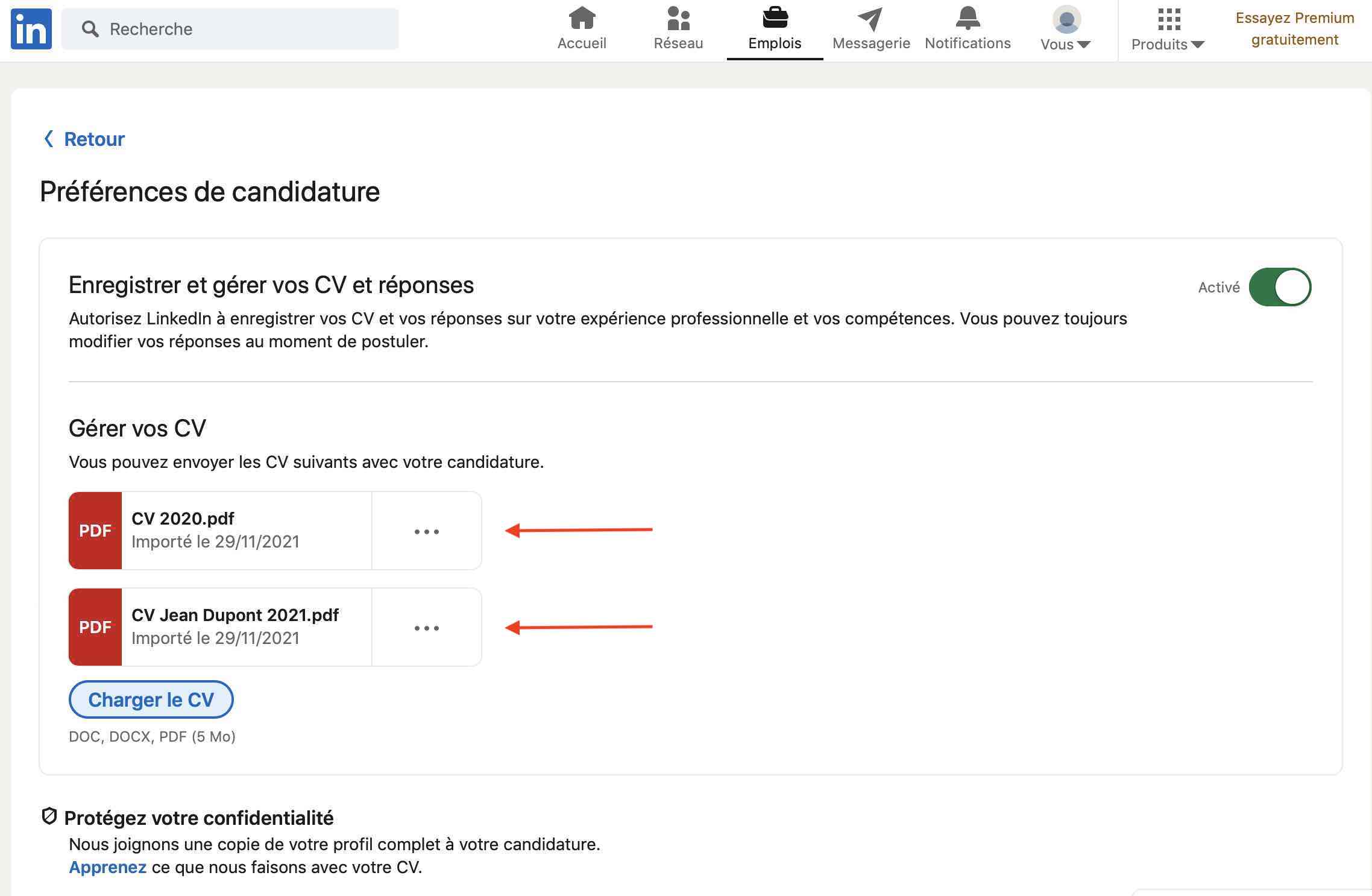 To delete a document, all you have to do is click on the 3 small dots to the right of its frame, then on "Delete".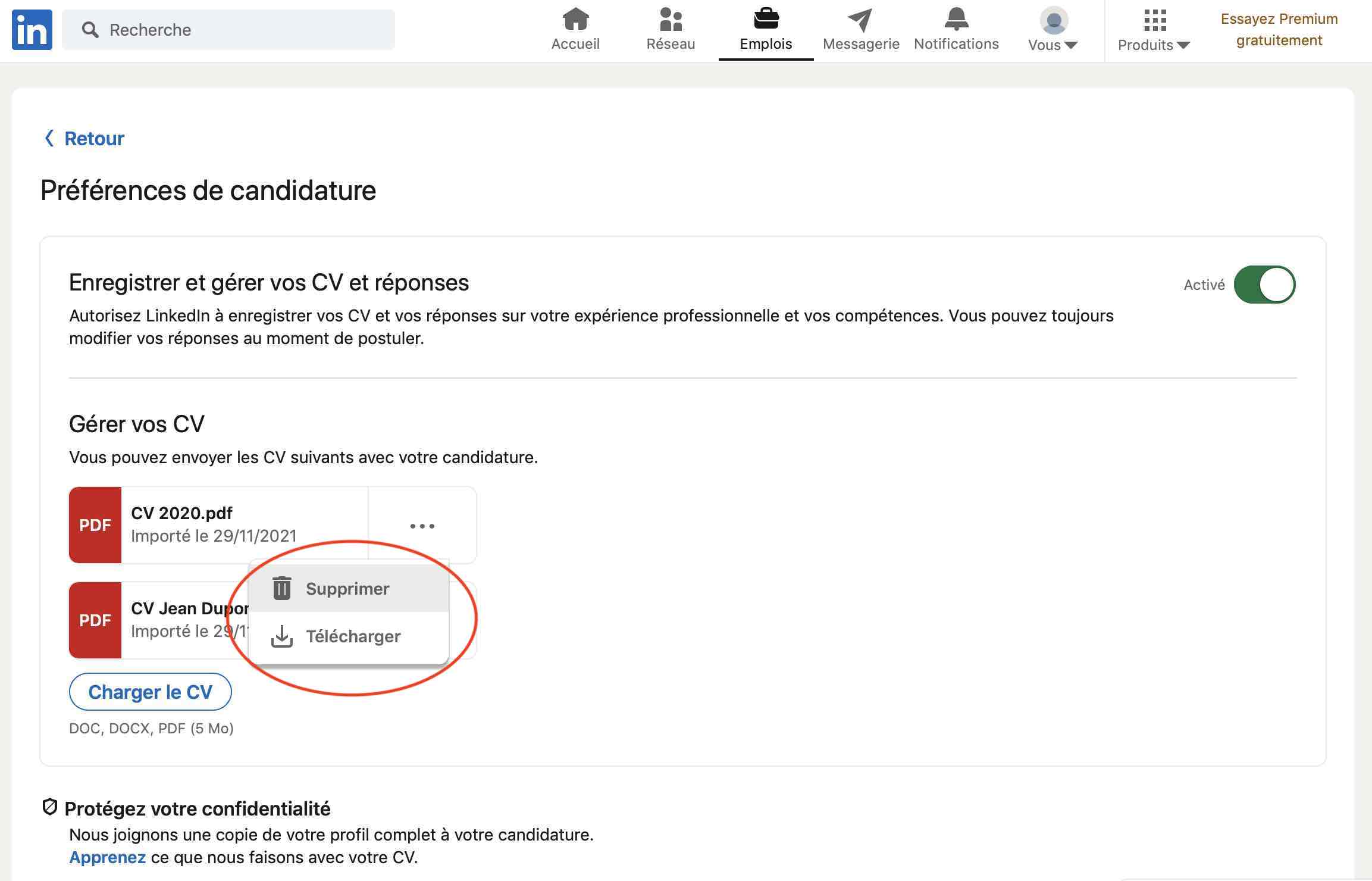 The CVs saved in this way can be used to respond to job offers when the "Simplified application" option is available. If the "Apply" button appears on an advertisement, the user must click on it and upload their CV directly to the company website.
Put your CV on LinkedIn during an application
If the user has not saved their CV using the previous method, they have the option of doing so during a simplified application. To do this, you must click on "Simplified application".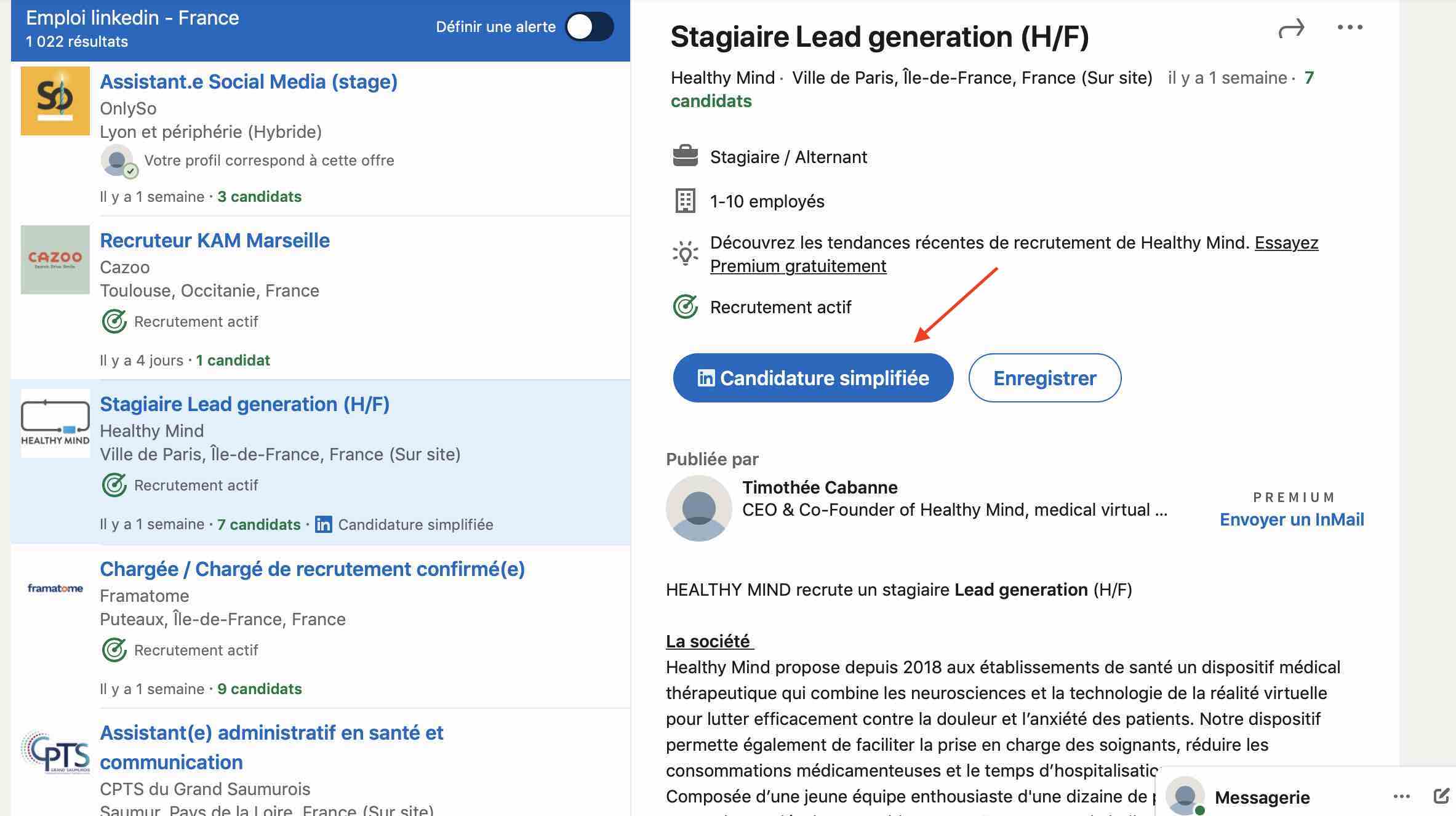 A window then opens with the user's contact details and the possibility to download the CV.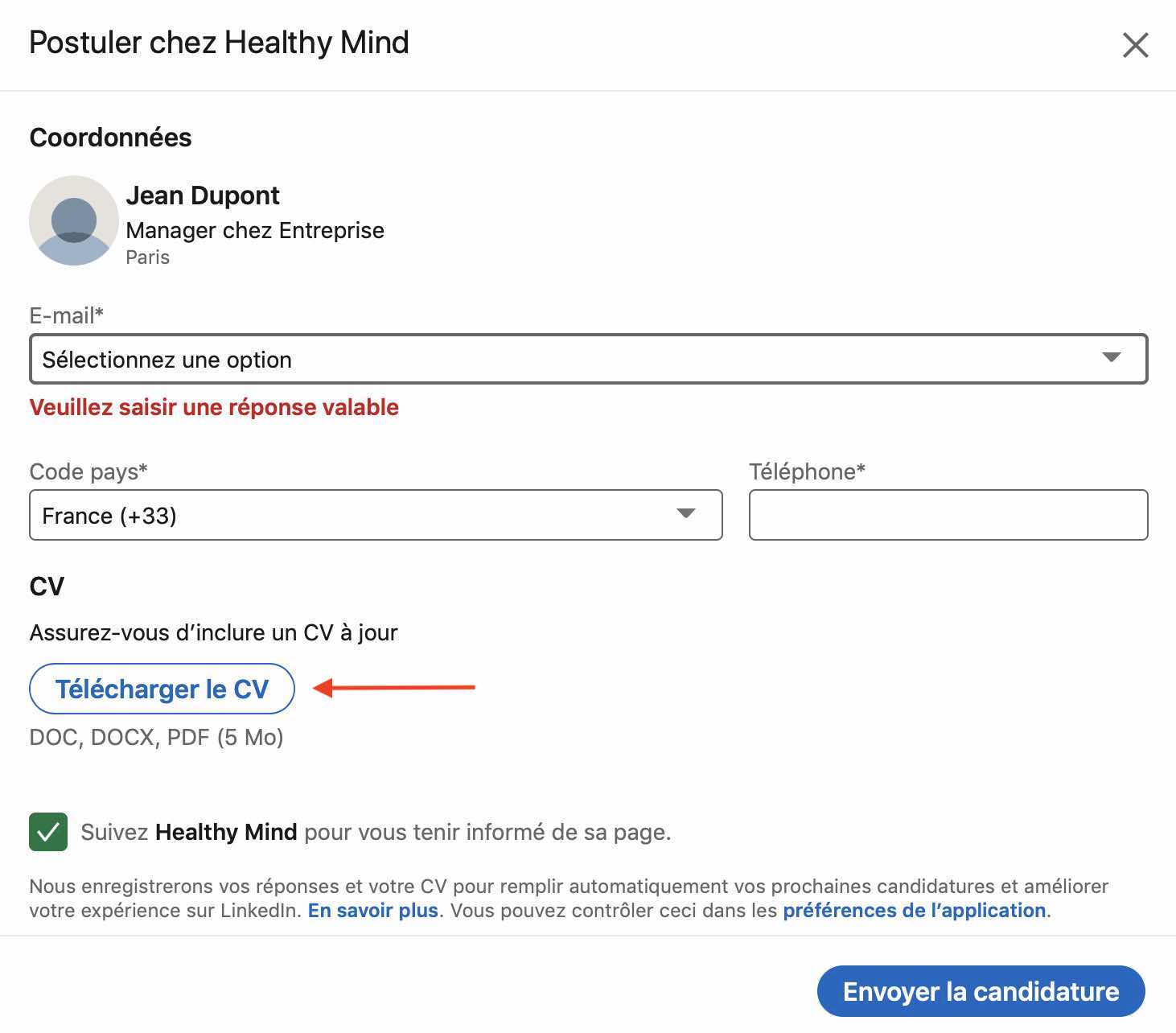 Add your CV to your profile
Uploading your CV to your profile is an important step for several reasons. This is already a great way to enrich it. Then, visitors can consult it and find out more about a potential talent to be recruited. They have all the information necessary for decision-making at their disposal. Finally, it reflects a particular motivation, which can make the difference with other candidates.
To add your CV, you must first go to your profile, then click on the "Add a section to profile" button at the top.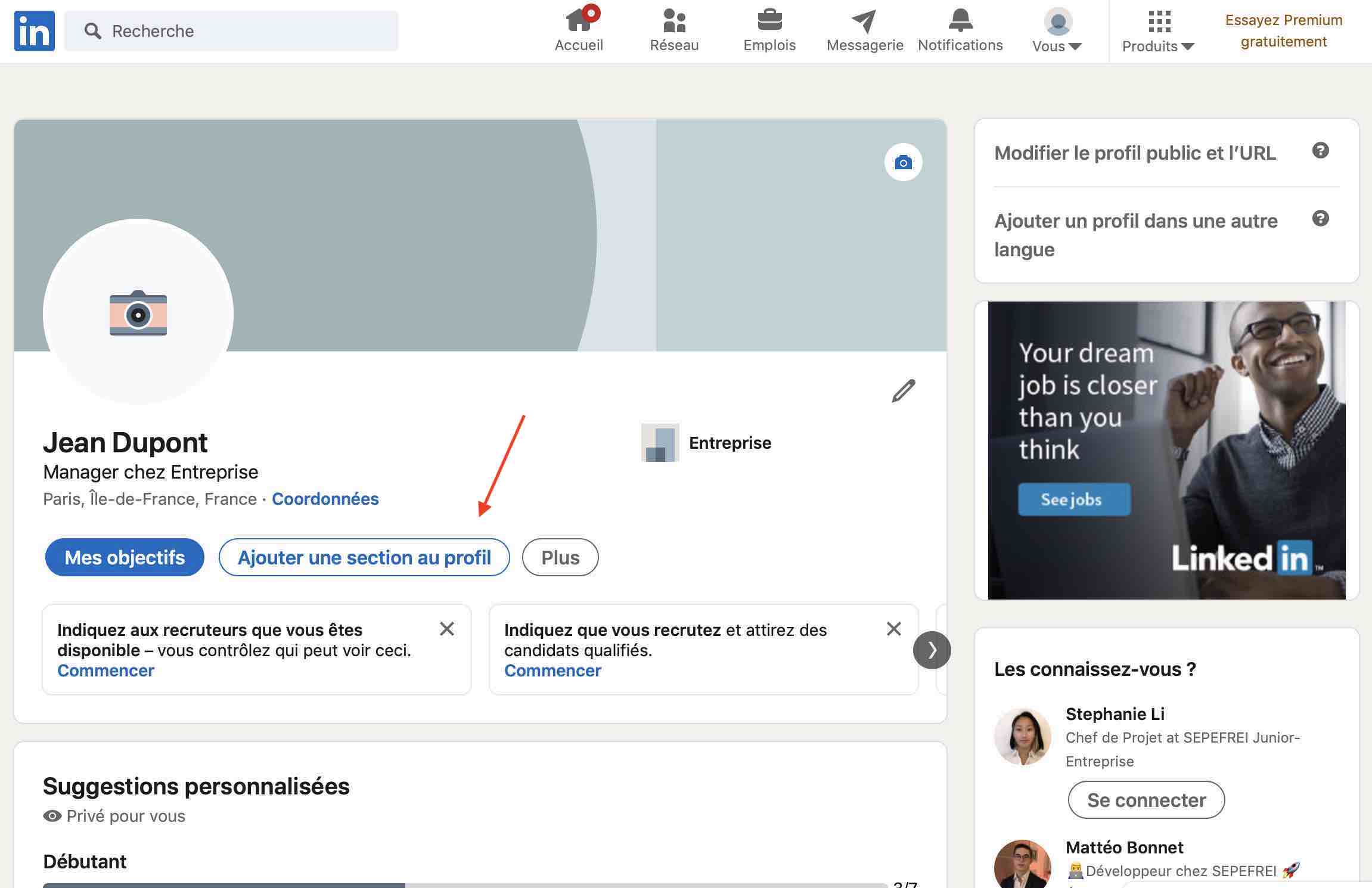 A drop-down menu appears. Open the "Content selection" section, then choose "Media". From there, all you have to do is load your CV file.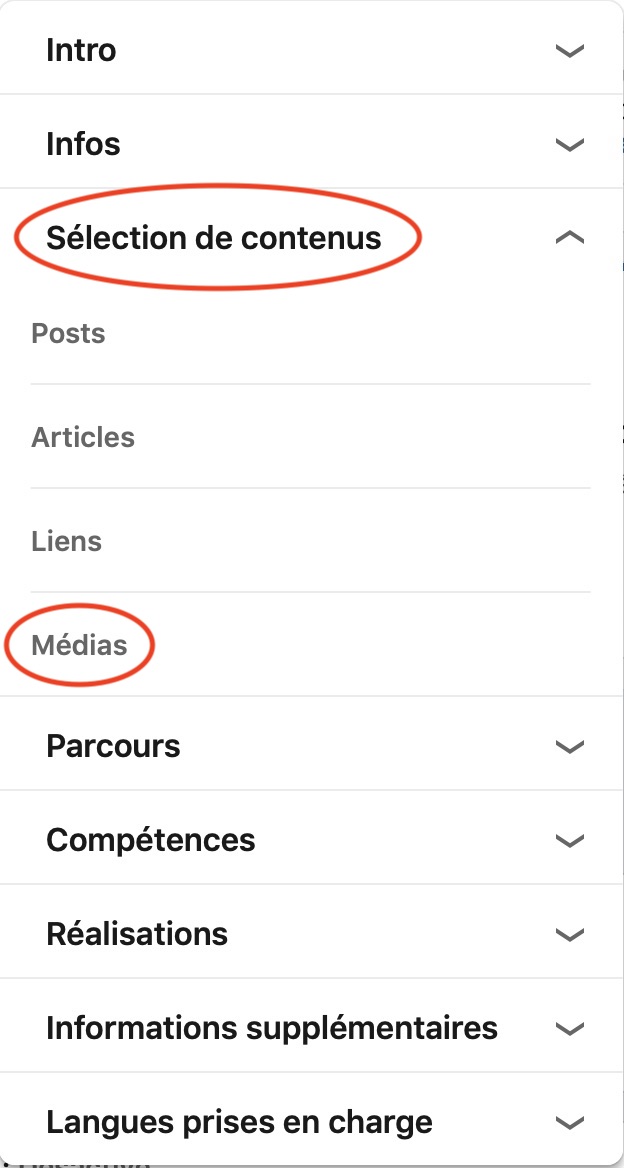 A new window pops up with the document and 2 fields. The first is reserved for the title of the chosen medium. The ideal is to write a short, catchy and informative text such as "CV 2021 grind" for example or "Special updated CV 2021". It is preferable to display the name of the user. Recruiters who upload a lot of resumes appreciate being able to find them easily in their files.
The second field leaves room for a description of the document. In this space, it is important to offer a pleasant text, well written and oriented towards the company. Concretely, it is better to talk about the issues that she encounters rather than about yourself. Recruiters will be more interested in a candidate who knows how to identify the needs to which he meets. To complete the operation, you must click on "Save".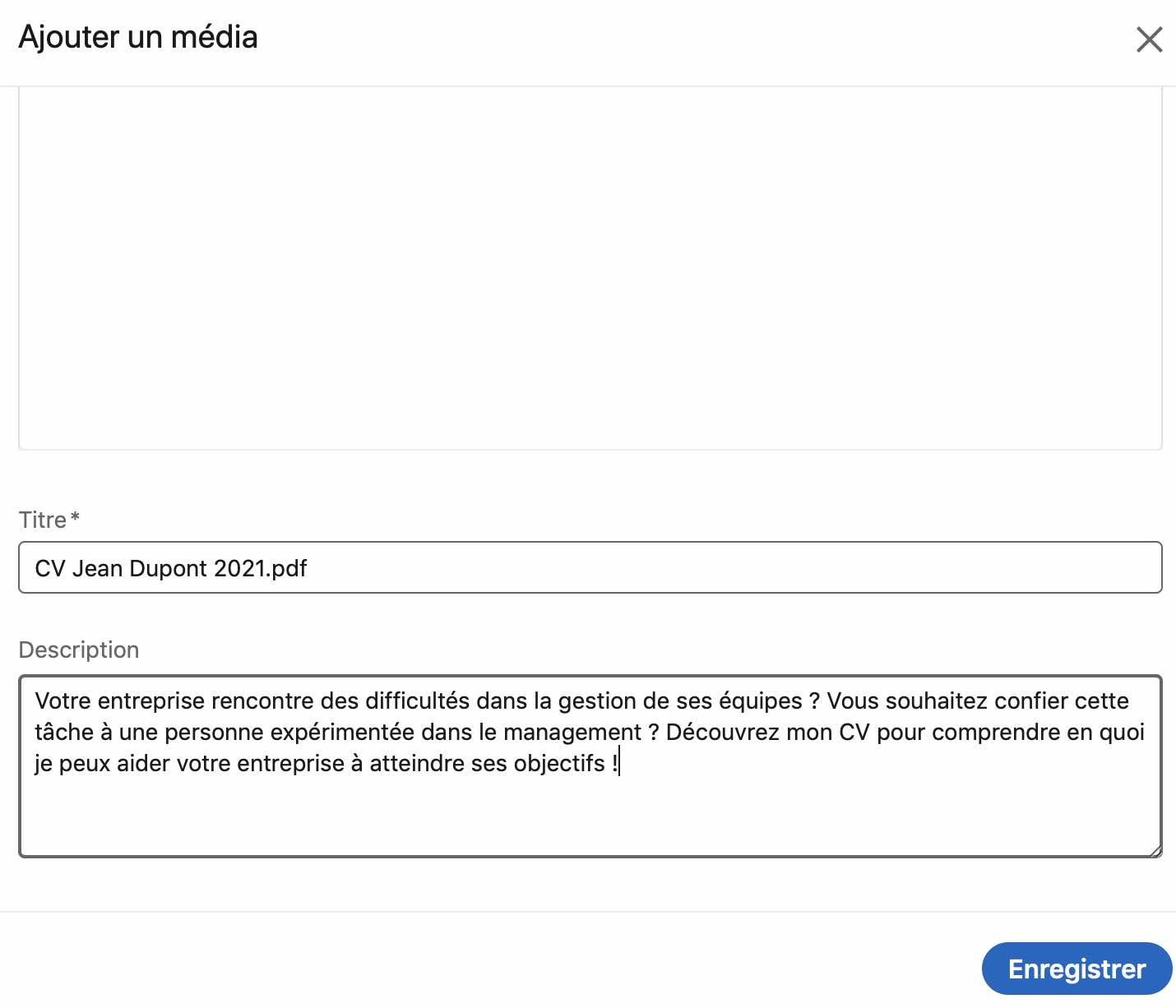 To modify or delete your CV, you must go to your profile, in the "Content selection" section and click on the little pencil at the top right.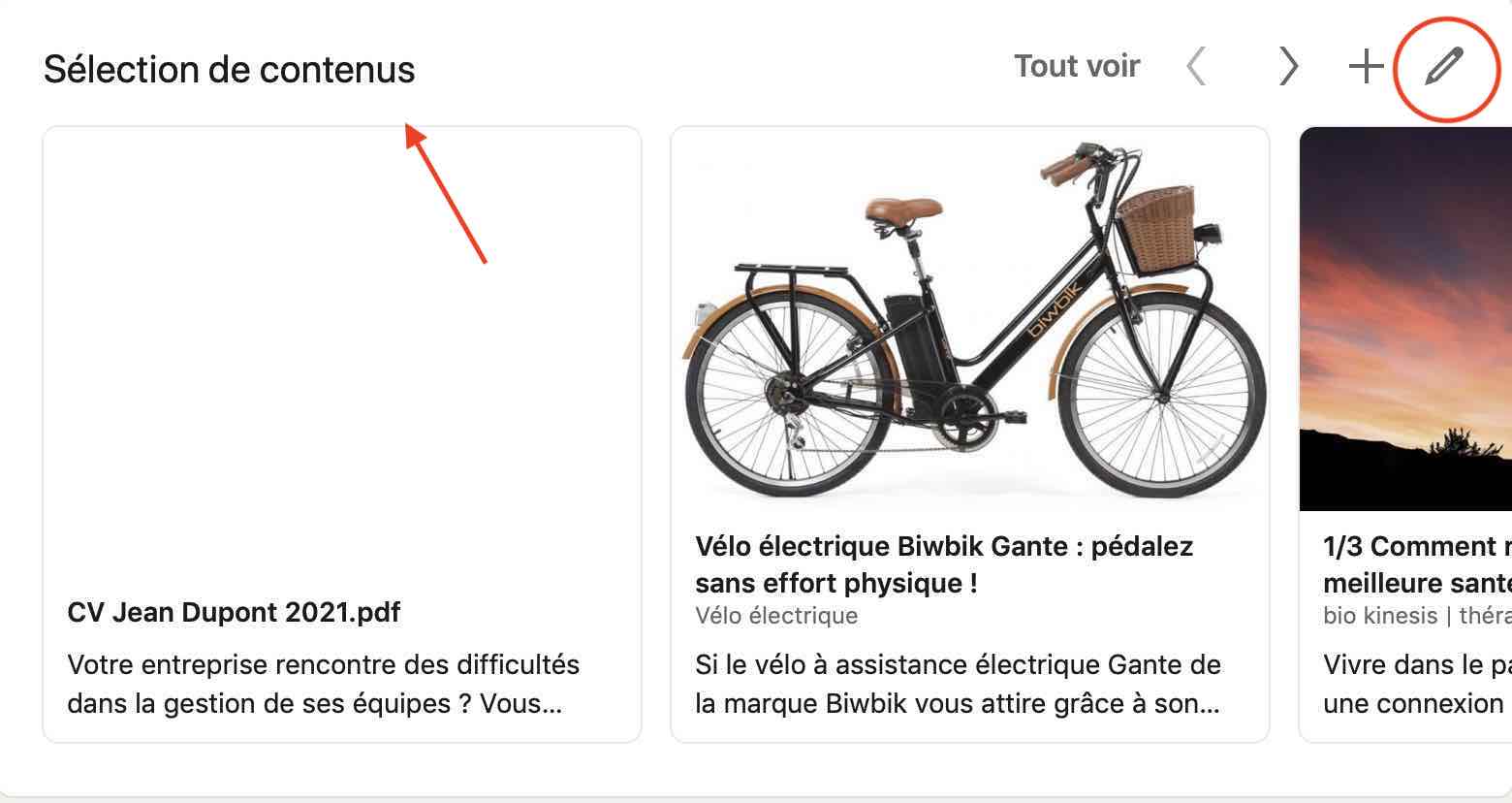 Once the window appears, click on "Modify" or "Remove".

How to put forward your CV in a publication?
All the steps described above are essential to obtain a complete and sales profile. But this is not enough. To promote the discovery and virality of a CV, it is essential to distribute it regularly through a publication.
To do this, go to the home page and click on the field entitled "Start a post" at the top of the page.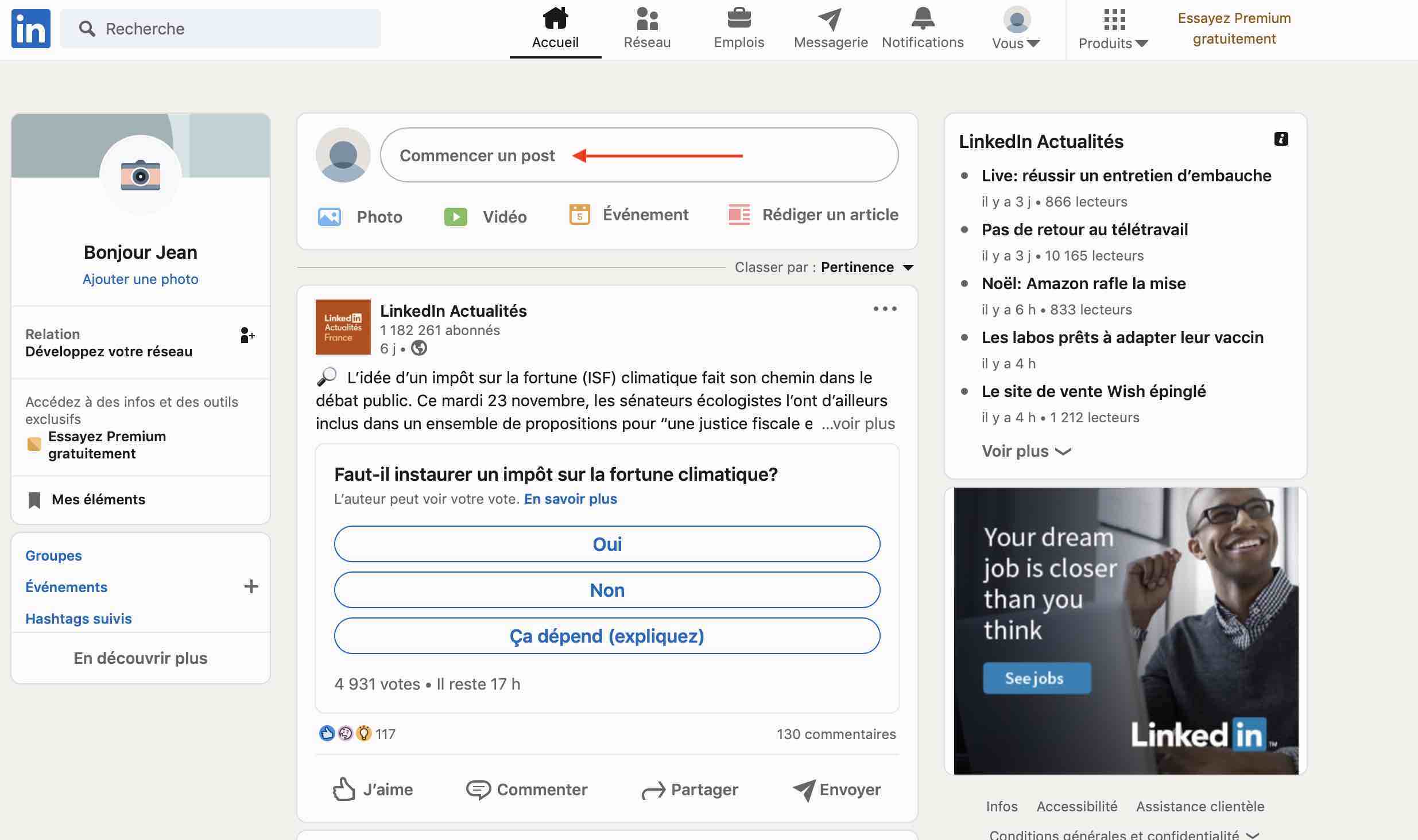 A window appears: you have to write a catchy and original text. To attract the attention of users who scroll through posts automatically, it is recommended that you use specific visual cues, such as a change in typography or emojis. It is also possible to directly address the people most likely to be interested in the publication, for example: "for the attention of companies that need a manager".
Once the message is complete, click on the icon representing a sheet of paper entitled "Add a document".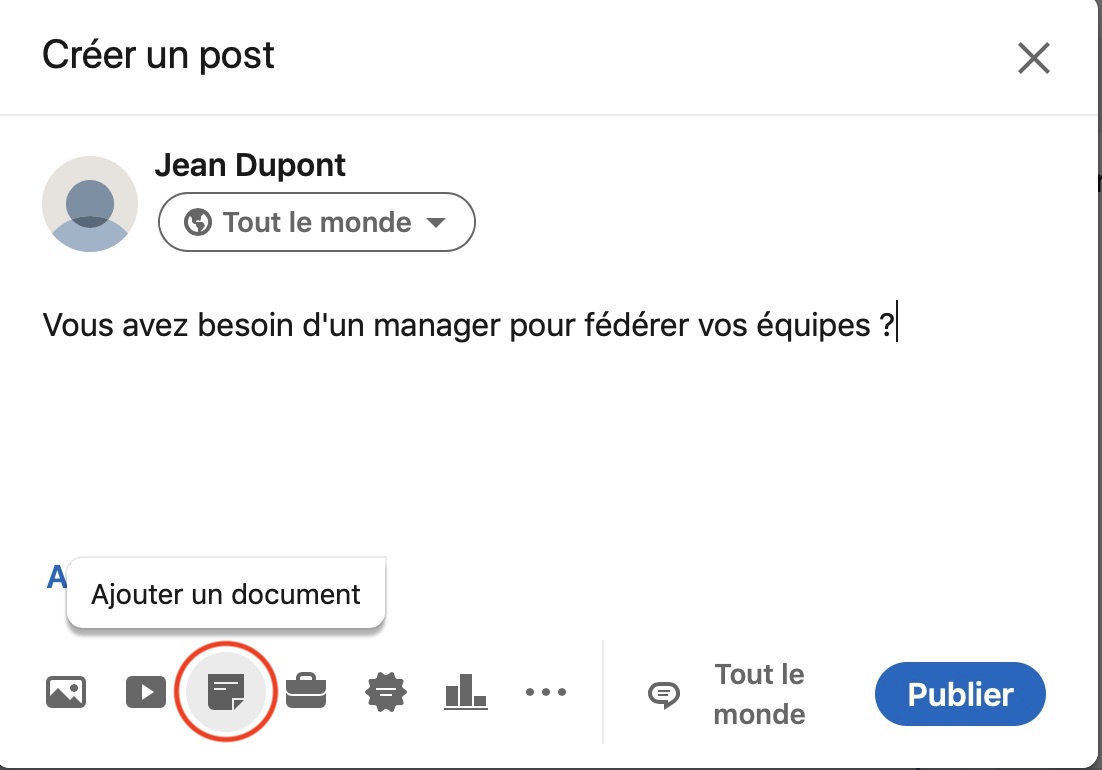 Finally, download the CV, then click on "Done". Then think about publishing the post.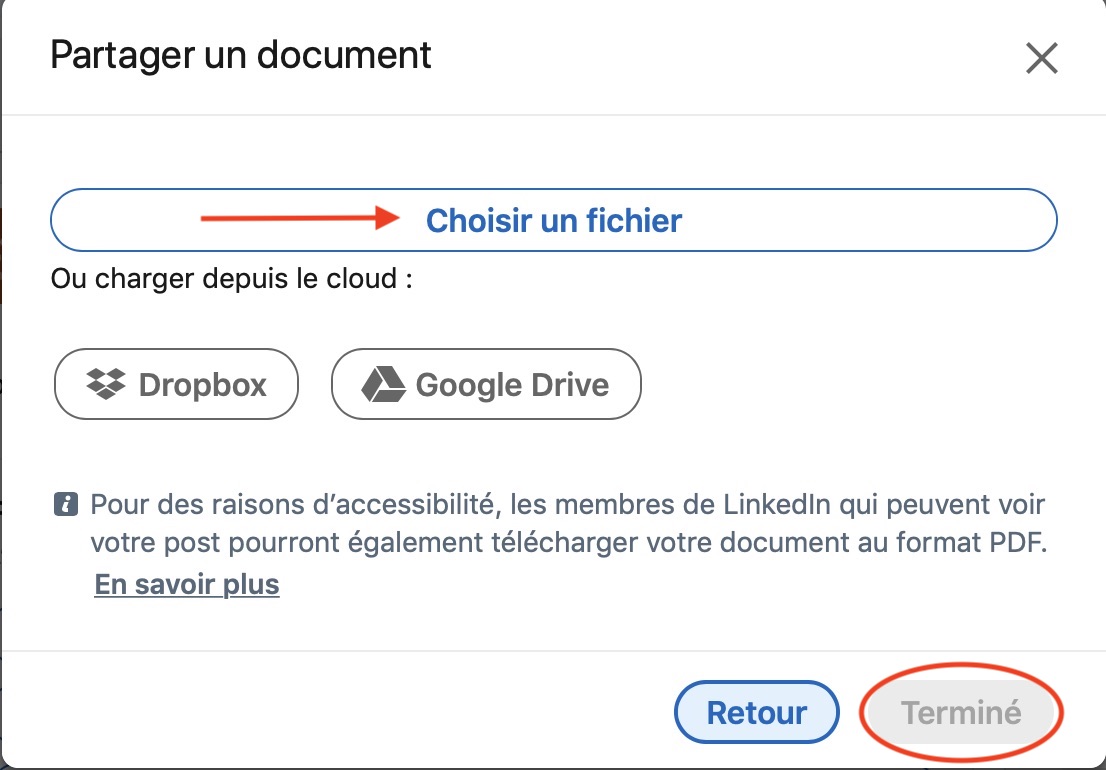 Putting your CV on your LinkedIn profile is an essential step in the success of a job search project. To increase your chances of success, it is best to use all the methods mentioned in this article. Other actions are also recommended, such as publishing regularly, commenting on the publications of the targeted companies, and of course responding to job offers.
To go further, download this complete guide on LinkedIn and optimize your profile, your business and your network.