Since 2016, when it arrived in France, Snapchat has continued to conquer new users. Today, more than 13 million French users visit the application daily to "snap" and consume the ephemeral content of other users.
> Download: The report on social media trends in France"/>
Building on its success, the social network has been able to demonstrate originality in the advertising solutions it offers to advertisers. The creative and dynamic content of the platform is particularly popular among young people. This is something to interest advertisers who are struggling to reach this audience.
It is true that when it first appeared, no other social network gave its users the possibility of creating "stories". This type of ephemeral and customizable content in part thanks to filters has been the strength of Snapchat. Today, they represent an original means of communication for brands. Snapchat has made its filters a full-fledged advertising solution and brands do not seem to be without them.
Like any other advertising solution, geolocation filters are chargeable. However, there is a free alternative: community filters. This article therefore deals with these two subjects and explains how to create a community filter and a paid geolocated filter step by step.
How to create a free geolocated filter on Snapchat
Via a computer, go to the Snapchat Create site
Select "Community filters"
Download a visual
Submit filter
1 – Go to Snapchat Create
The creation of a free Snapchat filter is done via the Snapchat Create platform.
This platform allows you to create community filters, basic filters and augmented reality filters that Snapchat calls "Lenses". Unlike community filters, these last two options are not free.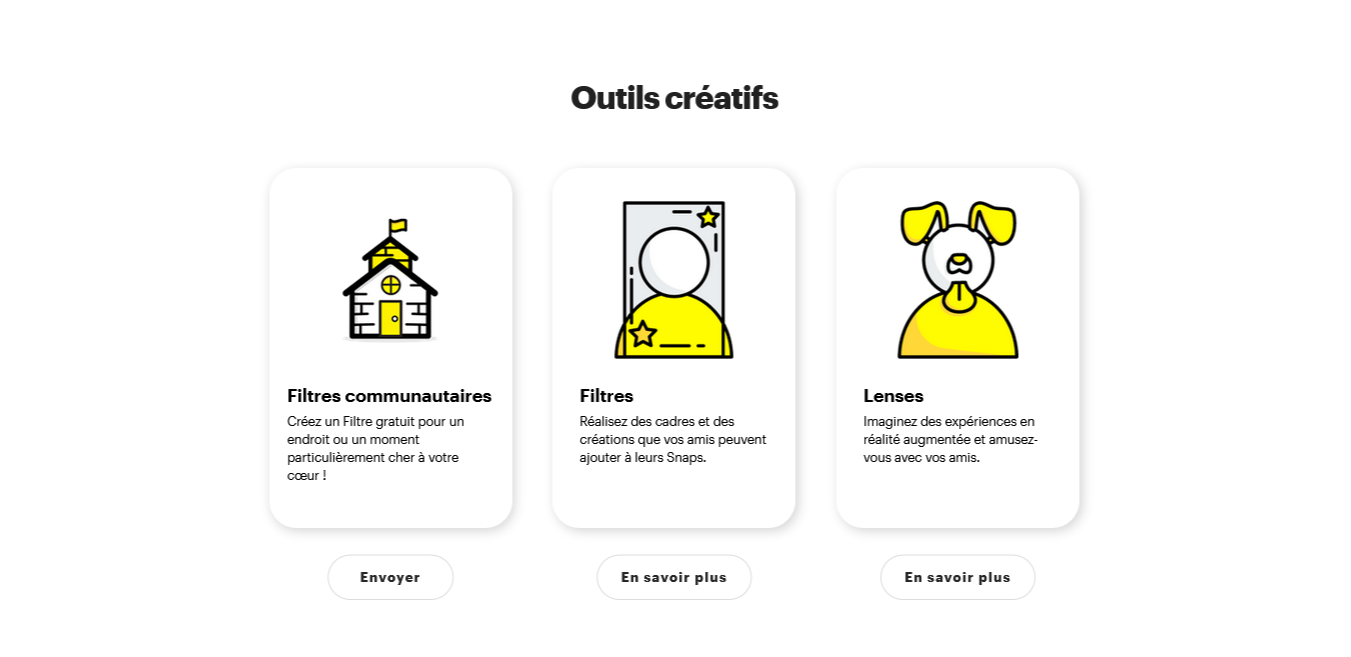 2 – Select "Community filters"
Once on Snapchat Create, you must select "Community filters" to access the online creation tool. The platform then offers two possible types of filters: "Geofilters" or "Moment Filters".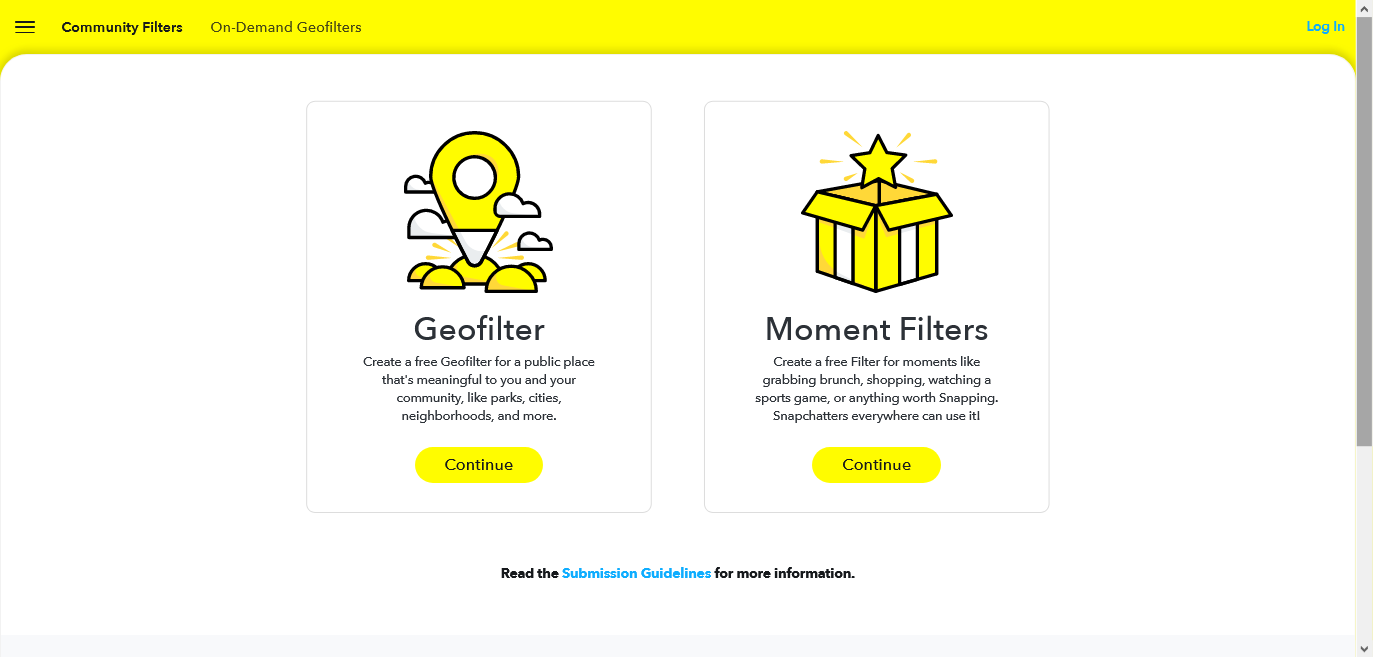 "Geofilters" are only activated in a defined geographic area, while "Moment Filters" are accessible to all users of the application, regardless of where they are located.
However, the "Moment Filters" will appear according to a precise schedule which corresponds to the moment they are supposed to illustrate. For example, a "Moment Filter" categorized as "Food" will only appear during meal times.
3 – Download a visual
Once the type of filter has been selected, the platform leads to its online creation tool. This is where you have to download the filter visual.
In order for the filter to be attractive, one should choose eye-catching icons and colors. If the filter contains images, it is important that they are copyright free. Snapchat requests a source file in 1080 x 2340 px format, no other format is accepted by the platform.
The rest of the creation process will be different depending on the type of filter selected.
To create a "Moment Filter" filter, the platform will also ask to select a moment to categorize the filter.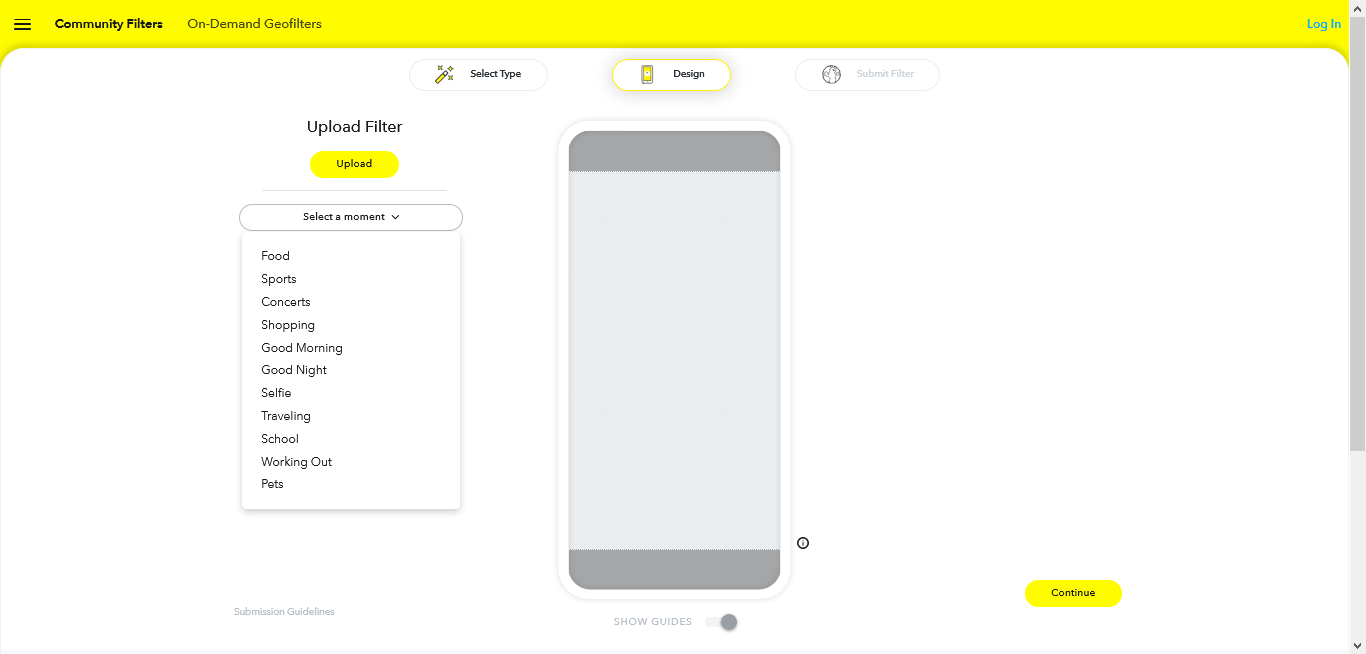 For the creation of a "Geofilter", the platform will ask to define a precise geographical area in which the filter will be distributed.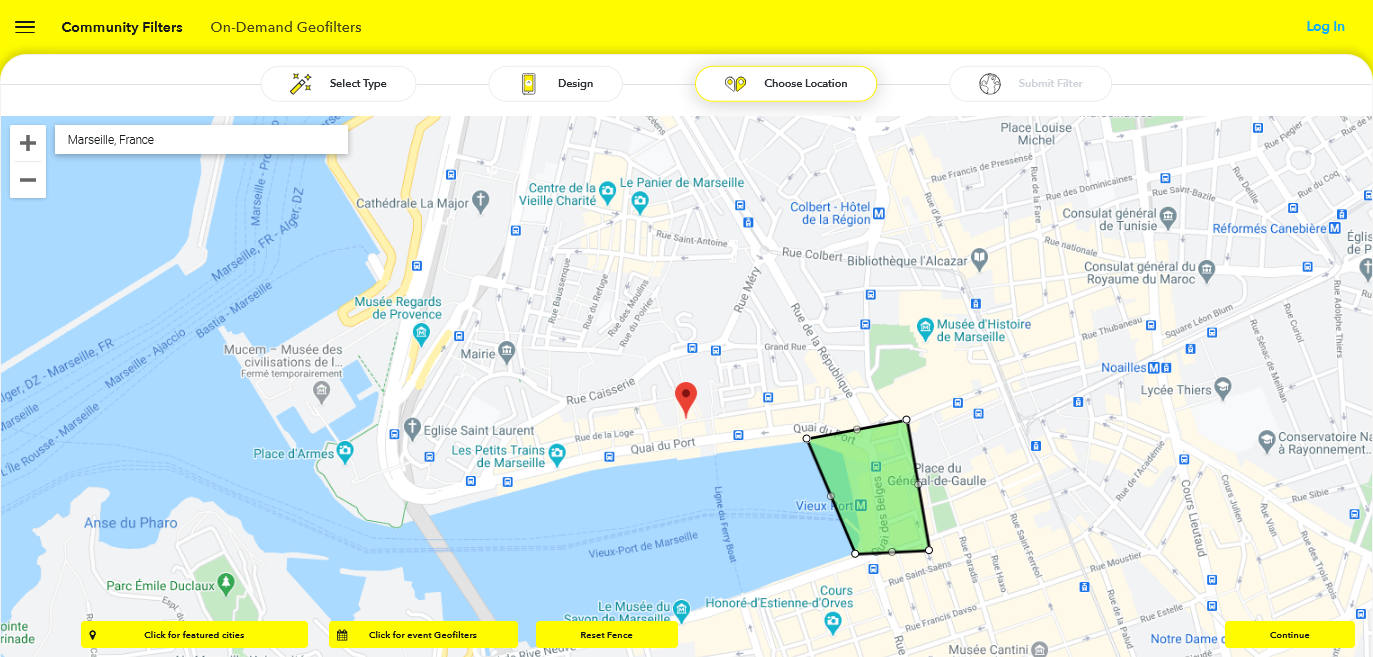 If it is possible to carry out the first steps of creating the filter without a Snapchat account, it will be essential to log in to complete the process.
4 – Submit the Snapchat filter
Finally the last step is to submit the filter to Snapchat. The filter may be refused if it refers to a brand or an entity. Indeed, community filters are free filters, they should not be promoted. Additionally, they must adhere to Snapchat's rules for sending custom creative tools.
Snapchat delivers its verdict by email. Allow about a day to validate the filter.
To create a geolocated filter that promotes a brand or an event, you will have to go to Snapchat On Demand, another creation platform.
This time the creation of filters is not free, but there are some advantages such as the many filters to customize that are offered by the tool. Several categories exist, including filters for the celebration of a marriage or a birth. It is therefore not useful to create a visual from everything.
As this type of filter is not free, its lifespan is limited. It is therefore possible to configure a filter for a few days or several weeks. Invoicing is done according to the square meters included in the geolocation and the duration of the diffusion of the filter.
This can be an ideal communication solution for an event or for the promotion of a local business such as restaurant or shop.
To take it further, learn about social media tactics and examples of brands across all industries on how they used specific strategies in the 2021 Social Media Trends Report.