It's been a few years since Facebook launched its poll creation function, allowing you to ask questions to your community from your profile or your professional page, while adding images or GIFs. A practical and relevant tool, therefore, to maximize the engagement of your community. In the long term, setting up surveys helps you collect valuable data on your prospects. And to refine, little by little, the targeting of your next marketing campaigns. Learn how to create a Facebook poll in 6 easy steps.
> Download this free guide to Facebook marketing " align="middle"/>
SUMMARY
How to create a Facebook poll?
Creating a Facebook poll whether on a personal, professional page, for a group or in an event is a fairly simple manipulation and represents a mine of information. You have the possibility to obtain the opinion of your community to optimize the engagement of this one and to collect trends.
How to do a Facebook poll?
Go to the "Publishing tools" section
Click on "Create a post"
Select the "Survey" option
Write your questions and integrate text, an image, a GIF.
Choose the duration of the survey
Define your audience
Create a poll from a page
Go to the "Publishing tools" section
To create a Facebook poll, posting from your News Feed will not suffice. Then go to the "publishing tools" section. It is only from this interface that you will have access to all the advanced publishing options, such as adding schedules for your business or business, identifying products from your marketplace, etc. To do this, access the list of your publications in "Published publications".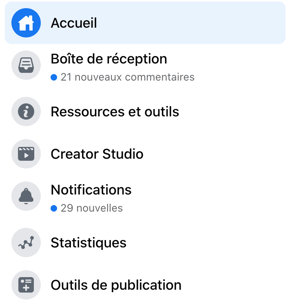 Click on "Create a post"
Click on "Create a publication" at the top left. You can also go directly here. You are now in the usual publication interface, where you can start writing your publication.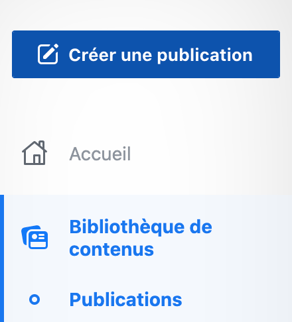 Select the "Survey" option
By clicking on "Survey", the tool offers you to ask your question at the top in a free way, as you would write a classic publication. Just below, indicate the response options for your survey instead of "option 1" and "option 2". Don't try to add other options: Facebook unfortunately only allows you to include 2 response options in its surveys, except in one specific case: if you publish your survey from an "Event" page. Then, you can add an image or a GIF for each of the options, so as to make the two options more readable.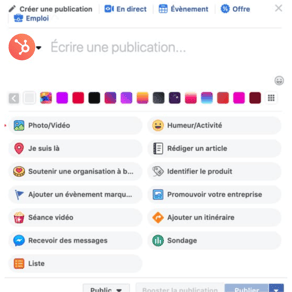 Write your questions and integrate text, image, GIF
Write your question as if you were writing a classic Facebook post. Preferably, ask a short and as relevant question as possible. If it fits on a single line, it will be more likely to engage your audience. Then, add your two answer options. You can embed an image in your Facebook post, or even an animated GIF, but it's not required. To maximize your chances of engaging your community, use the survey to get useful information from your audience. For example, if you are a videographer and you soon want to offer a new video format, make sure that the two possibilities are clearly distinct from each other. The user must quickly understand the issue of the survey. Of course, you have to make him want to give his opinion.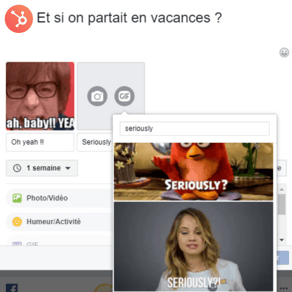 Choose the duration of the survey
The length of the survey is important. Indeed, you will have to leave enough time for your audience to participate. By default, a Facebook poll therefore lasts 7 days. And it seems that this is the ideal survey duration. Less than 7 days: you may not have time to reach your entire community. In addition, you will also lose visibility with users. Nevertheless, the duration to choose for your survey depends very directly on your objectives. If setting up a survey is related to a commercial study, such as the upcoming release of a new product, the desire to test new posting formats on social networks or a change in your online identity, then it can be strategic not only to define a relatively short deadline for your survey, but above all, to let your audience know it. For this, why not mention the end date of the survey directly in the publication? Creating a sense of urgency with your Facebook community isn't always necessary. If the post survey is more intended to animate your audience by asking them, for example "Who went on vacation? there's no downside to leaving it on your page all summer. In addition, Facebook users can see the percentages change in real time. Depending on the stakes of the question, they may be very interested in the answer.
Define your audience
Make sure you know your community well to guide how you ask your question. When creating your publication, Facebook allows you to precisely define your target audience. This means that you have the option of not offering your survey to your entire community. And that is what is recommended.
Create a poll from a group
Creating a poll in a group can be interesting to collect the opinions of some of your subscribers. The procedure is quite simple as the survey from a page. Follow these few steps:
Go to your news feed and click on "Groups" located in the menu on the left. Choose the group in which you want to launch the poll. If the group you want does not appear in the list, click on "See more"
Then click on "What do you mean?" » and finally on the three small dots at the bottom right and choose « Survey »
Then you just have to start writing the questions and answers
Complete the survey by clicking "Publish"
If you want to edit your poll, you can always do so by clicking on the three little dots in your post and choosing "Edit post". Adding or deleting answers can be done at any time.
Create a poll from an event
You can create a poll from a Facebook event at any time. It is possible to do this from your page or from any page of which you are the administrator. Here are the few steps to follow:
Go to your Facebook page, then click on "Events" located in the menu of the left column under the category "Browse"
Choose the name of an event and then the title of your event related to the survey. If the event is not yet created, then choose "Create an event" in the menu on the left
Then click on "Create a poll" above the text box where it says "Write something"
You can then write your question
Then click on "Add an option" so that you can write the answer and so on for all the answers you want
You have the option to select "Answer Choices" to change the default answer settings. For example, if you want to allow everyone to add their personalized answers or if you allow people to choose multiple answers
Finally, click on "Publish" to finalize the survey.
Do not forget to analyze its results
Once your survey is completed, it is now important to collect and analyze the responses obtained. Some apps can help you analyze and classify the results, but you can also handle this task yourself. This is obviously a very important step, because it will make it possible to assess the trend resulting from the responses of the respondents and above all to obtain progress on your project.
To go further, download this facebook marketing guide and find out how to implement an effective strategy.