Chatbots are computer programs that allow you to enter into a conversation with users automatically. More precisely, a bot is a machine capable of answering the most common questions of users without any human intervention. Just like with Messenger bots, it is possible to define your own WhatsApp chatbot in order to improve the quality of a company's customer relationship. As this feature of WhatsApp is still little known, it can be difficult to navigate.
> Download: The guide to creating your first chatbot" align="middle"/>
This article details the steps to follow to make a professional bot on WhatsApp.
What is a WhatsApp bot?
Like other chatbots, a WhatsApp bot is a computer program whose role is to formulate automatic responses in order to respond to users' questions and complaints. To work, a WhatsApp bot must be linked to a phone number. It is easily installed by adding a plug-in on the WhatsApp application.
Why create a WhatsApp bot?
For a business, the fact of creating a bot on WhatsApp is an excellent way to make itself available to answer the various questions and complaints of prospects and customers, and thus to improve the quality of the service of the company.
More technically, the process of creating a WhatsApp bot automates its customer support and after-sales service. Resting on artificial intelligence part of the work of maintaining customer relations or technical or after-sales support represents an opportunity for the company to target new commercial objectives. For example, the time recovered from these actions that are not very financially rewarding can be used for the implementation of a new commercial strategy.
Finally, the fact of using WhatsApp, compared to another application of chatting, includes advantages. It is indeed a secure application, which inspires the trust of users and offers an interesting quality of support for the operational sales teams of the company.
4 tips for a successful WhatsApp bot
Setting up a WhatsApp bot requires following a few tips. Indeed, it is not just a technical installation. A successful chatbot is the result of a human construction in accordance with the needs of the users and the objectives of the company.
Request the WhatsApp Business API
The WhatsApp Business API is a code snippet for integrating a WhatsApp conversation thread on a business website or on its Facebook page. Joining this function also gives the opportunity to access statistical information and make an establishment visible on the WhatsApp network. In short, joining the WhatsApp Business API is an essential step to be recognized as a professional on the app.
Build dialogues between the chatbot and users
Artificial intelligence can be useful in many areas to boost or supplement human skills. Some companies make this choice to manage all or part of their communication with their customers. However, most artificial intelligence systems are not developed enough to mimic human interactions. In addition, algorithms based on artificial intelligence are enriched by conversations with human users. To design a good quality WhatsApp bot and not compromise the image of the company, it is therefore essential to build the dialogue patterns between the bot and the users, even before technically setting up the bot. To do this, we must take into account the characteristics of the company's service offer or product catalog, the typical user profile as well as the company's brand image. Indeed, the answers must be precise, up-to-date and personalized.
Use a chatbot creation tool
To meet the needs of companies wishing to design efficient chatbots both on the technical and conversational level, solutions have been developed. These tools are used to guide novice developers to diagram the exchanges between the robot and the user in a logical and efficient way. You are strongly advised to rely on one of these tools to develop a professional WhatsApp chatbot.
Test the WhatsApp chatbot before its final implementation
Most digital tools need to be validated by testing in real conditions. For a chatbot, the need to check that all the conversation elements are linked to each other is all the more important. This step allows you to put yourself in the customer's shoes and assess the relevance of the tool in the face of real questions, that is to say by taking into account variable formulations and spelling.
5 tools to create a WhatsApp bot
There are different tools dedicated to designing chatbots. Here are 5 of the best for creating WhatsApp bots.
Botsify
Botsify is a chatbot creation platform for all applications that allow it: WhatsApp, but also a Messenger, Telegram or WordPress chatbot.
It is a simple tool whose promise is to be able to format chatbots for the main online platforms without any web development skills. Botsify accepts all file formats: images, videos, PDF… Enough to transmit key information to prospects or customers, in particular to answer their most frequent questions.
On the price side, Botsify is free within the limit of one chatbot and up to 100 users. Beyond that, it takes around $ 10 per month to access a premium plan.
Finally, Botsify is geared towards multilingual. The tool therefore makes it possible to create chatbots in more than 190 languages ​​and which will be able to switch from one language to another depending on the geographical area of ​​the user's connection.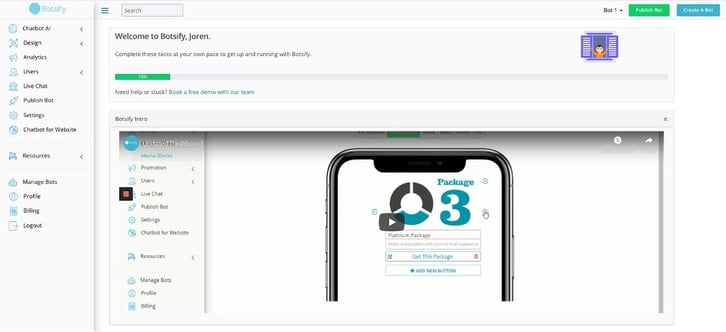 ManyChat
ManyChat is a marketing oriented bot creation tool. It guides companies wishing to develop chatbots in order to optimize the performance of their customer service or the efficiency of their conversion funnel.
ManyChat offers a library of templates for different industries. They can then be changed easily throughout the design of the conversation flow. The automated sequences also guide the user according to the objectives of his future chatbot. Finally, ManyChat provides access to statistics and audience lists in order to regularly analyze the reach of conversation bots.
ManyChat is available in a free version with its basic features and a limit of 1000 contacts. To take advantage of advanced options and an unlimited number of contacts, you must take out a subscription at approximately $ 15 per month.
When it comes to the design of multilingual chatbots, ManyChat integrates 3 languages: English, French and German. It is also advisable to use an additional widget to design chatbots whose content is self-translated.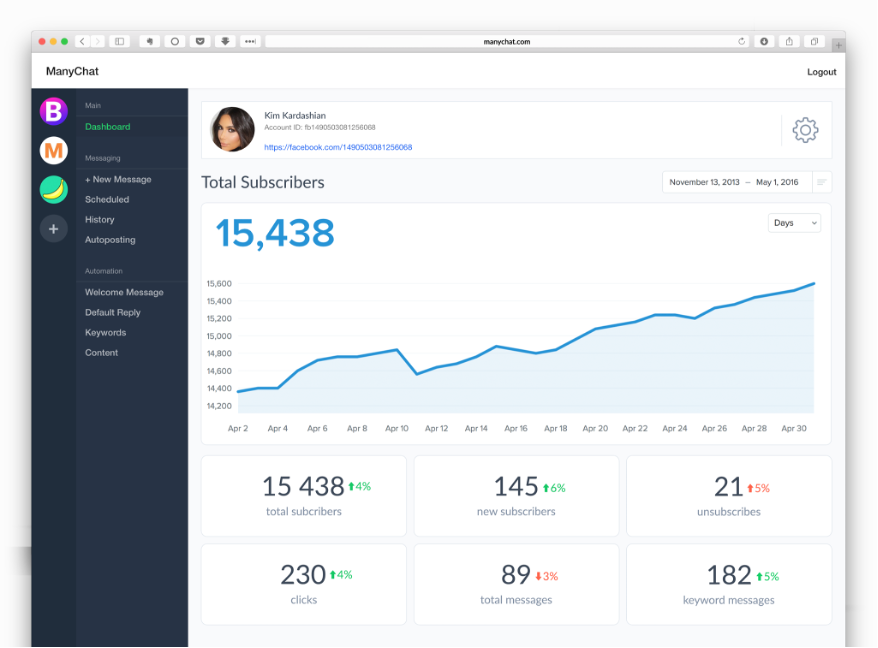 Kore.ai
Kore.ai is a very technical chatbot creation solution. It allows you to manage all aspects of building a bot, from conversational schema to design, including data security.
However, Kore.ai is also aimed at professionals who do not have coding skills. Its tailor-made templates, called "smart bots", adapt to the specific needs of companies in the retail, banking or, more broadly, services sectors. The tool also includes a module to generate reports and analysis on bot conversations.
Finally, Kore.ai is available in many languages. Its pricing is calculated to measure, according to the quantitative needs of the company.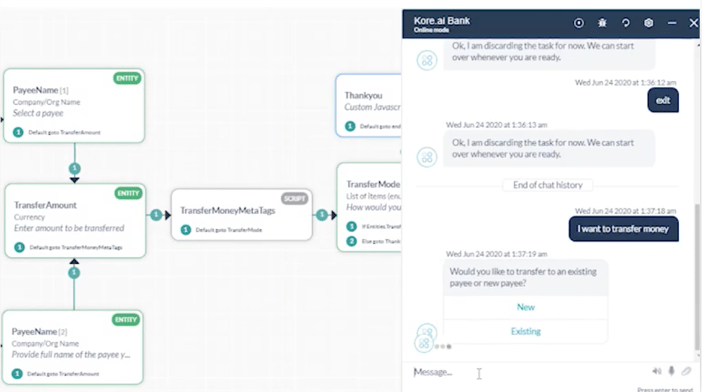 Imperson
The Imperson tool combines elements of conversation automation, analytical tables, a database as well as the possibility of structuring a team in charge of customer relations via the bot.
The use of artificial intelligence makes it possible to constantly improve Imperson's performance, which has the advantage of using natural language. The tool takes into account very specific profile elements of customers or prospects: their objectives and needs, but also the history of their previous contacts, etc.
In terms of price, Imperson practices a tailor-made price, just like Kore.ai. A dedicated team takes care of the requests of companies wishing to set up one or more chatbots in order to guide them towards the choice most suited to their customer relationship strategy.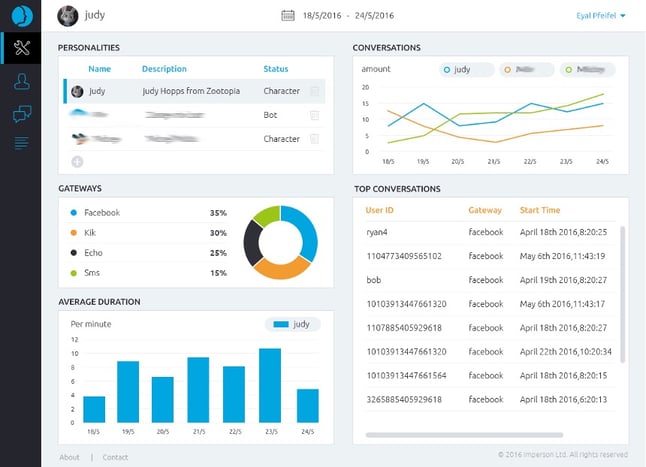 Flow XO
Flow XO is the ideal tool for companies that do not have in-house development skills and want to create a chatbot to optimize their business performance. A simple and flexible solution accessible to all sizes of structure.
Flow XO offers many integrations besides WhatsApp. The tool also offers great flexibility to its users since it allows the adoption of a hybrid chatbot flow, halfway between human language and that of artificial intelligence. In addition, the provision of surveys and forms helps businesses and brands collect strategic information about their customers.
In terms of pricing, Flow XO exists in a free version with a limit of 500 interactions per month between the chatbot and visitors. To go further and have more advanced features, it is advisable to opt for the standard Flow XO plan at $ 19 per month.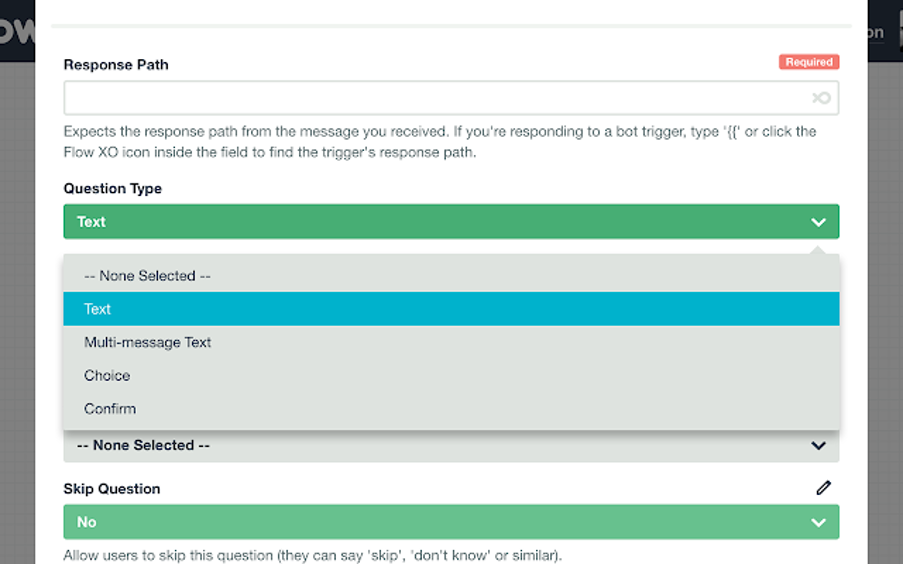 To go further, download this free guide and find out how to create your first chatbot.