Ethereum abandoned mining forever. However, a new fork keeps the original code with proof of work (PoW). We are talking about the EthereumPoW network and its native currency ETHW.
The following tutorial is intended for people with experience mining cryptocurrencies. We will show you, step by step, how to "reconfigure" old ether (ETH) mining equipment to start receiving ETHW. You will learn to know which are the pools in which ETHW can be mined and how to configure miners from HiveOS and Gminer, among others.
EthereumPoW, at the protocol level, the only change it received with respect to its predecessor was the Merge configuration (since this network was not merged to change its consensus protocol to proof of participation). The chain identifier (ChainID) was also modified. All other settings remain intact.
It should be noted that the DAG epoch (the algorithm used by Ethereum and similar networks for mining), remains intact to the main network. This means that graphics cards and ASIC devices with memories less than 5 GB will not be able to mine ETHW.
Before you start mining, you will need a wallet where to receive the new coins. MetaMask It is one of the options that you can use. At the moment, official wallets with support for ETHW have not yet been launched.
We recommend you follow this tutorial on how to configure MetaMask to use other networks. You must enter the following data:
Network name: ETHW-mainnet
New RPC URL: https://mainnet.ethereumpow.org
Chain ID: 10001
Currency Symbol: ETHW
Block Explorer URL:https://mainnet.ethwscan.com
What are the mining pools for ETHW
With the Merge, several pools dropped their full support for any Ethereum fork (for example, Ethermine). However, there is a list of pools that are supporting ETHW. These are:
How to mine ETHW on Hive OS
Hive OS is one of the most widely used online platforms for managing mining equipment. With the change of ETHW, these are already providing support for this new fork of Ethereum. So, if you had your mining rigs or ASICs running through this platform, you can make the change.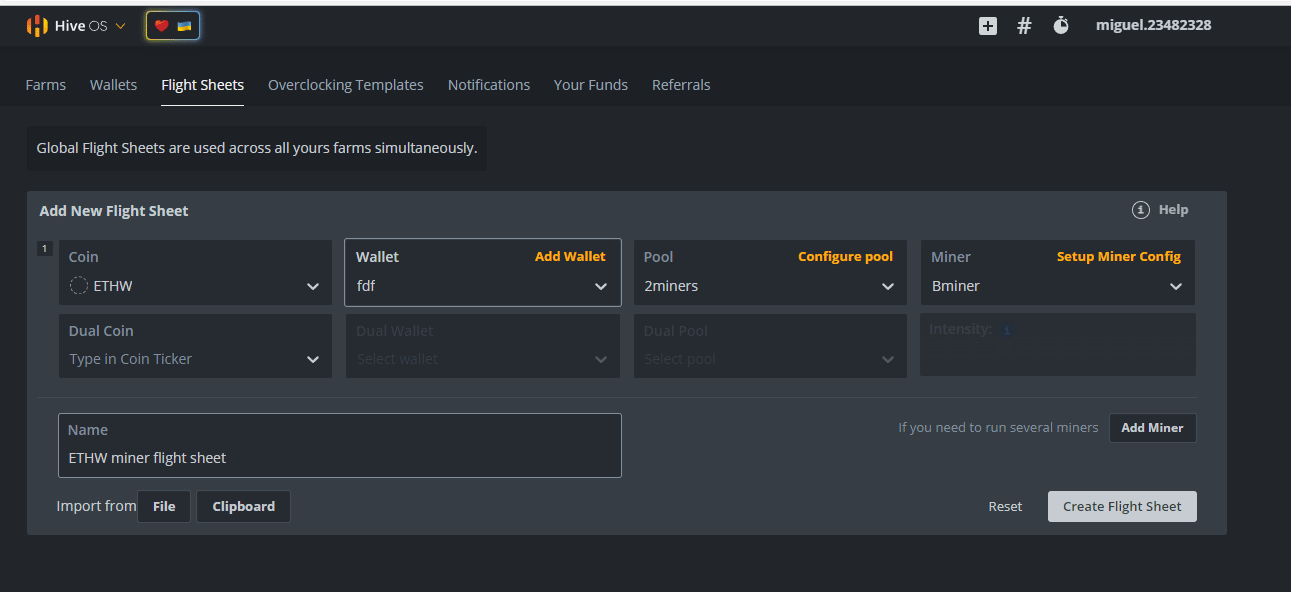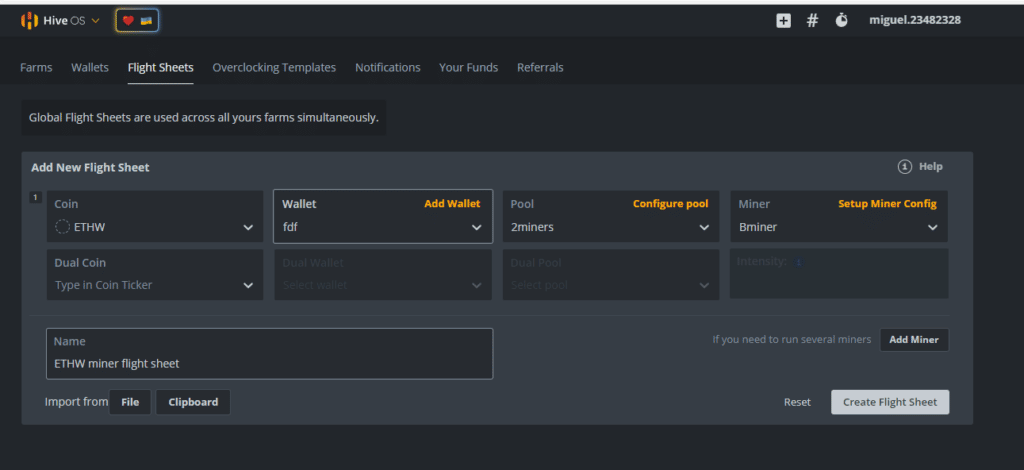 To change teams from Ethereum, or any other cryptocurrency, to ETHW on Hive OS, just create a new Flight Sheet. This is done from the options menu where you will click on Add Flight Sheet (add Flight Sheet) and it will show you the following data:
Since Hive OS is already fully supported, no complex manual configuration to be done. First, in the section coins, you must choose the type of currency, ETHW. In wallet, you must add your ETHW address.
In the Pool section, you are shown a list of the pools that support ETHW. However, whatever the case, you can set up a poolcustom from Configure Pool in case the pool of your preference not listed.
Of the rest of the options, you only have to configure it in the same way that you would with ETH, choosing the miner and the configuration if you want a type of dual mining.
Finally, it only remains to press on Create Flight Shit and you will be able to assign the configuration to your rigs to start mining ETHW.
How to mine ETHW on Windows and Linux
To mine ETHW on two of the most popular operating systems, there are options like T-Rex Miner (Nvidia), and GMiner (AMD and Nvidia). In both cases, the configuration to be carried out is very similar, since we only have to "reconfigure" the original file used to mine Ethereum.

Let's take the GMiner file as an example. This applies to both Linux and Windows.
In the GMiner file list you must locate the Mine ETH option. In the case of T-Rex it will be a similar file. Keep in mind that the file will always be related to ETH.
Now, if we open it with the Windows or Linux text editor, we will see the following.

Here you must change the attribute "–server" which refers to the mining pool. You should check the available mining pools for ETHW to get the server link. The next thing is to place your wallet address, which you can copy from MetaMask. Once everything is ready, you just save, run the file to start the miner, and you're good to go.