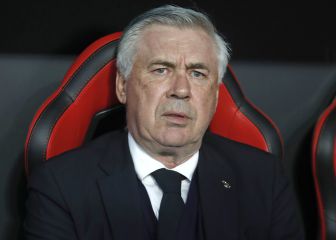 Carlo Ancelotti, coach of Real Madrid, gave a long interview on the program 'Radio anch'io Sport' on Rai Radio 1. The coach commented on the moment in Italian football and his second experience at the white club, starting with his latest comebacks: "We're not lacking emotions, but I'm not asking for them. I would like quieter games, but nothing… The magic of this club and these players comes out. There is little left for the end of the season and we hope to finish it in the best way".
League: "I think I am a lucky coach, I am working with a team that gives me a lot of satisfaction, a great club that is very well organized. It is I who should thank Madrid for giving me this opportunity again".
shield: "Milan have their chances to win it, like Inter and Napoli. I think it will be an even race until the end, there will be many surprises."
Champions: "Madrid, due to its history, tradition and quality, can compete until the end. With City it will be a very tough challenge, but so were those with PSG and Chelsea. The new rule on away goals turns the knockout rounds into more equal".
I would like quieter games, but nothing… The magic of this club comes out

Ancelotti
Championships: "I wouldn't know how to choose the one that gave me the most emotions, they are always great, winning a League is a very long race, in which continuity makes the difference. Of course, the 2004 Milan championship was a great emotion, but neither was I can forget Chelsea… It's hard to choose."
Mbappe: "Thanks to this president, the past, present and future of Madrid has always been, is and will be of the highest level, beyond the players who come. There will be a new stadium, Madrid has made history since the 1950s and will continue to do so ".
Future Milan: "We are used to clubs being acquired by funds, Milan's is a high-level one and I think it could be a very good operation for both parties. Return to the Rossoneri entity? I'll talk about it once my adventure in Madrid. If it ends in 20 years, I think I'll retire (laughs). Milan has grown me as a coach, they gave me a great help. Maldini is doing an exceptional job, he doesn't need my advice".
Ibrahimović: "Zlatan can do what he wants. I wish him to continue playing, when he is well he still makes a difference."
Naples: "I was good there, but sometimes relationships end due to a lack of trust. It has also happened to me in Paris, and it is fair that it be so, it is the best for both parties. The relationship between the club and the coach is essential for the result , if that is missing, it is better to separate".
Asensio: "He's a footballer with extraordinary quality. He suffered a major knee injury that forced him to be out with a slow recovery. He's an important player who helped us, I can't say anything about his future. I think he's talking to him club to renew his contract, but I can only speak about him technically.
I am the one who should thank Madrid for giving me this opportunity again

Ancelotti
effective time: "I am in favor. Now we are reaching 10 minutes of injury time and the teams that win always lose time, the time has come to change. There are many more things that I would modify. Stomping is sanctioned because many simulate and it is another thing that I would fix, like the hands, the VAR… The video arbitration helped, but there is still room for improvement".
Inter-Milan: "I think that the Cup derby will have no consequences in the championship. They were always equal matches, beyond the values ​​on the green. I will cheer on the Rossoneri."
Mourinho: "He has given hope to a city that needed him. He is doing something extraordinary thanks to his qualities as a coach and as a man. I know that he represents an important piece for the future of Roma."
Racism in Serie A: "I think and I hope that things are improving, there is a lot to do. We have to keep working on it".
Juventus: "It is surprising to see him there in the table, he is going through a transition phase. There will be important investments, they signed a great striker and they will soon return to the top".
World Cups: "I will cheer for Canada, it is my second country, the president of the federation is Italian. They qualified in an extraordinary way and they have very good players."
[