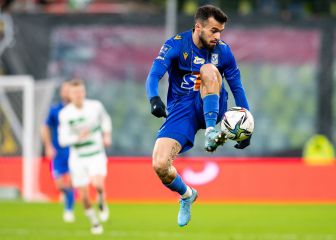 Surely the image that is most remembered in Spain of the way of experiencing football in Poland is the visit of Legia Warsaw to Madrid in 2016. Some supporters of the Polish club caused riots and clashes with the Police. Beyond the altercations of this part of the fans, it is a good example of the intensity and passion with which they treat football in Poland, supporting their team above all else. Poznan, in a more festive tone, will be able to express themselves tomorrow, when they celebrate the eighth league title in their history after playing Zagebie at home (17:30).
After several years of dominance by Legia Warsaw, in which they have chained five titles in six years (in 2019 they slipped with Piast Gliwice), the capital's only aspire to be tenth on this last day. Lech, in the year of its centenary, has taken advantage of the occasion and has been crowned champion with a day in advance. "We don't just have 11, we have 16 or 17 top-level players and that's how leagues are won," explains Dani Ramírez, the team's midfielder, to AS.
Dani Ramírez has lost his starting position after the arrival of coach Skorza at the end of last season. The new coach is looking for a more direct football in which a profile like the Spaniard's does not fit as well as Amaral's, a Portuguese who has scored 16 goals this season playing behind Ishak, captain and top scorer. However, the Spanish footballer will always have a place in Poland, says. "It's a league that suits us Spaniards. In general, people with quality. We are the different player among so many physical and fast footballers". Although in the harshest winter months they have to adapt to fields in very poor conditions.
It is no coincidence that Spain is the second country that contributes more foreigners to the Ekstraklasa with 17 (only one less than Portugal). Ivi López, who is currently tied with the aforementioned Ishak for being the top scorer in the league; Marc Gual or Dani Pacheco with some of the most prominent names. Although the gigantic dimensions of the country make it difficult to create a community, Dani confesses that "it is always nice to greet someone from your country who is trying to succeed abroad".
This Madrid native, from Leganés, arrived in Poland in 2017 as "the last chance he had to continue being a footballer". He did not go to a big one, far from it, but to the second division. "It was a bit crazy, Stomil Olsztyn was a small team. Historically known, but without aspirations to climb. I took risks and I have been able to change my life. I can't ask for much more from Poland", adds a calm Dani Ramírez, who now does not feel the need to return. "Once you leave Spain, your fear goes away. At first I had no idea of ​​English or Polish and now in the locker room we have an incredible relationship, almost every day we go out together to do something.". The accompaniment of his wife and, for a year, his first daughter, has been a fundamental support in these five years.
As he comments, the personal relationship between the squad is as winning as the football one. The young and playful atmosphere of a Spanish locker room is not so different from a Polish one. "It's people you think it's going to be colder, but no. It's not that hard to adapt once you're here"explains about a very international team (there are fourteen different nationalities).
This summer they will be put to the test in their bid to be a Champions League group stage team. Despite being champion, the 2022-23 Champions League will start from the first qualifying round. They will not have Kaminski, a 19-year-old promise who has already been taken by Wolfsburg for 10 million eurosbut hopes that they can keep, in addition to Amaral and Ishak, Milic, Rebocho or Joel Pereira.
[