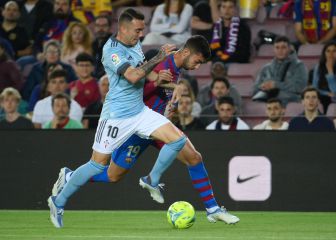 They have been partners for many years, creating magic just by looking at each other, drawing impossible plays that only they saw, creating goals for the news headlines, many years of unlimited partnership. Aspas and Nolito, Nolito and Aspas, talent in abundance. They will not be able to say goodbye playing because of a damn injury of the Sanluqueño, so it's up to Moañés to organize the best tribute for Nolito to enjoy from the stands. At the end, he will go down to the lawn to receive the applause that he so deserves and, incidentally, to hold his partner accountable. It will be time to get out that number book and see how close his fourth national top scorer trophy is for the Moañés (Follow today's game live on As.com).
Elche goes to the party with the happy hangover of salvation. The defeat against Atlético was the least bitter of the season, the final whistle gave way to the celebration and now there are only two days left in the process. The first will be in Balaídos, where they can spoil the tribute to Nolito.
Coudet will not be able to count on the Sanluqueño or Cervi, so you will have to improvise an emergency solution for the left side. Neither will Hugo Mallo, injured, Santi Mina, separated, nor with Murillo, sanctioned. yes get rrecover Kevin at the last minute. Francisco will not be able to use Pere Milla, Pedro Bigas or Marcone, who have been suspended, for this match, as well as the injured Verdú and Fidel.
[