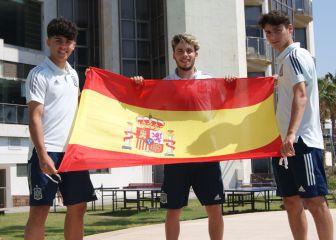 came the Time of truth. The hour in which there is no margin of error. After finishing Leader the group stage of the European Sub-17, Spain faces this afternoon Portugal (7:00 p.m.) in the rooms final, a match that takes place at the Netanya stadium (Israel).
Even though the Portuguese they have a great team and started as one of the favorites when the competition began, La Rojita has nothing to fear. Julen Guerrero's boys are the best defense of the tournament (they only fit a non-existent penalty goal against Serbia, in the final minutes of the third match of the group stage) and their offensive players are very connected, as are the cases of Iker Bravo Y Danny Rodriguez.
The end of Sport David Mella He also showed in the last match that he is in top form, which opens a debate to the selector: play with Dani and Mellaone in each band, and delay the position of Carvalho, so far undisputed or choose between one of the two left-handed ends. Be that as it may, it is reassuring to know that the eleven will be guaranteed no matter who plays. In case of achieving the pass to the semifinals, France will be the rival of Spain.
Chip and possible starting elevens
SPAIN: Nerd; Bonar, Simo, Yarek, Garriel; Gerard, Dani Perez, Carvalho; Mella, Iker Bravo and Dani Rodríguez.
PORTUGAL: Silva; Conceicao, Monteiro, Muniz, Barroso; Veloso, Essugo, Djaló; Riverbank; Pinto and Morerira.
Referee: C. Ciochirca (Croatia).
Stadium: Netanya.
Hour: 19:00 (Telesport).
[