Key facts:
Commissions, which months ago exceeded USD 60, are now around USD 0.20.

The little activity in Ethereum is responsible for the drop in commissions.
Ethereum currently has its lowest fees since 2020. The average cost for transactions between wallets is around USD 0.20, while interaction with smart contracts costs around USD 1.00.
The network developed by Vitalik Buterin, comes from a season in which it averaged commissions of over USD 65. Now, after two years, Ethereum returns to operating with commissions below $0.50.
As CriptoNoticias reported last May, this downward trend had been observed —with some exceptions— since the beginning of this year.
The reason for this, which benefits Ethereum users, is the little activity that the network is having. Last year, the rise of P2E gaming (play-to-earn), decentralized finance platforms (DeFi) and non-fungible tokens (NFT), attracted a lot of activity to Ethereum, making it look saturated. The largest payment of commissions came from some of the smart contracts of these platforms.
Now, as the graphs show, direct transfers (wallet to wallet) in Ethereum are those who are consuming the largest amount of commissionsfollowed by OpenSea, an NFT trading platform.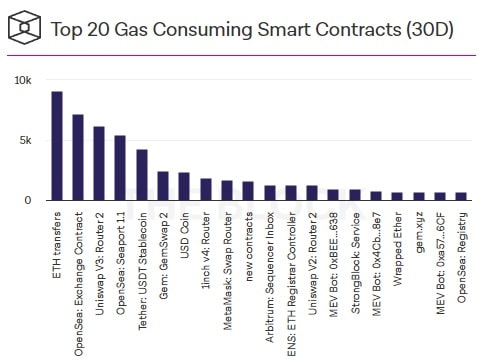 Active Ethereum Addresses Also Reach Low Since 2020
Not only are Ethereum fees at their lowest since 2020, but so are active addresses. This metric refers to those addresses that have made at least one transaction in Ethereum in a given period of time, either sending or receiving funds. The following graph shows the number for the period of one week: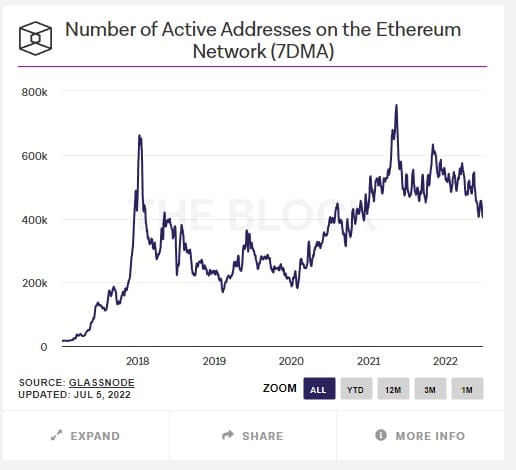 This little network activity, which has generated low commissions, also reaches rollups or second layer solutions. These technologies they are processing commissions around USD 0.01 as is the case with the ZKSync network either $0.04 in Optimism.