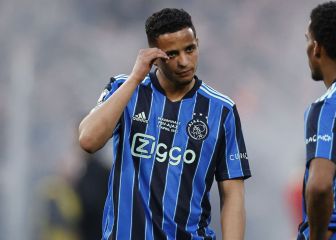 The career of young promises can be twisted for a thousand reasons but the one that hurts the most is the lack of commitment. Ihattaren left PSV this summer, joined Juve, was loaned out to Sampdoria and never made his Serie A debut. He went back to the Netherlands, he didn't want to train in Italy (where they are now surprised at his level this week). He found an outlet at Ajax this past January and after three months of work now he seems to be a footballer again.
His arrival was involved in a great controversy. Beyond the fact that as a PSV youth squad he moved to a rival club, his form was far from being the desired one. Some very overweight images were seen and Ten Hag made it very clear at a press conference: "If he is not at the physical level of the Eredivisie or the Champions League, he must continue working. It's tough for a guy like that, but he got himself into this with his way of life."
He spent the rest of January, February and March training and getting in shape and on April 1 he was able to make his debut with the subsidiary. Since then, he scored a goal against TOP Oss, had a couple of assists and yesterday he scored a hat trick against Venlo, a recently relegated Eredivisie.
In front of the attentive gaze of Ten Hag, who was in the stands, Ihattaren scored three great goals. The first, getting rid of two rivals to score inside the area. The second, behind a wall with Rasmussen that he created himself. And the third was a typical Robben goal in his best days. Three in ten minutes.
The level is the Dutch Second Division, but it is a good testing ground to make the jump to the first team. With him he already debuted in the Cup final on the 17th, curiously against his former team, PSV. Even if they were four testimonial minutes.
"We all know that he can play football very well, but we also know that he still has to take some steps if he wants to reach the first team. What I always say and keep repeating: give it a little time. You need this type of games to pick up rhythm", said Heitinga, his coach in the subsidiary ajacied.
[