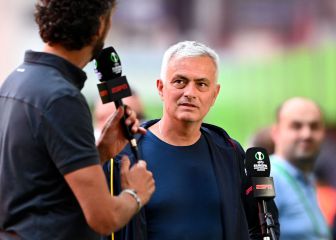 The first edition of the Conference League ends with two teams very hungry for titles. Feyenoord have not lifted an international trophy since the 2002 UEFA Cup and played up to 18 matches to reach this last appointment. They only lost one, in the qualifying phase against Elfsborg, and in the semi-final they were able to eliminate Marseille, one of the favorites for victory. He closed the Eredivisie in third place and winning today would also mean sealing a pass to the Europa League without going through other previous ones.
Roma, thanks to the victory over Torino on the last matchday, already have that classification in their pocket, but you only need to walk around the Italian capital to notice all the excitement generated by today's match. The giallorossi they haven't played an international final for 31 yearsThey have not won anything since 2008, and Mourinho can break both that drought and that of Italian football, whose clubs have not triumphed in Europe since 2010, when he himself lifted the Champions League in Madrid. The 14 games in this Conference also cost him some disappointment (the 6-1 against Bodo, which he defined "the worst defeat" of his career), but the Portuguese knows perfectly well that the party that would break out in the Italian city would be similar to that of a European champion. The coach only has one doubt, and it is Mkhitaryan. The Armenian trained with the group and told the coach that he is ready, although Zaniolo still has options instead.
Arne Slot, for his part, has brought back the starting goalkeeper, Bijlow, who has not played since March due to a foot injury. The coach, whose career began just three years ago, said that if he is well, he will bet on him.
It will be played at the Arena Kombetare in Tirana, a very nice stadium, but too small for these two fans. There will hardly be room for 19,000 people and the romanistialso thanks to the presence of Marash Kumbulla, will have the support of the locals. Meanwhile, between the Olympic and De Kuip, there will be some 100,000 more fans attending the event through the giant screens. The new UEFA competition, in the end, aroused passions.
[