Key facts:
Joaquín Leal, an Ethereum miner, recommends buying crypto instead of mining right now.

Ethereum mining difficulty is about 14.50 P.
The profitability of Ethereum (ETH) mining is also suffering from the impact of the red market that has been reported since the last two weeks. There are miners who are seriously thinking about turning off their rigs, since they earn just over USD 15 a day, which is not enough to see their activities bear fruit.
Joaquin Leal, a bitcoin alternative cryptocurrency (BTC) miner, has been in business for over a year. He has recorded his experience in videos of him that he uploads to his YouTube channel. in the more recent, warned that it was reaching the "end point" of its mining operation.
Leal, who has the rigs in the garage of his house, he is currently generating about $50 a month by mining Ethereum.
If electricity costs are subtracted from this (which is the raw material of the activity), there is one profit daily of just USD 17 on average or about USD 527 per month.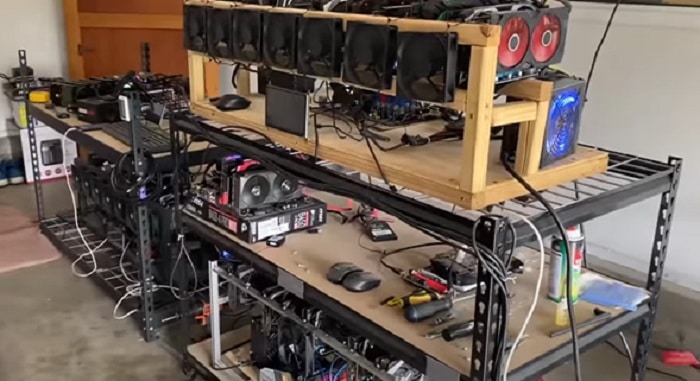 "This crypto mining journey has been very entertaining, I have been mining for a year and a half, I have learned a lot. It is not a farewell video or anything, I will continue mining so I make 1 dollar a day. The problem is that I am reaching that limit. That's how it is. I am generating USD 50 a day, practically profits are USD 17 a day, since USD 33 goes to electricity consumption of all my equipment. I am reaching my limit, where I am going to have to make a drastic decision to turn off the rigs or continue mining, even if I am making losses."

Joaquín Leal, cryptocurrency miner.
Leal points out that the current situation of his operation – which has a hashrate of 2.3 GH/s – is enough for him to "survive". "My situation is critical, too critical. $17 a day is nothing, after electricity consumption. It's nothing. There are those who are in the same situation or worse », he exclaimed.
More difficulty + price drop = crisis
Leal attributes the profitability crisis to the rise in difficulty and low prices faced by all cryptocurrencies, which have already been in the red for several weeks.
Advertising

I agree with you data from 2Miners, the Ethereum mining difficulty is around 14.56 and the hashrate, which is the computing power of that network, is 1.06 PH/s, close to its historical maximum. This shows a high participation in the chain.
In parallel, the second most important cryptocurrency by valuation is getting closer to its migration. In fact, video card (GPU) mining is expected to end this year on Ethereum as it will become part of the Proof-of-Stake (PoS) consensus algorithm.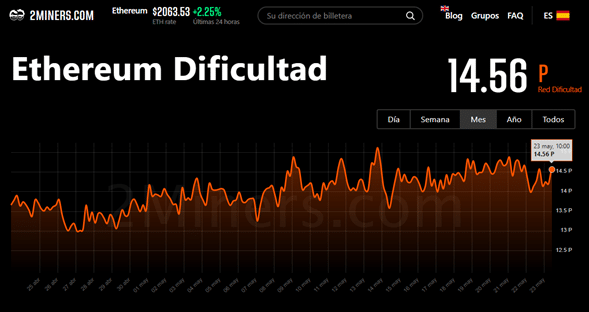 While this is happening, ether, which is the native cryptocurrency of that network, struggling to stay afloat, at $2,063after a rebound of 1.60% compared to yesterday's session, informs this Monday CoinMarketCap.
"But cryptocurrency mining today is terrible, the difficulty does not stop growing," Leal insists. "Ethereum threats keep coming to us. A mockery is being committed », he opined.
Leal's profit is reminiscent of what can be made mining altcoins in Chile, where an AMD RX 6600 XT graphics card (GPU) could bring in daily revenue of $15 or $16.
And what to do?
Leal, although he disagrees with the current profitability of his mining operationhighlights that it will not stop mining, even if the profits drop to USD 1 per day. However, he recommends buying cryptocurrencies instead of mining them. "It's time to accumulate," he stressed.
"I would say that it is more advisable to buy cryptocurrencies. It is time to accumulate everything in cryptocurrencies. It's time to accumulate. You decide how. At the moment, it is a very bad time to mine. Take my example, as an experience », he pointed out.
But he clarified that he is not "scared" nor does he want to scare anyone. Turning off his rigs, he admitted, "would be temporary" and while the current losing streak passes. "At the moment, we are still mining," he concluded.