Reducing the weight of images on a web page is a major issue for website managers. The heavier they are, the less efficient the website is. But the question calls for technical skills (css, Photoshop, etc.) and it is not always obvious how to succeed in this task. This is where Imagify comes in. Let's find out about this image compression tool that makes your life easier.
Why is it important to compress your images?
A fast website is an asset for your business. This improves the user experience of your visitors who may go to your competitors if your website takes too long to load. The loading speed is also part of the search engine criteria for the natural SEO of a website.
However, a study by Radware shows that the weight of web pages increased to 1500 kb / page in 2013, an increase of 150% compared to the average weight in 2010. The weight of web pages continued to increase until reaching 3 MB in 2016. These figures show the impact of the weight of images on a website.
In reality, images represent almost 60% of a website's weight and are responsible for 50% of its loading time. By reducing the size of the images, you save precious seconds on the loading time of your site and the latter becomes faster. Image optimization is even one of the key SEO points.
Why use Imagify?
Imagify was created in 2016 by WP Media – a player recognized worldwide for its essential WordPress plugins such as SecuPress or WP Rocket. Its function is to lighten images without causing any loss of quality. It was so successful that it was used to optimize over 400 million images in just 3 years of existence.
This is explained by the efficiency of the algorithm for drastically reduce the weight of an image without affecting its quality. It is actually a powerful image compression tool which offers a simple and intuitive interface to make your work easier. It is very easy to get acquainted with its interface and its features.
However, it is also a WordPress plugin which you can access from your own. admin interface. You also have dedicated support at your disposal to help you solve any problem you may encounter. All you need to do is access the contact form either on the plugin's configuration page or on the Imagify website.
How does Imagify work?
Imagify is used for compressing images in .png, .jpg / .jpeg and .gif formats (animated or not). In addition, it processes all sizes corresponding to the images submitted to it so that they are optimized, whatever their uses. Three levels of compression are available to you in order to adapt the optimization of the images to your needs:
the normal level corresponds to a "lossless" type compression. Reducing the weight of the image therefore does not lead to any loss in quality.
the aggressive level corresponds to a "lossy" type compression. The reduction in the size of the image is therefore more important, but the image loses a little of its quality.
the very aggressive level corresponds to a stronger compression than the other two levels. The weight of the picture is much smaller and so is its size.
The aggressive optimization level brings the better balance between preserving quality and reducing image weight. But we recommend that you test each of the three levels to better appreciate their impact on weight and image quality. It's easy and it's fast. The Google PageSpeed ​​tool will be useful for you to measure the speed of your pages after each compression.
How to optimize an image with Imagify?
Imagify offers two solutions to optimize your images:
a plugin for WordPress,
a service usable directly on the Internet.
If the quality of the compression is the same for these two services, this is not the case for theoptimization automation. In reality, image compression is automated in WordPress with the plugin, which is not the case for the online service.
The WordPress plugin
The plugin is installed on your website from your back office like any other WordPress extension. After installation, you will find it in the extensions tab to activate it. Finally, you will need to create your account and configure the extension before starting to optimize your images. It takes less than 5 min.
Create your account
A window is presented to you as soon as the plug-in is activated. Just click on Subscribe, it's free and enter your email address. An email will be sent to you immediately containing your API key, your automatically generated password and the link to activate your account on which you must click.
Configure the plugin
At this point, it will just be necessary to configure general settings. It is about choosing:
the level of optimization;
whether or not to keep the original files;
the different miniatures to optimize;
whether or not to keep the EXIF ​​data of your images (deleted by default);
to automatically resize or not the images of too large size (more than 2000 px).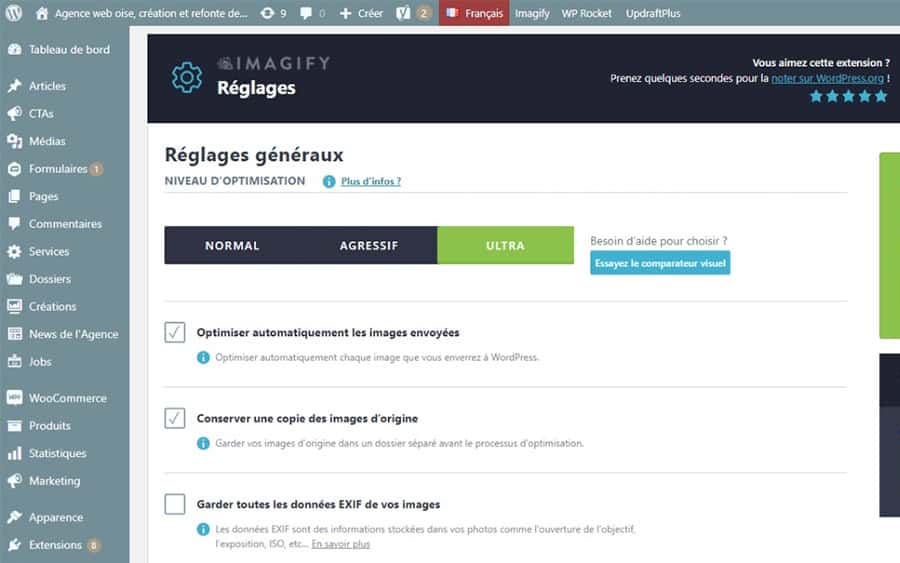 You can also add a quick menu to your back office top bar. You just have to click on Save & Go to Bilk Optimizer to start compressing your images with Imagify.
Optimize your images
To optimize an image with Imagify, mount your image in the WordPress media library. The latter will send it to your server which will systematically send it to Imagify. The algorithm will then process the media and return the compressed image to you, without changing the name or any other information of the image.
Compressing images as soon as they are uploaded saves significant time and saves you time-consuming and boring steps. As for the images already present in your library, you must optimize them by clicking on Imagif'em all.
Online service
To compress an image with the online service, you must first create an account. After that, you will need a few seconds to choose the compression mode and drag the image (s) to optimize. At the end of the optimization, all you have to do is click the button Download to download your compressed images.
If it is a large number of images, just use the button Download all optimized files to retrieve all the optimized images in a .zip file. In the event that you need to optimize a lot of images that are not in one location, the task may be time consuming.
Some advantages of Imagify
In its perspective of support and simplification, Imagify does everything for you. Once your setup is successful, you won't have to do it again – the setup automatically applies to all new images. You no longer have to worry about the weight of your media.
It is possible to keep a copy of the original images in a backup folder. You just need toactivate auto-save option to go back and restore your images if the result does not convince you. In addition, your images will remain optimized even if you decide one day to remove the WordPress plugin from your site.
One of the biggest advantages of Imagify is that you no longer waste time:
to resize your media;
to optimize your images with Photoshop.
The algorithm takes care of everything and just shows you the compression rate of your images.
How much does it cost to use Imagify?
When creating your account, Imagify offers two options: a free account or a premium account. The free account is more than enough to experiment and familiarize yourself with the interface. But this option is a bit short for optimizing an entire website if you have multiple images. a Oops, it's over! will appear as soon as your 20MB of free optimization is used up.
If you have the patience, you can reach the next month to get 20MB free again. Otherwise, you will have to switch to the premium option to exceed this limit and have more comfort. However, Imagify offers a "One Time" option whereby you can optimize a large number of images at one time.
The cost of the subscription options ranges from $ 4.99 / month for 1 GB to $ 69.99 / month for 50 GB with the premium monthly subscription. It ranges from $ 5.88 for 500MB to $ 19.99 for 3GB with the One Time option.
Consider the amount of images to optimize and its recurrence to determine which subscription plan is right for you.
Accessibility of Imagify
Imagify is basically a SaaS solution accessible via your browser using a URL. But he is much better known for his Plugin usable with WordPress. You can also access it through WordPress.com if you have a business plan. Thanks to its API, the use of the tool now extends to other CMS.
In conclusion
Imagify has established itself thanks to its efficiency in optimizing images and its ease of use. Pure product of a French company; he proposes powerful results at an attractive cost. It is clearly one of the must have plugins if you want to significantly improve the loading time of your WordPress website. You don't feel like installing Imagify on your site? Do you fear false manipulation? Contact us!