The BMW 2 Series Coupe The new generation is just around the corner, hence the German specialist has presented us with his Manhart MH2 450 proposal. According to BMW, the model embodies sportiness in a particularly concentrated way, with a vehicle concept focused on dynamic excellence .
We talk about an athletic design, powerful engines and sophisticated chassis technology. The compact dimensions, new chassis, increased static torsional stiffness of up to 12% compared to the previous model, 50:50 weight distribution and optimized aerodynamics create a perfect starting point for outstanding character.
With a six-cylinder in-line engine topping its mechanical range, the new BMW M240i xDrive Coupe it will unleash a very interesting power. No less than 374 hp (275 kW) and 500 Nm of maximum torque, which is 25 kW (34 hp) more than its predecessor. Accelerates from 0 to 100 km / h in 4.3 seconds.
We have no doubt that it will be a really fun machine, especially in its spicier variant, the M2 Coupe. Unfortunately, I am very afraid that there are a few months left for us to know about it, and even longer for it to reach the market. Let's open our mouths with the latest from Manhart …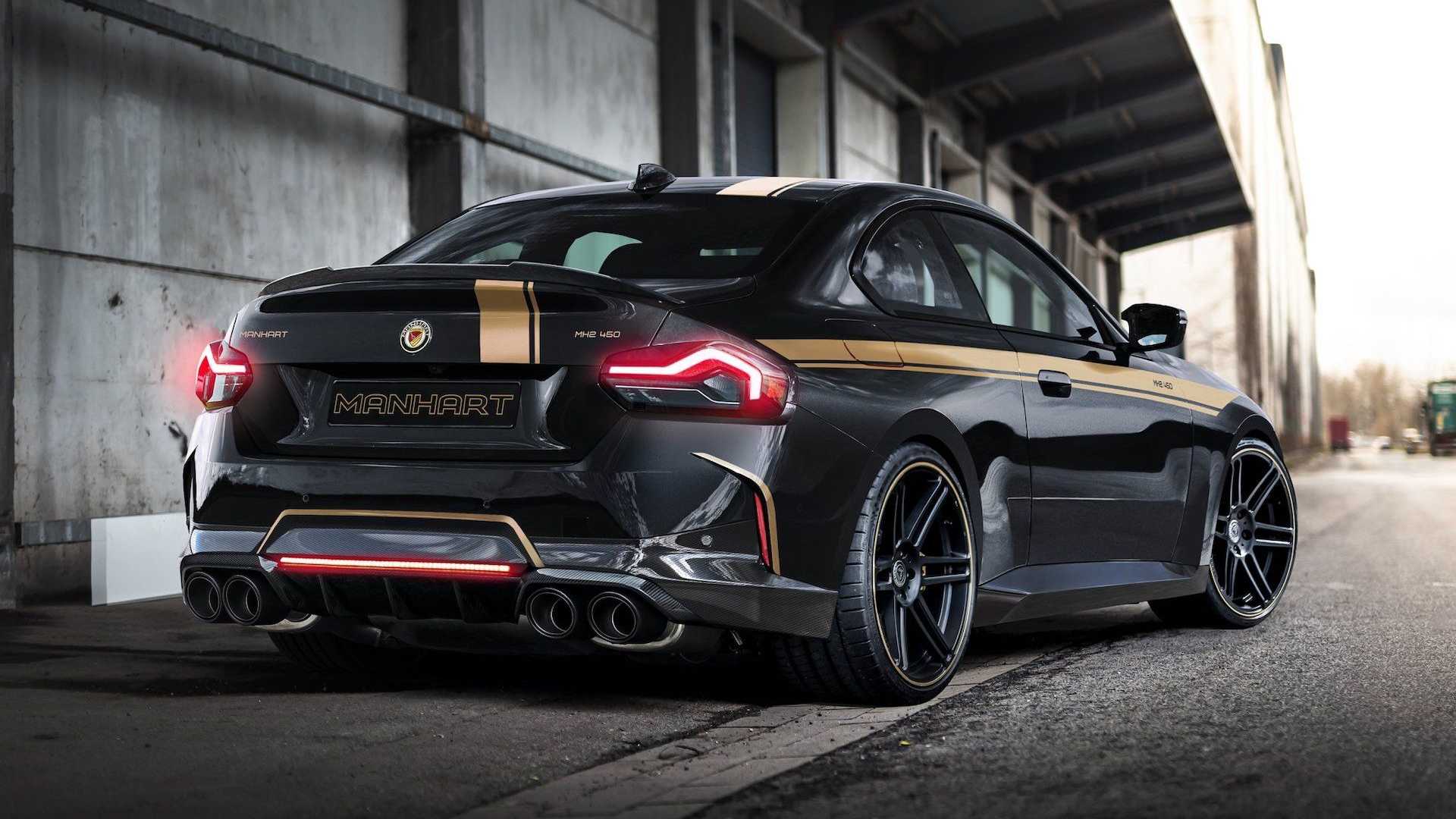 The Manhart MH2 450 is attractive and radical
On the outside he dresses in black to obtain a much more sinister appearance, which in turn contrasts with Manhart's classic gold colored stripe. Its height has decreased by 30mm thanks to new springs signed by H&R, which are combined with a set of Concave One forged wheels in size of 20 inch in six twin-spoke design.
Nor is Manhart's signature missing on the front, with a splitter carbon fiber, new bumpers and a subtle spoiler behind. At the rear we will also find a new silencer with four exhaust tips wrapped in carbon fiber or ceramic, although the icing on the cake is under the hood.
As its name suggests, the powerful 3.0-liter six-cylinder engine has gone from the original 376 hp and 500 Nm to a not inconsiderable one. 450 hp (456 kW) and 650 Nm thanks to an MHtronik Powerbox update in the software the ECU and the new high-performance exhaust system.
The new exhaust has a valve control function and four 100mm diameter tubes. Manhart allows the removal of catalysts and standard OPF / GPF filters. In terms of performance, it can reach the 100 km / h in less than 4.3 seconds and exceed 250 km / h.