Bitcoin (BTC) mining revenues fell in April compared to March, a trend that has been going on for months but has not been an excuse for a drop in the participation of miners in the network.
In accordance with Compass Mininga Bitcoin mining firm, the revenue from the activity (which adds the reward of 6.25 BTC per mined block, plus transaction fees) fell 4.5% in April compared to the previous month. These went from USD 1,210 million in the third month of the year to USD 1,160 million in the fourth, in averages calculated in US dollars.
In general, mining revenues are closely related to the price of bitcoin, a currency that was struggling between USD 38,000 and USD 42,000 during the month just ended. This, in part, could explain the drop in profits during April.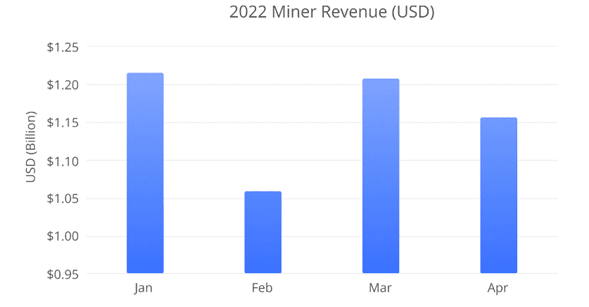 What is interesting is that, in the same month, the Bitcoin hashrate, which is the transaction processing power on the main chain of the cryptocurrency, remained above 205 EH/s, according to BitInfroCharts. In fact, it rallied from that level and hit all-time highs just this week of 230 EH/s, showing that there are plenty of carriers online.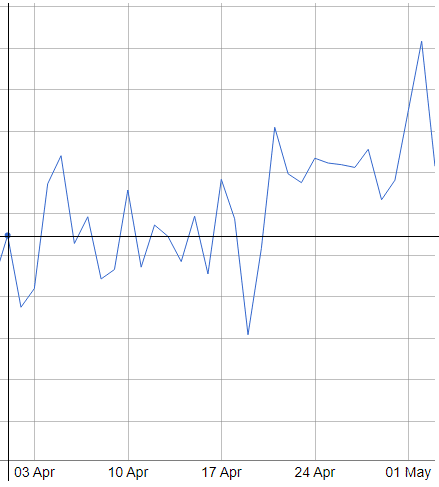 This means that Bitcoin miners remain in their operations, participating in the network and guaranteeing its security, to even though they earn less for their investment. While notable, it is a trend that has been reported on CriptoNoticias for several months now.
More channels on the Lightning network, will it be a factor?
Growth of Lightning Channels May Lead to Lower Transactions on-chain (main chain), or what is equal to fewer blocks with transactions to be processed by the miners, beyond those generated by the protocol itself. This would generate a loss of commissions per transaction, which are the ones that allow you to increase the profits from mining.
For sample, in the last month there was an average of 80k of these open payment channels on the Lightning Network. The figure, although it does not show a massive use of the layer, makes clear the incentive for there to be more participation in it.
According to glass node, a blockchain analytics firm, the number of Lightning Network channels remained above 80,500 for the entire month of April. Although it resulted in a slight drop of 2% compared to March, it is more than what was registered in previous months, evidencing more integration of technology in various services.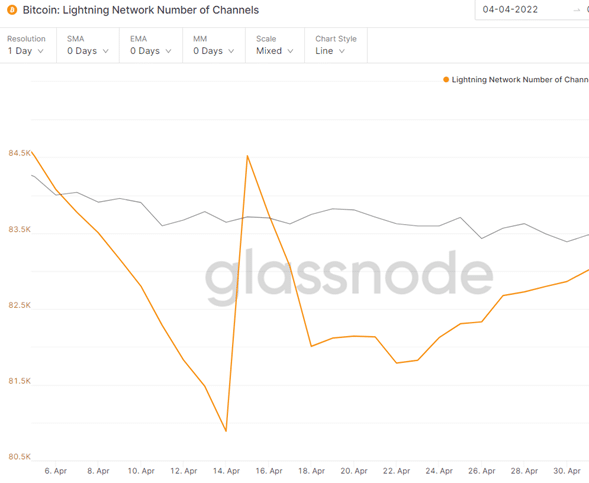 In addition, said Lightning payment channels have a capacity of 3,721 BTC or about $148 million, according to 1ML. This is the amount blocked between channels in order to generate liquidity in the Bitcoin micropayment network and what, in practical terms, allows there to be permanent movement in it.
This shows that more and more capacity is needed to use the Lightning network as a payment mechanism, a technology that, far from damaging the Bitcoin ecosystem, It allows speeding up transactions, decongesting the network and promoting balanced mining, focused –for the most part– on the assurance of the protocol.
How does the Lightning Network work and why is it necessary for Bitcoin?
The Lightning network is a micropayment solution that allows you to streamline peer-to-peer transactions almost instantly. In this layer, operations are executed between channels and, when they are closed, it is when those transactions are communicated to the chain.
This solution, which was born as a faster and cheaper network for the exchange of bitcoin, solves the scalability problems of the main chain, where the miners are in charge of processing the blocks with transactions, to later confirm them and take them to the accounting book of network.
It is a confirmation process that, in general, takes about 10 minutes to complete, according to what is pre-established by the protocol and that leaves a commission for each operation, which is taken into account for the total mining income.