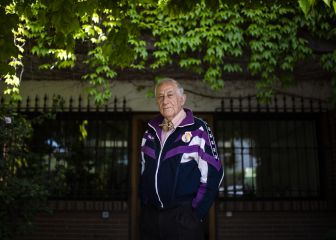 On Wednesday you will pulses shot up with the 'penultimate' ecstasy of his Real Madrid, but on Thursday he was already presenting his latest book in Cáceres: "This Spain of ours". His agenda is not exactly that of a retiree. whoever was CEO of Real Madrid now lives on the road. Hanging the diplomatic habit, also the political support, he gives his opinion of everything that can be asked. Football, derby, included.
Don Inocencio Real Madrid is going to cost him a piece of life.
Big day on Wednesday…!!! I couldn't believe it, like all Madridistas. We were already half resigned. I was wondering if we could at least draw and not make a fool of myself if Guardiola beat us in both fields. That Madrid on Wednesday was like that Madrid that captivated me so many years ago. That of Alfredo Di Stéfano, later with Butragueño and Hugo there were also comebacks, but this year's is incomparable and unrepeatable. They are three in a row against three colossi that any of them could have been European champion. Almudena, San Isidro appeared to us… and above all the 'balls' of a team that seemed dedicated, but not surrendered.
Where was your fervor for Real Madrid born?
I joined Madrid as an adult. I converted to Real Madrid in May 1961, I was already 21 years old. I was finishing my law degree in Murcia and I went by bus to Alicante to see a Cup match, Hércules-Real Madrid. The Whites won 0-5 with two goals from Di Stéfano, two from Puskas and one from Del Sol. Manolín Bueno played on the far right and was injured. I remember all of this and much more. Until then my team had been Murcia. I saw him every Sunday. That afternoon he was going to see one of the wonders of the world. A team that had just won five consecutive European Cups. I was dazzled. I was playing football then and I saw those players do things that I would have been unable to do in 120 years of playing. And I'm not only saying this for Alfredo, but also for Del Sol, for Puskas… I fell off my horse like Saint Paul and thought that there was no religion more spurious than that, the white religion.
"I converted to the white religion as an adult. I was 21 years old and it was in a match against Hercules."

Innocent Arias
And he never hung up his white habits anymore.
Never. She was where he was trying to see the games. My first steps through the Bernabéu were already preparing the diplomatic career, in the third amphitheater of the south end. At the top, with the feet dangling. It was even dangerous. Nobody impressed me more than Alfredo di Stéfano. Later I enjoyed Butragueño, with Cristiano, but never like Don Alfredo. Nobody has given me more satisfaction in my life. Neither Mozart nor Tolstoi nor Pérez Galdós nor Frank Sinatra… Nobody.
In those early years of his, Real Madrid's great rival was Atlético, at least that's what Di Stéfano said.
He also told me, but I think the fans already felt more of a rivalry with Barça. Atlético at that time was fearsome. They had, among others, Vavá, who became the best player in the world after the 1958 World Cup. And then Mendonça, Enriquito Collar, who had previously loaned him to Murcia when I was studying there. It was wonderful how he had the ball stuck to his foot. They also gave us Peiró and a media outlet called Buendía. Then I went a lot to the Metropolitan. My residence hall was 100 meters away, the tickets were cheaper and I also played Collar and I was in love with him, in quotes, of course. It took less time to go see Atlético than the Bernabéu, which was also more expensive.
In other words, you, like Garci, are not 'anti' either…
Not at all, among other things because of my professional deformation as a diplomat. I have always gone with any Spanish team that played with a foreign one.
How do you see Atlético not going to make a corridor for the champion?
I don't like it, but I don't see it as reprehensible as it seems to some. What does not seem elegant to me is what has been said, that they do not want to participate in the ridicule. It's like when Piqué says that he doesn't like the values ​​of Real Madrid, well, I could say that I don't like the values ​​of Barcelona, ​​that each president who arrives says that he is going to inspect the club because he doesn't trust the previous one; or that they say that they were the only anti-Francoist club and they were the only ones that gave him two medals; or when they retired and didn't play in a Cup semi-final… I don't like all those things and I don't say them.
"In the year and a half that I worked at the club, the atmosphere was false, sloppy and informal"

Innocent Arias
Immediate present. The derby against Atlético. Do you expect a Madrid already champion, on vacation and thinking about the Champions League?
No. Madrid never lets go. He is going to compete. With the logical problems that it will have of fatigue, of injuries, but Madrid never lowers its arms and less against Atlético. Without a corridor or with a corridor, Madrid's style is to compete and win. It's not going to get Versaillesque. He's going to play as if it were the eighth game in the League and he wasn't the champion.
What memories do you have of the experience of working at Real Madrid. Nothing less than CEO and with Mendoza as president.
Bittersweet. For me, then, it was interesting to know the guts of a club as important as Real Madrid, which was also mine. Knowing how it worked inside, knowing the players… But the atmosphere was false, sloppy. The club's machinery was then 30 years out of date compared to the big European clubs in terms of management. In some things we operated as in the time of the Bernabéu, but that was not the worst, the worst thing was that the club was the kingdom of informality. For the directors of the time, especially its president, and I do not mention his name, missing the word did not have the greatest relevance. We promised to play games and they were not fulfilled. They thought that diplomat was naive. In the year and eight months that I was there, I learned more lessons of cynicism and noncompliance than in 40 years in the diplomatic career.
Immediate future. The final in Paris.
In a single game I see Madrid capable of everything. It is also true that he has shown us his reliability in two games with the comebacks. Not to be optimistic, I would say that the final is at fifty percent.
[