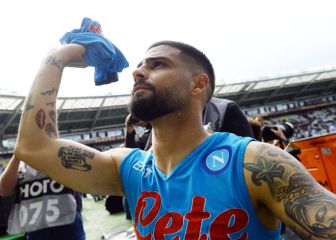 What Insigne has done with Napoli and being a Neapolitan has no precedent. The striker, last Sunday, said goodbye to Maradona in tears, after having lived as an azzurro 432 games, three titles (two Italian Cups and one Super Cup), 95 assists and, above all, 122 goals, which makes him the second best scorer of all time, only behind Mertens (148). Achieving all this while being a Neapolitan is worth double, because the saying "no one is a prophet in his homeland", under Vesuvius is even cruelly applied. The same tifosi that filled the Maradona to fire him, during all these years, many times have criticized him mercilessly. "Children kiss only when they sleep," they say in the southern city, and exactly that happened with Lorenzo until he said goodbye, when all the affection that his people, deep down, always had for him finally appeared. .
For Insigne nothing was easy. He grew up in a humble family in Frattamaggiore, alternating between training and working in the market with his father. He got up so early that he fell asleep in the locker room, they say. The physical did not help him either. Inter and Torino ruled him out "for being too short" and that opened the doors of Napoli, his dream. As a child he admired Del Piero and his thread, the "turn shot", turned it into a stamp that in Italy, now, even reached the dictionaries. The meeting that changed his career was the one with Zdenek Zeman. After making his debut in Serie A in 2009, Napoli let him out on loan first to Cavese, where he did not shine, and then to Foggia. There he met the veteran coach and his 4-3-3, thanks to which he scored 19 goals in Serie C. The coach also loved him in that legendary Pescara with Verratti and Immobile. The Neapolitan was unstoppable and closed the following season with 20 goals and 14 assists, many of which were for his friend Ciro.
He returned home in 2012 and was an untouchable for all the coaches who alternated on the Partenopeo bench. To his immense technical quality, with which he stood out since he was a child (Paolo Cannavaro said, the first time he saw him control a long pass "who is this phenomenon?"), he added an enormous capacity for tactical sacrifice, developed in the two courses with Rafael Benitez.
In Sarri's marvelous Napoli, he formed with Mertens and Callejón one of the best tridents in Europe, coming close to the scudetto in 2018, a course that closed with 91 points. He scored legendary goals against several European giants (the Bernabéu in 2017, for example, but also against Barcelona, ​​Liverpool, Dortmund, PSG…) and also became a protagonist with the Nazionale, with which he was European champion in 2020 scoring two goals. One of them, the "shot by turn" against Belgium, was one of the best of the year.
Your contract expires on June 30, 2022, and After months without finding an agreement to renew with De Laurentiis, in January he decided to sign with Toronto. They offered him an irrefutable salary, 10 million net, and the opportunity to live a new experience without 'betraying' his city. Insigne literally wears the shield, the Maradona stadium and Diego's face on his skin. He made the dreams of the 'scugnizzi' come true, the poor kids who still play in the streets of Naples, the ones Maradona wanted to be the idol of. Who knows when we will see a Neapolitan come so far from Azzurro again.
[