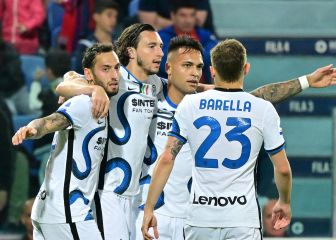 Inter give themselves some hope until the last minute of Serie A. With a great performancedespite the exhaustion accumulated in the Italian Cup final, the 'nerazzurri' beat Cagliari at home. A result that leaves the Sardinians on the verge of relegation (if the Salernitana knocks out Udinese, they will have achieved an incredible salvation) and that officially condemns Genoa, who say goodbye to Serie A after 15 seasons.
The game was intense from the start. Inzaghi's men brushed the 0-1 with a shot to the post by Skriniar (who had the goal annulled in the same play by a hand) and they did it with Matteo Darmianwho headed a cross from the unstoppable Perisic into the net.
The restart continued with great pace, and two goals. The first was scored by Lautaro Martíneztaking advantage of a vertical pass from Barella, and Cagliari responded immediately with a whiplash from Lykogiannis, which hit Skriniar and the post before slipping between the posts.
The goal that shortened distances did not disconcert an Inter that withstood the locals' rush well and sentenced with a counterattack finished by Lautaro himself, that adds 21 goals in this championship, 25 in the season and 13 in the last 13 appointments. It is the best course of it.
Before the final whistle, Inter were also close to 1-4 with a shot at the Dumfries post, closing well a game that he deservedly won. Milan, with a draw against Sassuolo on the last day, will be champions, but the Nerazzurri have managed to stay in the fight until the end.
Changes
Nahitan Nandez (55′, Marko Rog), Keita Balde (55′, Leonardo Pavoletti), Gagliardini (57′, Barella), Denzel Dumfries (57′, Darmian), D'Ambrose (69′, Alessandro Bastoni), Joaquin Correa (69′, Dzeko), Andrea Carboni (78′, Giorgio Altare), Daniele Baselli (78′, Razvan Marin), alexis (85′, Lautaro Martinez), Gaston Pereiro (85′, Dalbert)
goals
0-1, 24′: Darmian0-2, 50′: Lautaro Martinez1-2, 52′: Lykogiannis1-3, 83′: Lautaro Martinez
cards
Referee: Daniele Doveri
VAR Referee: Marco Di Bello
Darmian (36′, Yellow) Calhanoglu (86′, Yellow
[