By
DailyBitcoin Editor
Iran will cut off electricity to 118 legal centers of licensed crypto miners, according to a report by Bloomberg.
***
Iran will cut electricity to crypto miners from June 22.
The country faces increased demand for energy and fears shortages.
The demand in the country exceeds 63,000 megawatts.
---
Iran, an Islamic republic in the Persian Gulf, seemed to want to become a world mining center. Last year, the Ministry of Commerce itself issued licenses for crypto mining. In addition, also in 2021, to strengthen the activity, he proposed a bill to regulate cryptocurrency mining.
Now, the new information is that the country, which like many parts is suffering from the energy crisis, will cut power to all of its 118 legal crypto mining centers this monthas the country faces increased energy demand.
energy crisis
According to a report from Bloomberg, Electricity To All 118 Legal Crypto Mining Centers In Iran To Be Ceased From June 22 ahead of a seasonal spike in power demand, Mostafa Rajabi Mashhadi, a spokesman for the country's energy industry, said during an interview with Iranian state television. Mashhadi also warned the country of increasing power shortages this week as demand exceeds 63,000 megawatts.
Iran's Relationship With Crypto Mining Has Been Strained, Claims The Block. After the legalization of crypto mining, mining farms have appeared. Bitcoin licensed in the country, since its energy is cheap relative to other parts. According to studies, Iran has also used crypto mining to lessen the impact of sanctions placed on the country.
At the same time, however, the country has cracked down on illegal mining activity, seizing 7,000 crypto mining units in June last year. It has also taken steps to shut down illegal cryptocurrency mining farms, disconnecting them from the national power grid, and prosecuting the miners in question. It also previously imposed a ban on its licensed crypto mining centers in December over energy-saving measures.
Such policies have had an impact on the mining industry in Iran. The analytics firm Blockchain Elliptical estimated in May of last year that 4.5% of all mining in Bitcoin took place in the country. It is now down to 0.12% from January, according to the Cambridge Center for Alternative Finance (CCAF). Here it can be seen on the map: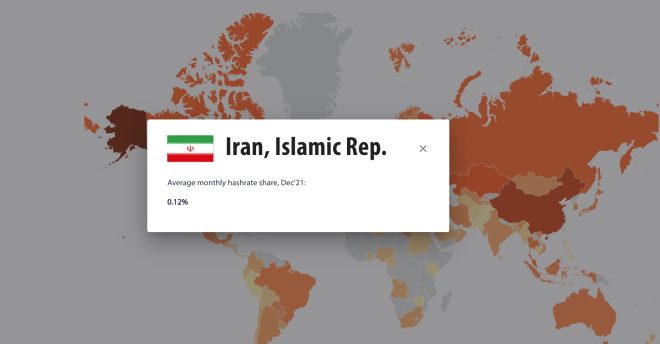 Sources: Bloomberg, TheBlock, Techcrunch, File, Archive
version of DailyBitcoin
Picture of unsplash
WARNING: This is an informative article. DiarioBitcoin is a means of communication, it does not promote, endorse or recommend any investment in particular. It is worth noting that investments in crypto assets are not regulated in some countries. May not be suitable for retail investors as the full amount invested could be lost. Check the laws of your country before investing.