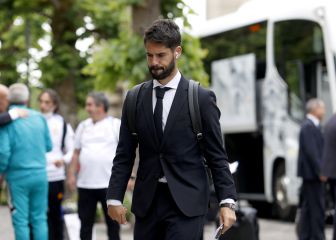 Sevilla and Julen Lopetegui were still trying these days to iron out rough edges that to prolong the fruitful relationship between the team and the coach of the last three years. Topics medical, media and planning have collided between Asteasu's coach and the club's management, headed by Monchi in sports. And that wear has not yet been fully clarified.
One of the names that does not generate consensus is Isco. Sevilla has handled the signing of the midfielder from Malaga, who has just said goodbye to Real Madrid after almost a decade. A footballer that Lopetegui loves, because Asteasu's coach He was able to enjoy it at the white club (for a few months) and especially in the Spanish National Team.
And that from the noble floor has been yielded on many occasions before the soccer tastes of his coach with players like Suso, Óliver Torres or Tecatito Corona. But Monchi has initially designed a different planning for the next campaign, more traditional for the Cadiz sports director, with a majority of young and/or unknown soccer players who can revalue themselves and leave capital gains.
"I am not going to hide that I love Isco. He is very competitive as a player and a very good person. We'll see what happens," Lopetegui said not too long ago, in February. He had said the same words about Tecatito Corona last year and in January, the Mexican ended up becoming a Sevilla footballer. But for now there has been much more reluctance in the club to give their coach another piece of candy.
Seville, yes, was among Isco's preferences, which reached an agreement on numbers with Betis if the Verdiblanco team managed to relieve its damaged economy by qualifying for the Champions League. That did not come, precisely in favor of the eternal rival, who for the third consecutive season has entered the top continental competition. In this sense, and after the sale of Diego Carlos to Aston Villa and the more than likely sale of Jules Koundé to Chelsea, there will be economic possibilities to reinforce the team with high-profile footballers like the player from Malaga. Another thing is that, once again, the club gives its arm to twist in favor of Lopetegui.
[