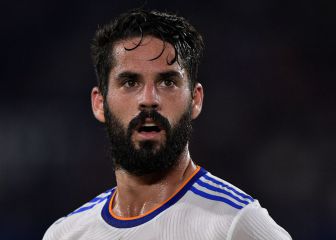 Isco Alarcón, a Real Madrid player, is not one of Carlo Ancelotti's regulars. The man from Malaga lives in the second unit and, so far this season, he has barely accumulated 387 minutes of play between the League and the Copa del Rey, without having made his debut in this Champions League.
The one from Arroyo de la Miel agrees on this with Marcelo. The captain has played a little more but both, undisputed starters in the Champions League final in Cardiff against Juventus, will reach the final in Paris without almost counting on Ancelotti… and with all the signs pointing to their departure this coming June 30 , date on which his contract (also Gareth Bale's) expires
Thus, Isco wanted to point it out jokingly in a story in which, precisely, he congratulated Marcelo on his birthday through Instagram. "Happy birthday, legend. It was hard for me to find a photo of when we played," he wrote along with several "laughing" emojis, as well as one with hearts in his eyes, indicating his love for the Real Madrid captain. Other members of the Madrid squad, like Karim Benzema, they also used social networks to congratulate the Madridista first captain.

Curiously, this contrasts with what happened with the man from Malaga and the Italian coach during his first stage, in which he was one of the main tricks for Reggiolo. Without going further, Isco scored the first Real Madrid goal in the 2013-14 Champions League campaign with a goal against Galatasaray on Turkish soil. An edition that saw the whites consecrate themselves in Lisbon against Atlético de Madrid (4-1). In that campaign, Isco participated in 53 games with Real Madrid (among all competitions), broken down as follows: 32 League games (eight goals), nine Cup games and 12 Champions League games (three goals). The following campaign, and also with Ancelotti, he was in another 53 games: 34 in the League (four goals), 11 in the Champions League, four in the Cup (two goals), two in the Club World Cup, one in the Spanish Super Cup and the other in the European Super Cup.
Isco, with options to continue in Spanish football, has recently changed his agent: he has signed for the company Gestifute, directed by Jorge Mendes. That way the door is opened to play abroad. Betis, which was the team that had bet the most on him, like Sevilla at the beginning, has become an unlikely option, because the man from Malaga wants to play in a team that disputes the Champions League. For this reason, the green and white option (it runs in fifth position in the table) fades away.
Marcelo, for his part, would like to continue for another year, but the wishes of the club go the other way: He seeks to recover Fran García and give Miguel Gutiérrez, unless Mendy is transferred, with which Alaba would go to the side to make room for Rüdiger.
[