The General Directorate of Traffic (DGT) is concerned about undue overtaking. And of course it is not for less seeing that of claptrap captured by their cameras. We all know most of the situations in which we can and cannot overtake. However, you may not be so clear that overtaking is prohibited in some situations that we bring you today.
Of course, as for everything in this life, There are always exceptions. Normally, it is enough to take a look at the signs or road markings, but what happens when they do not exist? With the Royal Decree 1428/2003, of November 21, approving the General Traffic Regulations in hand, we are going to answer this question.
Remember that, even without prohibiting sign, it is forbidden to overtake in:

❌Curves / grazing changes without visibility
❌ Level steps
❌Behind the truck that overtakes
❌Intersections and proximities
❌Steps #pedestrians
❌Tunnelhttps: //t.co/2ZI2YEhCBw pic.twitter.com/DzNx35mJwF

– Directorate General Traffic (@DGTes) January 17, 2021
It is forbidden to overtake in these cases
Article 87 of the current Highway Code explicitly states in which situations overtaking is prohibited. What general norm specify that this is «in any place or circumstance in which the available visibility is not sufficient to be able to carry out the maneuver or to desist from it once it has started ".
He adds that, «unless the two directions of traffic are clearly delimited and the maneuver can be carried out without invading the area reserved for the opposite direction»(Article 36.1 of the articulated text). The article also collects more specifically what these are low visibility assumptions:
Curves and changes in elevation of reduced visibility (and its surroundings).
Overtaking behind a vehicle performing the same maneuver if it impedes visibility of the front of the road.
Pedestrian crossings (and their immediate vicinity).
Intersections with cycle paths (and their surroundings).
Level crossings (and their surroundings).
Tunnels, underpasses and sections of track affected by the «Tunnel» sign (S-5).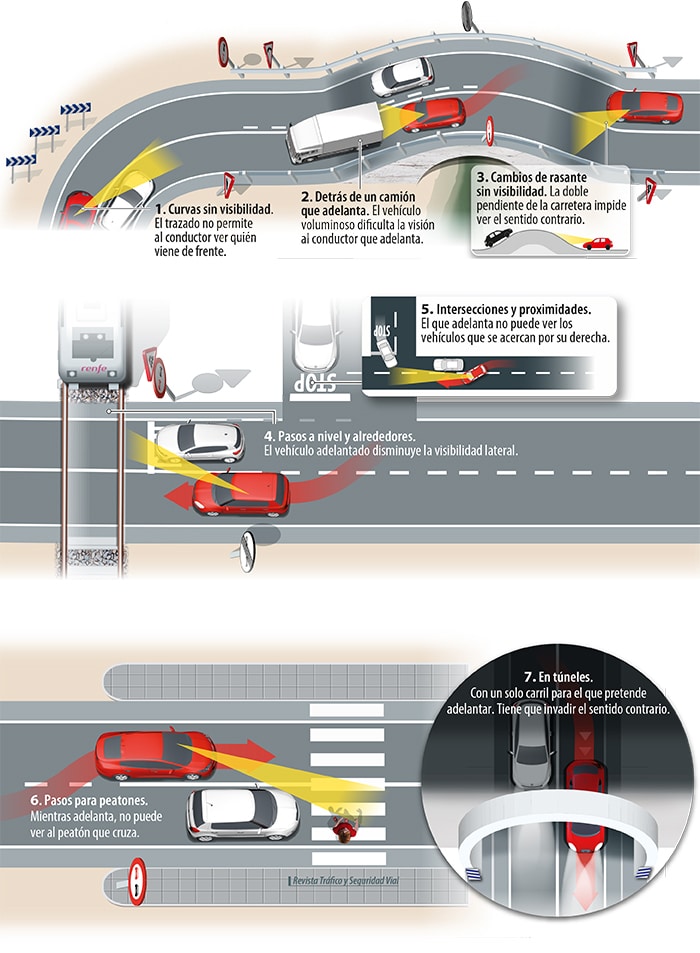 As provided in article 65.4.c) of the articulated text, failure to comply is considered a Serious offense. That is, you face a fine of 200 euros. It can be accompanied by loss of 4 points driving license if a dangerous situation has also occurred.
It should be remembered that soon You will also not be able to exceed 20 km / h the maximum speed allowed in overtaking on conventional roads. It is included in Article 51 of the Code for cars and motorcycles.
What are the exceptions?
As stated in the text, this prohibition will not be applicable:
Intersections: in the case of a roundabout or roundabout; overtaking must be made on the right (article 82.2); the road has priority at the intersection and there is an express sign indicating it; or overtaking is carried out on two-wheelers.
Crosswalks, intersections with cycle paths, level crossings and their vicinity: when overtaking is made of two-wheeled vehicles that do not impede lateral visibility. At a level crossing or its vicinity, you provide the appropriate acoustic or optical signals. In crosswalks, at a speed low enough to be able to stop.
Conventional roads: to overtake one or more cyclists. You can occupy the entire opposite lane or part of it by meeting two conditions: maintaining a lateral separation of at least 1.5 meters and not putting other users at risk, such as those traveling in the opposite direction.
Tunnels and underpasses: when they have two or more lanes in the same direction.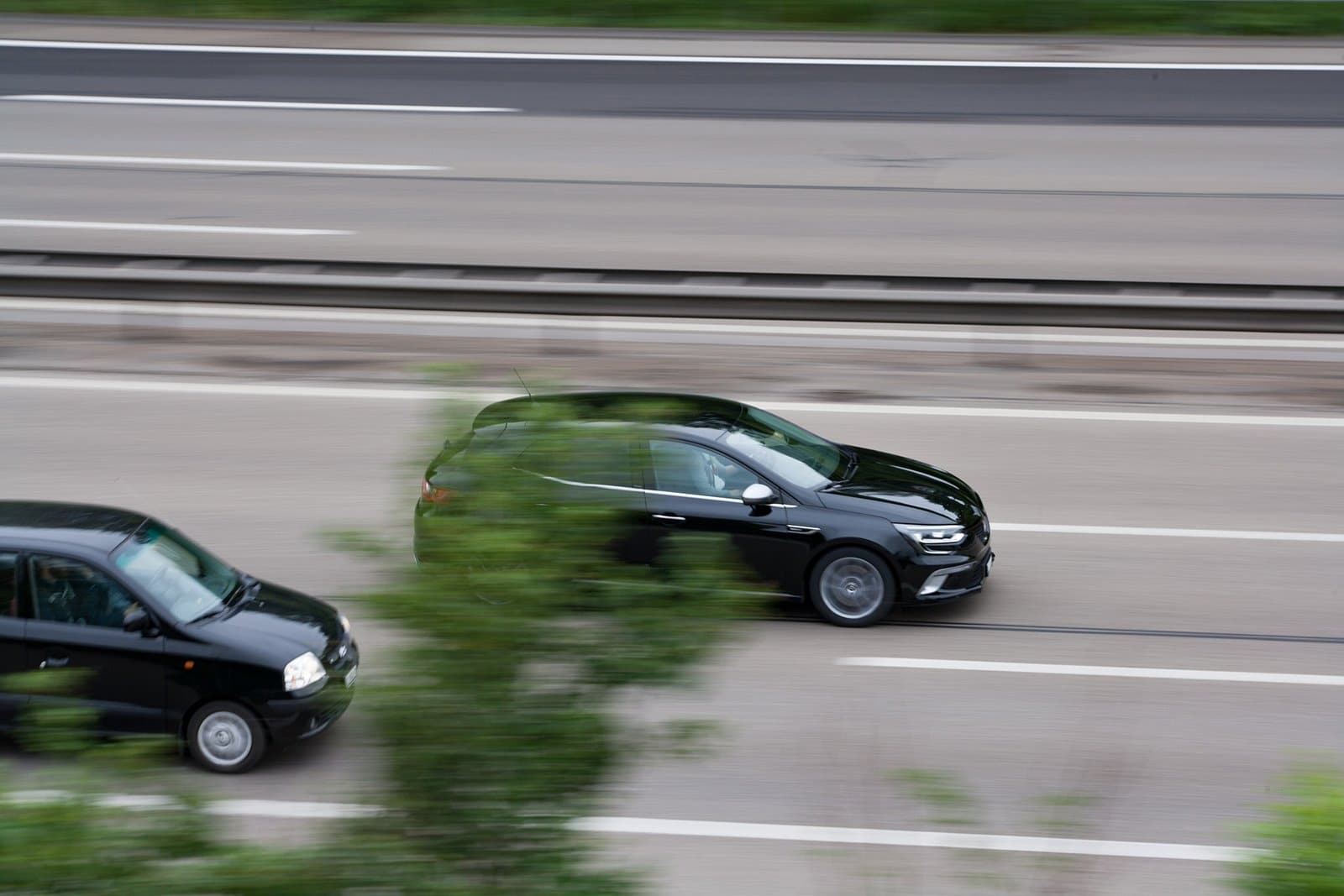 Article 88 includes two other additional assumptions. The first one is when a vehicle is stopped that occupies the road and obstructs circulation. We can overtake and invade the opposite lane if we do not put other users at risk and as long as the vehicle is not stopped due to traffic needs.
It is also allowed to overtake drivers of bicycles, cycles, mopeds, pedestrians, animals and animal-drawn vehicles when by the speed at which they circulate they can be advanced without risk for them or for the circulation in general. From July 1, 2022, also applicable to cranes in relief and rescue operations.