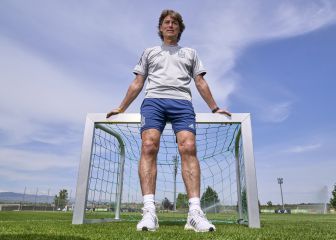 After two years without a European Championship, he can finally debut in a final phase with the U-17. Nervous?
There is more desire than nerves. We have lost two generations that have not been able to play and there is a lot of desire. We have prepared everything to the smallest detail to go as far as possible.
What is the best thing about this generation of 2005?
We have created a group that is very united. Therein lies its strength. There are people with a lot of class and potential, but the greatest potential is the group. Everyone knows what they have to do for the benefit of others. There is a total surrender.
Players like Pedri, Ilaix and Yeremi Pino attended the last U-17 tournament. Are there players of that level in this National Team?
There is potential, but now it's time to take the step. They are ages in which they begin to find the greatest difficulties and that is when it will be seen who reaches the top and who does not. They need their clubs to trust them to make those jumps. There are those who trust before and other clubs have a harder time.
You have four players from Madrid, where it costs more, would you advise them to leave?
Every case is a world. There is no formula that says, do this and this will happen. It's the clubs that make the decisions and sometimes they see guys who are ready to go up and others who need a little more time, which isn't bad either. Not by reaching the top before you will be longer. The important thing is that the clubs are brave.
You were a promising youngster who made his debut early with Athletic and immediately became a star. What advice does he give them?
Let them be hungry. To be the best, to learn, to take care of yourself to the fullest. They are ages that can lead to confusion and obviously you cannot lead the life of a normal kid. Focus on being as professional as possible.
And what about pressure?
Everyone wears it in a different way. They have conditions to face those moments with guarantees. They have to trust themselves. They are the ones who have come as far as they have come, keep it up.
At Betis and Espanyol they are very excited about Dani and Miguel. Is the midfield the U-17's strong point?
We are going very strong in all lines. As I've told you, the strength of this group lies as a whole and we have very good players for all positions.
What is your priority? Form a winning team based on your criteria or adapt the players to a style that matches that of the Absolute?
I think that within the federation there is a model that is well known worldwide and we try to follow that model that has given us the chance to win important titles. Of course, it also depends on the generations. There is not always everything, but even so I think that the style of the National Team is quite recognizable.N
There is a style, but the Absolute play with 4-3-3 and the U-21 with a 4-2-3-1. Which do you prefer?
I don't have one defined. I have a game idea, but I can apply it with different systems. It depends on the players you have, the rival and the needs. It's good for guys to adapt to various systems
Are there differences between those who have debuted in the elite, like Iker Bravo, and the rest?
All those who have the opportunity to train in higher categories have more rhythm. But when it comes to selecting I bring those I like. There are those who have debuted in the First Division and others who are in Juvenile Preferred.
Is the goal to win the title?
The goal is to win game by game for all of us who play. That's how we did the qualifying phase and that's how we'll continue. We do not give up anything. At the moment we focus on Turkey. Then we will go for the second game
Are you worried about humidity?
Yes, it is one of the adverse circumstances. We have already worked with the medical staff and the physical trainers so that the boys are in the best possible conditions. But it can't be an excuse.
Are you worried that there are players under a lot of pressure because they are linked to the big teams? Goalkeeper Ferran, for example, who is going to sign for Madrid.
I don't think they lose focus, they really want to play. They know that it is a very important appointment. I don't see any clueless player in that sense. And if we see something, then we will try to help you, that's what we're here for.
Finally, does Spain have a goalscoring problem?
It is a position where the clubs are usually reinforced with foreigners and from below they are working very well. We have brought two and we could have brought some more, but the lists are 20. In all the categories that I have been there have always been forwards and I fully trust them. Hopefully the clubs will help us by trusting them, it would be good for the inferiors and also for the Absolute.
[