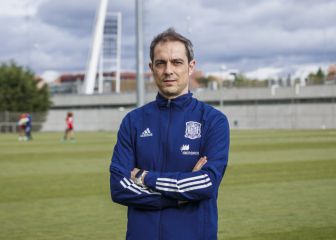 The Under-17 European Championship starts, how do you face the tournament?
Everything has gone very fast. The course of events, the second round was delayed and we finished it together before Easter. They had a few days off and here again. They are very psyched and excited and we really want to play this tournament that hasn't been held for a long time due to the situation. You want to live what other girls have missed.
As you say, it's been two years without being able to play the tournament due to the pandemic…
They are the compañeras who have missed it for generations. I was looking at the last goals of the championship and one came from Salma Paralluelo. That girl is now in U-19, in her last year. The last thing she played was that U-17 tournament. The difference of those ages that have been lost generations of 2003 and 2004 have lost that and are companions of those we have here. They talk about it and send messages to each other and in the minds of our players is to compete for us, for the national team and for all those who have missed it and for those who have been injured.
France, Norway and Finland in your group, but Germany and the Netherlands in the other, who do you think are the most difficult rivals?
In the last tournaments Germany and Spain we have always been and it has been the fight. But women's football is growing a lot and we have very difficult teams in our group like Norway that we have played friendlies against them, we have beaten them but they have made it very difficult for us and we have also played against the Netherlands which was difficult, against Germany… Our group , a priori, is the one with the most name or is traditionally more complicated is France, but we cannot forget the rest. It will be three very difficult games.
The prize for the European Championship is important, but almost more important is the ticket for the next World Cup in India.
That is. The objectives are, the first and the priority is to pass the group stage. When you pass you have the option of the semifinal and fight for the World Cup. The order of objectives is curious, the second objective is to qualify for the World Cup, if you're in the final you're in India and the prize is if we do well and we get along well in the competition and that bit of luck is to play in the final and be the European champions. They are the marked objectives.
It is true that the level of Primera Iberdrola has risen and that also implies that it is more difficult for young women to reach the highest category. In fact, in this call there are not too many players who have enjoyed the opportunity.
If you value the players they are very young. They are from 2006 and 2005. The Iberdrola competition is growing a lot, but we have several that have already debuted, there are quite a few, Sofía, Paula, Carla Camacho, Vicky López… there is a significant number. All the others play in Challenge. In the end they are in that moment of growth that they are trying to be elite athletes and before that they may have had more opportunities but they will know how to take advantage of them and they are rearing their heads. There has been a lack of competing at a high level, that is true, but we are working on how they are going to face the competition on a psychological level. They have never competed at this level.
He reached the position in November 2020, however, he has not been able to debut in a final phase of the European Championship yet, although he has done so as a physical trainer, how are you living it?
I have enjoyed several championships or tournaments as a physical trainer, also in 2018, European Under-19 champions, I was a physical trainer, competitions coincided and we were the team to play that tournament that we won with Vilda, Tomé… and the other part played the phase U-20 World Cup final. I have several experiences, not as a coach because the pandemic has prevented us from doing so. In these two years, all work is because the girls reach the elite, which is the incentive of every coach. We are going to have three finals in the group stage and then hopefully we can play the rest. Playing endgames is a lot of fun.
You are a teacher and you have said on more than one occasion that teaching is your vocation and football is your passion. In this type of category you can combine both.
When they gave me the opportunity to be a U-17 coach, I immediately thought that the role is that, I am a coach-coach and educator and I like that facet a lot. Being in the absolute role is different, it is maximum performance and working on the smallest detail, here I complement the two situations and I enjoy it a lot.
In 2017 Jorge Vilda called him and it changed his life, can't Jorge say no?
That's how it was, I was just finishing, I had just taken level 3, the UEFA pro, which is the previous step and I was finishing that internship period as a level 3 coach and Jorge calls me and I asked for a leave of absence for personal interest because I was a teacher in the Community from Madrid and I didn't think about it. The leave had to be two years, I took a risk, because this is what fills me the most and here we continue. Year after year enjoying.
From a soccer family, what many don't know is that your brother, Antolín Gonzalo, has worked in the National Team with Del Bosque or Lopetegui. Has he given you any advice?
I ended up in football because of my father's passion, he was a coach and player for Numancia, my brother and I met in Salamanca studying different careers, he already wanted to be a coach. I was 18 years old and I held his hand, he wanted to go directly to being a coach, I took a longer path. He has always been my guide and my reference. He has told me not to be surprised that he appears in Bosnia and I would be delighted if he came, it is an honor. My brother has worked with the best, he has been in the best places, he was in Salamanca, in the National Team, in Real Madrid with Lopetegui, now he is with another role in the world of analysis and individualized training. All I talk to him are trainees. The support of the family is also unconditional.
[