Kia is very focused on electrification and today they have shared their roadmap with us and as we are going to tell you, these are the KIA's plans for 2030.
Kia has also communicated its four key business goals for 2030 and what are they: speed up electrification and achieve annual sales of 1.2 million battery electric vehicle (BEV) units; attain 4 million vehicles soldincluding more than 2 million environmentally friendly models; extend connectivity features and autonomous driving technologies to all new vehicles; and become the number one brand in the world market for vehicles for specific applications (purpose-built vehicle PBV).
Kia will increase the share of green cars from 17% of global sales in 2022 to 52% in 2030.
In major markets with strong environmental regulations and growing demand for electric vehicles, such as Korea, North America, Europe and China, Kia plans to increase its percentage of green car sales up to 78% in 2030.
As of 2023, Kia has projected to launch at least two each year and have a full range of 14 BEVs by 2027.. In relation to its previous plan to market 11 models until 2026, Kia will add two electric pickups, one of them specifically electric and the other strategic model for emerging markets, as well as a BEV access model.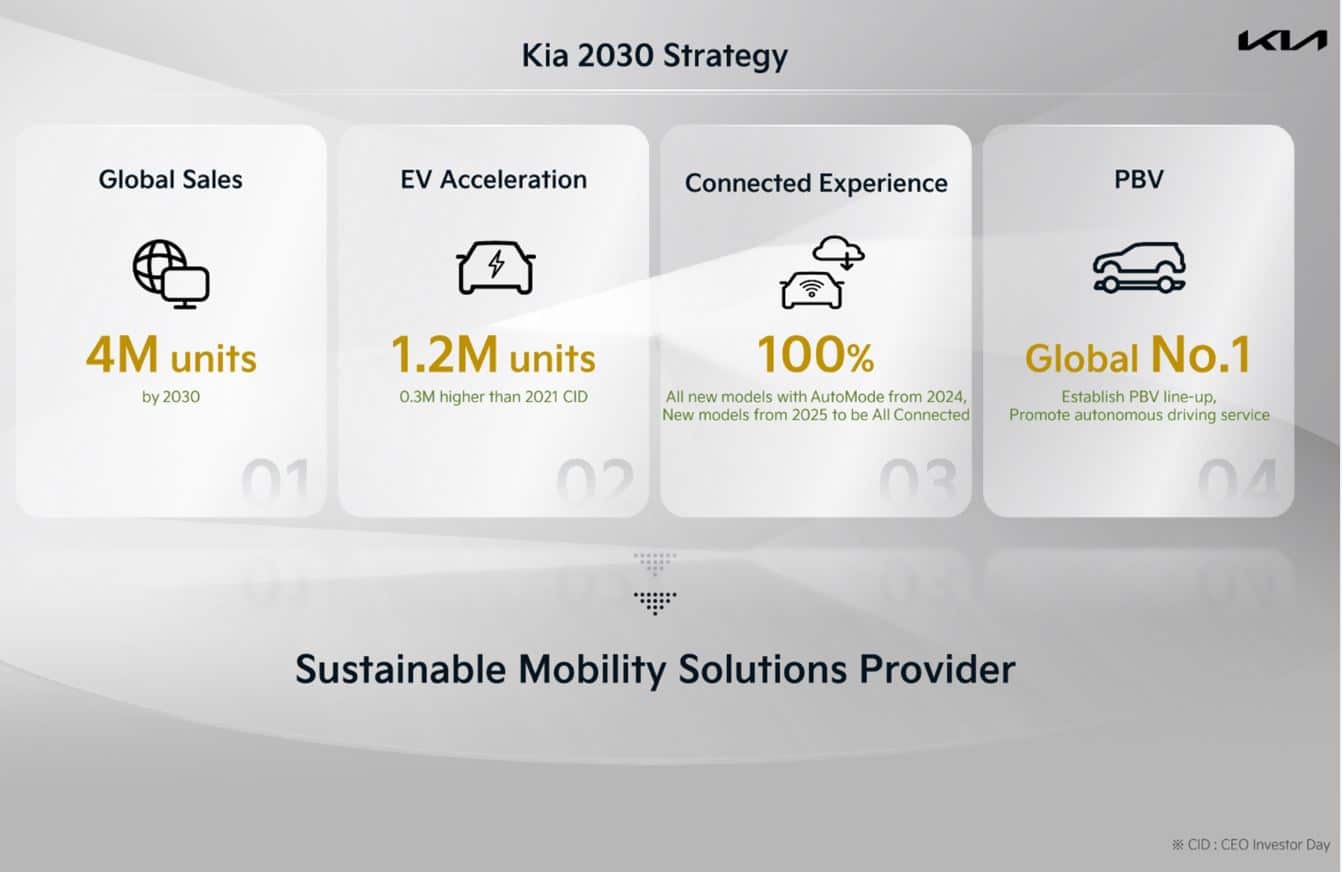 Kia has set out to reaffirm its leadership in the electric vehicle market with the EV9, scheduled for release in 2023. Although the EV9 is a large SUV, with an overall length of around 5 meters, it can provide excellent acceleration from 0 to 100 km/h in five seconds and a range of around 540 km on a full charge. It is also capable of offering 100 km of autonomy with a charge of six minutes.
The various production centers will evolve to carry out this growing volume of electric vehicles. Korea will be the global center for electric vehicle research, development, production and supply, while other centers around the world will manufacture strategic models for each market. Europe, for example, will produce small and midsize electric vehicles from 2025. In the United States, where midsize SUVs and pickups are very popular, electric versions of these models will be made locally from 2024. In China, Kia plans to introduce mid-size electric vehicles from next year and, in India, entry and mid-size models from 2025.
Kia will establish a battery supply and demand strategy, as well as update its technology. Battery demand is expected to increase significantly, from a total of 13 GWh to 119 GWh in 2030due to the increase in sales of electric vehicles.
From 2025, all new Kias will be equipped with connectivity features. With the availability of OTA software update services and FoD on-demand features across the Kia range, customers will be able to keep their vehicles up-to-date with various features and technologies.
This is part of Kia's program to find new business opportunities based on software and connectivity services. Kia expects these services to play an important role in various areas of mobility, such as car-sharing, chauffeur-driven vehicles and delivery services. Kia's range of technologies for autonomous driving, dubbed 'AutoMode', will rapidly roll out to all models, starting with the EV9 in 2023.
will it be possible Optimize Kia AutoMode performance through over-the-air updates and will improve as technology develops. It will also include the Highway Driving Pilot function, which will make it possible to drive without driver intervention on highway sections.
By 2026, all new models launched in major markets will be available with the AutoMode autonomous circulation technology, with an adoption rate expected to exceed 80%. In the long term, the company plans to further improve the AutoMode function and implement fully autonomous driving technology.
Source | Kia