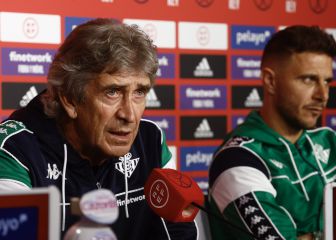 With all the years he has been in Spanish football, he has many honorary titles. What would winning this Cup mean to you?
It would be a very important achievement, we see how anxious the Betis fan is after so long without winning it. It is an illusion that we have to see reflected with performance.
Does the status of favorite bother you?
The condition of favorite doesn't bother me, because I don't know on what basis. If it's by points, yes we have more, but in terms of budget we are more or less equal than Valencia. We will play the same with the poster or not as favorites.
Were your statements the other day disrespectful or with the intention of conditioning the arbitration?
I don't know what demonstrations they are talking about. I have not heard what Bordalás said. Everyone has the right to say what they believe. I said that Valencia has a very defined style of play, then the referee must decide. I didn't say about the unsportsmanlike actions thinking that Valencia was going to do them. He was praising Elche, he didn't relate it to this Cup final.
How different are the styles?
They are two quite different styles of play. We reached the final with a football concept that we did not change in the League, Europe or Cup. Thus we have been a solid team against a rival with a different style but so acceptable, with all styles you win. We have told the players that the mind must be cold and the heart warm. It is the best way to win it.
Do you think that Valencia will make individual markings?
It is difficult to know what they are going to do, what we do know is what we should do regardless of the rival. We take into account the rivals but the most important thing is the development of our football.
Have you made Fekir aware that he can receive tickets, so he doesn't scramble?
One of the important conditions for playing endgames and in this profession is having the ability to control emotions. We all look forward to playing this duel but then you have to know that there may be friction, that your blood is hot.
Who will be the goalkeeper?
We have three goalkeepers, we'll see who plays.
Would winning this Cup be the happiest thing you have achieved in Spain?
I don't like to compare stages. The five years at Villarreal were spectacular, in Madrid the title escaped us, in Malaga we also achieved important things and now I have the chance to win a title in this city. If not, the stage would be unforgettable.
The other day it came out that Brazil had contacted you to sign you.
No, no one has contacted me and I have an agent. I don't know where the news comes from but I'm happy working at Betis.
[