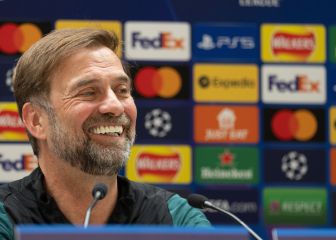 Liverpool manager Jürgen Klopp spoke to the media ahead of the Champions League final between Liverpool and Real Madrid at the Stade France. The German coach acknowledged that he considers Real Madrid to be a favorite because of his experience and assured that Fabinho and Thiago have trained well with the rest of their teammates.
How are Thiago and Fabinho?: "The atmosphere is very good. We are really looking forward to experiencing all of this, to be here, to experience the sensations in the stadium… I see Thiago and Fabinho looking good, they have trained well. Thiago trained yesterday and has trained today".
If this victory in the Champions League would be more special than 2019: "I have no idea how I would feel if I won this Champions League. I should ask myself that question tomorrow. Right now we are focused on winning, fighting a lot… Of course, it is the team with the most Champions. Some players would win the fifth Champions League, other players the fourth… We cannot compare the experience of 2019 with the current one. It is our third final in five years. Is something special. We are only focused on how to prepare it, but we are not thinking for a second about how we would feel. I have the patience to wait for tomorrow."
Salah's injury in the last final against Madrid: "There is nothing else to do. Salah was injured in the last final against Madrid. And of course it's a normal feeling for him. We are motivated by different things, I have 26 or 27 players and they are motivated by different things. It is not the only motivation. In most cases, it is normal for Salah to want to do well tomorrow. We do not forget what happened. It's been a long time, but we can't be here and watch videos of that match. There are so many reasons to give everything tomorrow and that could be one reason but not the most important one."
Field: "Normally, if a field is new it is good news. This field is new to us since yesterday. I don't know how he will be tomorrow, but it will be a normal training. Not much at this time of the season. I have seen the referees… Normally you see on the lines that there are different pieces of grass. It is not a problem. The two teams will play on the same field. I don't know who thought it would be good news to bring a new field. It didn't affect me at all. We are very happy to be here. We would play in any field as long as the circumstances are the same".
Sadio Mané and Bayern. Naby Keita: "Sadio Mané is in great shape. It is a pleasure to watch him train and play. We ask you a lot. He has played many finals. About Bayern, I'm not interested at all, we're focused on this game. Mané is focused on the match. He knows the importance. He doesn't worry me at all and it's not the first time rumors have come from Bayern. It is not a problem. About Naby Keita, it is important that we can train regularly, play regularly. It is only possible when he has no injuries. That has happened to Keita this season. He is a very good age and has adapted well. There is an adaptation period in my teams. It is normal. Fabinho also does well. During his adaptation period, Keita got injured. He has had a very important season".
The state of the field and whether it can affect: "Let's start with the field. Both teams are very technical. In an ideal world, we would like to have the best field we have ever seen. I don't know if Madrid has already trained. But for Ancelotti it will be the same. If you win, you won't talk about the field. I don't know how good it is, because I've only seen it and I've seen the referees train. Apparently, it doesn't seem like it's okay. I don't want there to be news about me and the field, because it could be different. But let's see later. I'm happy to be here. We are judged by the end result. If someone is a football fan, they know that what my boys have done is exceptional. Everything is then measured by the color of the medal at the end of the match. We are prepared. I am very proud of what we have done. We've played a lot of games, a lot of finals, penalty shoot-outs… There are people who might think that it's not impressive at all. Winning Chelsea was one of the most difficult things. For now I just focus on the game."
Who is the favorite and if Mané would be important for Bayern: "Asking a question like that, uff… It's a complicated question. If you look at history, the way in which Madrid celebrate or come back in football, I would say that, from my point of view, it may be Madrid by experience. We want to make our match. If we play our way, we are a difficult team to face. I am focused on that. If we do that and play with confidence, it's better. Madrid is very confident and confidence is very important in football. I don't care which team is the favourite."
Mane: "Wherever he plays next season, Mané will be an important player".
The improvement of the team in the last four years: "Whatever you do, you have to gain experience. The first day on a job is not going to be the best day of your life. But if you keep improving, success can come. You have to do it right. We did it ourselves, but circumstances affected us. We were able to react in these years. We arrived with three wheels. I think we didn't have a full bench back in the day. There were important players coming back from injuries. What happened with Salah, our goalkeeper was wrong… Things happened. But you have to learn to win. Can't wait. No one tells you that you have to do it now. We have to learn. I have lost many finals in my life, but luckily I have won the last ones. The problem is that now we play against a rival that does not lose the finals. The more times you win something, the more chances you have to lose. I don't know if it will be the same tomorrow with Madrid. The players have improved a lot. The club is well located, there are good relations…. We know that we are part of a very important club and we have the right manager and the right players. We are preparing for the final.
The favorite to win the Ballon d'Or (Mané): "Thinking about how these competitions have been, well yes, Ronaldo or Messi or you have to win the Champions League. It has been that way in recent years. Of course it would increase their chances of winning it if we win."
If it takes something out of the ordinary tomorrow to win: "It's not about that. If I did something amazing for the players, they might think I'm nervous. If I pull a rabbit out of a hat, for example… We've put in some impressive performances this season. We are not here by chance. We deserve it. We have to be ourselves and reaching the highest level would be great. So we are a very difficult rival. We can talk about Madrid's achievements and this season, with its players, we could write a book. But we are a good team too."
If you have thought that the change of city may affect or you are only focused on football: "If you have thought that the change of city could affect or you are only focused on football: "To tell you the truth, until this question I was only focused on football. Do you want me to launch a political message? I am happy that the party It's played here in Paris (and not in St. Petersburg) for a thousand reasons. It's strange, the war is still going on and the fact that the match is not in Russia is an important message. Life goes on even if you try to destroy it. We'll play this final for all the people of Ukraine".
[