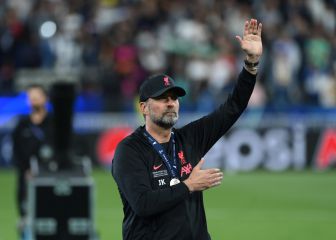 The coach of Liverpool, Jurgen Klopp, spoke to the media after losing the Champions League final to Real Madrid. The German coach assured that the team's season has been impressive despite tonight's defeat, in addition to affirming that the only difference and the only explanation for the final is that the real Madrid scored a goal and Liverpool No.
The coach of the Anfield has passed through the microphones of Movistar Plus +.
Opinion: "It was a difficult game. We both had to fight a lot after a difficult season. We had more chances, Madrid scored and it was over. It was a very even game. Madrid played better. We had many chances and we've done a lot of things well, but in the end I don't know what the stats are. I don't know who was the man of the match, I think Thibaut (Courtois). It's a good thing to say it like that because yes, he was the man of the match. You need a bit of luck and in these situations I think we could have had clearer chances. We've had 23 chances and many of them scored and we had to hit it right. A goal from Madrid was enough. Congratulations to Madrid".
Courtois, key to the match: "Yes. It has been spectacular and in the comebacks. Congratulations. They deserve it. It's clear. Winning a game like that against a strong opponent… They have beaten City, Chelsea, the royalty of Europe."
The coach then assessed the game in the press room.
Your match analysis: "Yes, it's true. I don't know if it's unbelievable, but it's a normal football result. When I saw the statistics afterwards, it was 50-50% with possession, but we shot more on goal. I congratulate Real Madrid. I congratulated the president "They have scored a goal and we haven't. That's the simplest explanation in football. The goalkeeper was the MVP. The goalkeeper was the best. Courtois has made three incredible saves, but we need a little more quality in the final third, especially in the passes at the end of the game. What we did didn't make much sense. In the first half we did well, we got to the rival goal. The problem is that when Madrid play deep, they have a lot of threat on the counterattack. You have to ignore it. I've seen a lot of good things from our side, but it wasn't enough and we accepted it."
On whether they told him about the delay of the game: "I have not spoken with my family, but I know that many families have had problems getting into the stadium. I know that there will be more investigations to clarify everything. I have not heard pleasant things. I do not know more."
lack of intensity: "I don't think that helps, but it hasn't been the reason. We know that with the chances we've had, when a player shoots, there are a thousand centimeters that change everything. It has nothing to do with intensity or physical level. Courtois He made an impressive save. I think Madrid only had one shot on goal and it was a goal. I understand and respect 100% the reason for playing in the Champions League, which is to win. What is done within the rules is fine. I played a good game, but when you lose 1-0 it wasn't enough. I told the boys in the locker room, after seeing the celebrations, I told them I already feel proud. I know the boys need more time to assimilate it. But my boys have had an impressive season. The two competitions we haven't won have been due to small details. City beat us by a point and Madrid by a goal. These guys are very competitive. It's a great group and we're going back tomorrow we're going to celebrate our season. We can sleep peacefully and talk about it. We are not going to celebrate it in a big way, but that we can celebrate an impressive season together has not ended the way we wanted. They are the facts. We will come back".
The difference between victory and defeat: "They have scored, we haven't. They have scored and we haven't. We could have played better, Madrid too. I think Madrid has put in a lot of stronger performances, but they've done what they needed to. It's impossible for the two teams play without the ball. The stats showed equal possession. Apart from the goal, they didn't have a shot on goal. We had nine shots on goal. They scored with one and them with nine. That's the difference between winning and losing."
It is not enough to touch perfection against Madrid to win: "That is not important if any other team could have won tonight. Because Madrid have reached the final and so have we. Madrid have a lot of experience. They have the most successful coach in European football. In a football match equalized with many shots, we had much more. But the most important thing is to take advantage of the chances. I remember great saves by Courtois. With our quality we could have created more problems for them. It has nothing to do with Madrid, who deserve to win the Champions League. you lose, you have to think you could have done better. We thought we could have done better. We played with a lot of passion, we gave everything. We ended up unrewarded, but that's football. I don't think Madrid will be undefeated. One day It's going to lose a final. It hasn't happened tonight and Madrid doesn't care".
[