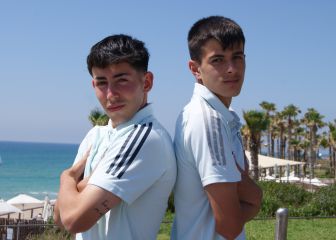 The accounts of the Sub-17 to ensure their classification to the European quarterfinals are quite simple: if they beat Belgium today, La Rojita will be in the next round regardless of what happens in the last game of the group stage against Serbia. The victory of Spain against Turkey (2-0) and the tie between the Belgians and the Serbs (1-1) on the first day left the possibility that Julen Guerrero's boys could get into the top eight teams on the continent if they win this afternoon (3:30 p.m.) at the Ness Ziona Municipal Stadium.
It won't be easy, of course. Spain already faced Belgium in the elite qualifying round for this European Championship and the red devils gave La Rojita a very bad time. A solitary goal from Miguel Carvalho, from Espanyol, gave the victory to the U-17, but the match was very tough. The Belgians are a very physical team and forced the Spanish players to wear themselves out and make an extra effort to finally win the victory that qualified the National Team for the final phase. "They have strong, fast and daring players. They are very dangerous with space and we will have to be vigilant to stop their strong points", assures Julen Guerrero to AS from the U-17 concentration hotel in Herzliya.
To counteract these strengths of Belgium, some changes are expected in the eleven compared to those who started against Turkey on the first day. Players like Simo, central defender for Espanyol, and Sisoho, midfielder for Manchester City, have options to be in the game for being, probably the two most physically gifted players of this 2005 generation. There could also be changes in the goal, in which Julen has been alternating his goalkeepers since he took charge of the team. If so, Nono would leave his place to Quetglàs. Finally, it will be necessary to see in what state Miguel Carvalho arrives, one of the pearls of this Selection, who had to be substituted against the Turks at half-time because he suffered from some inconvenience that he had suffered previously. Of course, the Spanish-Brazilian yesterday exercised without problems with the rest of his teammates, so everything indicates that he is ready to play if the coach requires it.
As for Belgium, He has entered the tournament without his great captain and star, the Noubi center-back, who has been summoned by the U-19 for the European Championship in that category. Even so, it will be a tough opponent to crack.
[