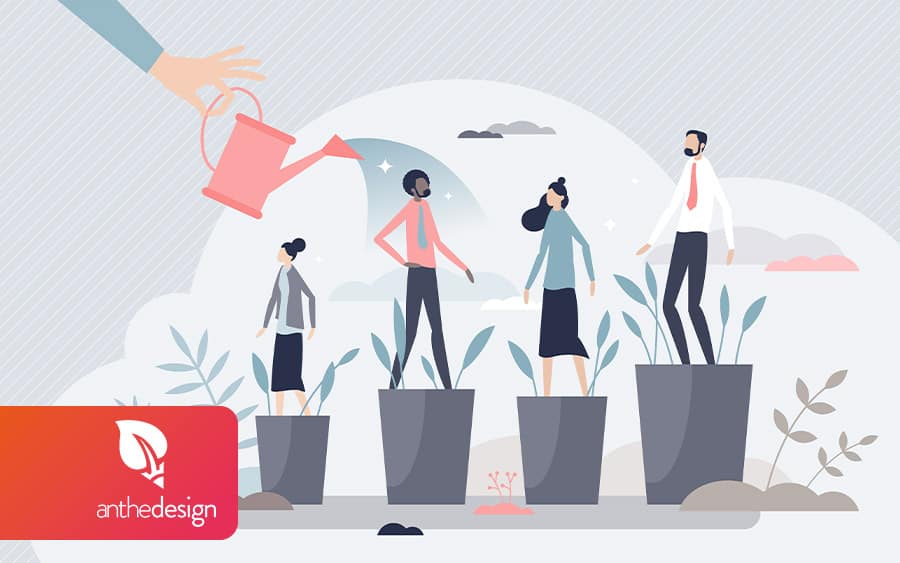 Lead nurturing aims to increase the maturity of leads generated through forms, landing pages, call-to-action, etc. Are you looking to learn more about the subject? We tell you more in this article.
What is lead nurturing?
The term " lead nurturing » which translates into French as « prospect breeding refers to the process of transforming a prospect into a customer.
It intervenes in the life cycle of prospects for advance through the conversion funnel. In the end, the prospect who was just a simple internet user is mature enough to make a purchase.
Concretely, lead nurturing consists of creating and maintain a quality relationship with new leads through quality content with the aim of converting them into customers. The marketing team nurtures contacts to turn them into qualified leads. The sales force then closes the sale. Once the sale has been made, the marketing team takes up the leads to retain them and make them ambassadors for the company.
Some of the best-known B2B lead nurturing campaigns include:
How it works ?
A successful inbound marketing strategy considers the entire conversion funnel.
The sales tunnel can be summarized in three main phases:
Discovery. The Internet user has identified his problem, but does not know how to solve it.
Evaluation. The persona explores different solutions to their problem.
decision. The persona knows the solution to his problem. He must now choose whether to buy or not.
An effective lead nurturing strategy takes up these different steps by nurturing the prospect through various campaigns.
1 The discovery campaign
These campaigns aim to strengthen the relationship with Internet users who do not yet know the brand.
When a visitor leaves their email address through a contact form or newsletter form, the company sends them a personalized thank you email. The objective is to show its expertise through white papers, blog articles, webinars, etc.
2 The evaluation campaign
At this stage, the company uses a segmented newsletter to send prospects additional content as needed.
It seeks to differentiate itself from its competitors and to advance prospects through the sales funnel by creating interactions.
3 The conversion campaign
Here, the prospect is already quite mature in the conversion funnel.
The company therefore seeks to help him choose the solution that suits him. She sends him a personalized offer: free estimate, appointment, free trial period, etc. Once the sale is concluded, the customer will be loyal to participate in turn in the life of the brand.
How to set up a lead nurturing strategy?
To implement an effective lead nurturing strategy, you must follow these steps:
Create relevant content
Nurturing your contacts means nurturing them in order to make them mature. To do this, you must send them relevant and personalized content at a given frequency. Creating relevant content is therefore an essential step in the lead nurturing strategy.
It is possible to integrate many types of content into a lead nurturing campaign:
white papers,
blog posts,
downloadable documents,
videos,
infographics,
guides, etc.
Each of these contents must be categorized according to the phase of the customer journey to which it corresponds (Discovery, Evaluation or Decision).
Database segmentation
Your prospects do not have the same centers of interest.
Relevant content for one may not be or even prove to be underperforming for another. In this perspective, it is essential to segment your database so as not to run the risk of involving all your contacts in the same campaign.
Thanks to a well-done segmentation, you will be able to make precise targeting, adapt your content to your targets and transmit qualified leads to salespeople. So start by defining your buyer personas, that is to say your ideal customers.
Your content strategy will be based on the buying cycle (buyer journey) of your buyer personas. It's about creating personalized scenarios for each segment of your database in order to address the right content to the right target. Concretely, you must tag each content according to the level of responsibility of the persona, his sector of activity…
Qualification of prospects
Qualifying prospects means determining whether a potential customer is interested in your products or services or not.
On the other hand, you must also measure the degree of maturity of your qualified prospects through a lead scoring strategy. This involves assigning scores to your potential customers to estimate their respective level of maturity in the buying journey.
Depending on their degree of maturity and their needs, each prospect receives different types of content by e-mail:
invitations to events,
infographics,
customer testimonials…
These contents are intended to provide him with quality information, to accompany him until he makes the purchase.
Transmission of leads to salespeople
theprospect maturity level gradually increases as you deliver quality content to them, at the right time and through the right channel.
These will be kept in the lead nurturing process until they are mature enough to buy. The prospect "hot » constitutes a quality leads — he is entrusted to the sales team to be transformed into a customer.
The transformation of the customer into an ambassador
The virtuous circle of lead nurturing is not limited to the transformation of prospects into leads and then leads into customers.
Once the purchase is made, the customer is embarked on a new nurturing marketing campaign. The latter aims to transform him into a loyal customer and then into an ambassador so that he shares information with high added value on the company.
The place of marketing automation in lead nurturing
Lead nurturing involves performing many repetitive and tedious tasks throughout the lead nurturing process.
Identify, segment, feed, rate all visitors to a website, etc. To make life easier for marketing teams and speed up their work, lead nurturing should be automated as much as possible. We then speak of marketing automation.
Using marketing automation software offers many benefits for lead nurturing:
The automatic collection of necessary information about prospects.
The automatic sending of the right information, at the right time and to the right target.
The automatic attribution of a note in order to assess their degree of maturity according to their behavior (open and click rate, response to questionnaires, etc.).
Or the automatic addition or removal of a prospect from a segment according to its level of maturity.
The company realizes a huge saving of time and efficiency thanks to the automation of the link with the prospect until it reaches maturity. But to achieve this, she must ensure that the automated marketing tool used fully meets his needs.
To conclude on lead nurturing
Setting up a lead nurturing campaign is an essential technique for winning and retaining customers.
But before you start, it is important to define your marketing and sales objectives (number of sales, number of marketing leads, number of qualified leads, etc.). You must also set a budget for your strategy (budget for content marketing or content marketing, marketing automation, etc.).
In addition, your digital marketing strategy must evolve with the expectations and needs of your customers. The last step of nurturing marketing therefore consists of measuring, analyzing and improving your smart campaigns, in particular through performance indicators (KPIs).
What is lead nurturing used for?
The qualified prospects generated are generally not yet prepared to do what you expect them to: buy.
Lead nurturing aims to close that gap by preparing your prospects to take action. So sales teams make more sales and spend less time trying to requalify leads.
How to set up a lead nurturing strategy?
Agood lead nurturing strategy takes into account the purchasing process, the challenges of potential customers and your marketing and sales processes.
This involves using:
of one customer relationship management tool (CRM) to centralize all data,
of one lead-scoring technique,
of scenarios auto run actions such as sending emails.
Why use lead nurturing?
The emails oflead nurturing campaigns generate4 to 10 times more opens than traditional marketing campaigns (SilverPop/DemandGen Report).
The Annuitas Group also claims that nurtured lead purchases are47 times greater than those of unfed leads. If you want to increase your sales, nurturing leads will benefit you.
What are the marketing objectives of lead nurturing?
Lead nurturing pursues three main marketing objectives:
Transform your contacts into prospects, then into qualified leads and finally into customers.
Conclude new sales through customer loyalty.
Convert customers into ambassadors to generate new leads.