This article contains referral links. Know more.
Ledger has been one of the first to take the step, and that is, days after the official announcement of the activation of Taproot, the company has reported that it added support for P2TR addresses allowing its users to use this new soft fork of Bitcoin.
The announcement was published on the official Ledger blog this November 25, and the update is called Bitcoin 2.0. This article is not about the next best bitcoin. With the successful Taproot update that has been active since block 709,632, Bitcoin has just gotten better on its own, "the statement said.
It should be noted that on November 15, just one day after Taproot was activated, Ledger public an entry on his blog announcing what this new improvement of Bitcoin would be on their devices with the use of P2TR addresses (Pay to Taproot).
Within the Ledger Live application, users can now send and receive funds to and from P2TR addresses. These offer higher levels of privacy thanks to what would be the new type of cryptographic firms known as Schnorr.
Users interested in using this new update, only have to update their Bitcoin app on their nano X and S devices, and locate that it corresponds to the Bitcoin 2.0 version. Once updated, within your Bitcoin wallet you will be able to see the new addresses with Taproot.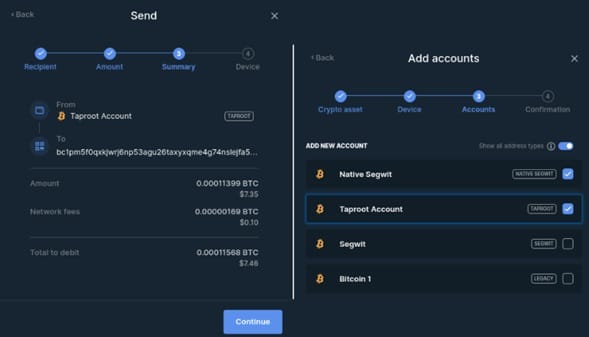 While it is a step to the adoption of Taproot, you should keep in mind that it is not massive yet. Receiving funds in these types of addresses can limit their use, since, even most of the wallets do not have this type of support.
Other Bitcoin 2.0 security and privacy updates from Ledger
Together with Taproot, Ledger has improved its security systems. The first of these changes is in the use of PSBT or partially signed transactions. These allow to separate the process of sending funds, where the signature with the private key is executed within the Ledger device, and is sent from the computer.
Now the company has announced what would be PSBT v2, which seeks to improve the signature system, in order to further protect the private key stored in the hardware wallet.
Other updates concern what is known as the "merkelization" of things. It allows a much more efficient data verification, making less expenditure of resources and a more efficient device. Along with this, changes were also made to the verification policy within Ledger devices when sending a transaction.