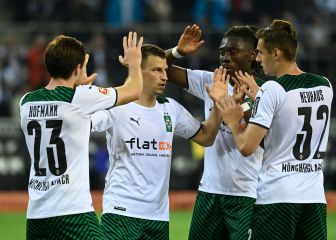 The effort he made on Thursday to caress the final in the Europa League took its toll on Leipzig. in the Bundesliga, the Red Bull-sponsored team presented a poor image against Gladbach and were defeated 3-1, result that has adverse consequences in the classification of the maximum German competition. In the absence of only two days for the end of the competition, Leipzig falls out of the Champions zone and is in fifth position, just one point behind Freiburg, rival with whom you will see the faces in the final of the Pokal.
Gladbach was the only team that proposed something on the lawn of Borussia Park. Seeing that Tedesco's men weren't fueling up, the 'Fohlen' gradually took control of the crash and intimidated the Saxons until Embolo, deservedly, raised the score to 1-0. Leipzig, in what was a great individual action by Silva and Nkunku, managed to draw the game thanks to a right hand from the Frenchman, but Gladbach followed suit and got back ahead through Hofmann on the brink of rest.
Gladach was in charge against a Leipzig that, yes, showed more momentum facing the rival frame in the second 45 minutes. Elvedi's expulsion after an ugly tackle on Nkunku He tilted the weight of the clash even more towards the side of the East Germans, who took the weight of the game, yes, without reaching the framework protected by Sommer with too much danger. Gladbach limited themselves to doing damage on the counterattack, something that worked out wonderfully for them as much as sentenced the game, the work of an imperial Hofmann who kicks Leipzig out of the Champions zone.
[