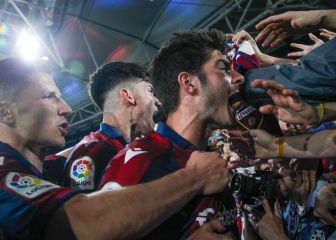 Three seasons ago, Miramón and Melero experienced relegation with Huesca. Tonight They were the heroes of Levante that needed the three points to avoid being doomed to the Second Division. His goals leave the Granota team three points from salvation, in the absence of what happens this day still to play. Poetic justice for a team that has not lowered its arms even in the worst of circumstances and now clings to the dream of Primera.
After a few minutes of suffocating pressure from Levante at the start, with the public overturned in an atmosphere typical of the final, Real Sociedad began to take over the game with Merino and Zubimendi moving the team from side to side in the engine room when the pulsations of the first minutes lowered.
With a one on one raised throughout the field by Alessio Lisciwhen Imanol's strikers managed to control and scan the horizon, a dangerous panorama opened up for the granotas, focused on the pressure and furiously launching the attack. It was all or nothing. Infirmary or large door.
And, despite the fact that Sorloth and Isak accumulated chanceseach one with a shot to the wood of the goal defended by Cárdenas, the truth is that the clearest were accumulated by Moraleswho ran into his good friend Remiro on three occasions, with whom he established a good relationship during his months as a Levantinist.
TAfter leaving the locker room, Levante soon took the lead on the scoreboard. Pepelu leaked the ball, Dani Gómez unloaded upon the arrival of Campaña, who assisted Miramón to turn the Ciutat de València upside down. The goal of hope from a player who is all heart.
But the joys this season last very little in Orriols. After a new shot by Isak to the crossbar, Silva appeared undetectable in the small area to finish off a shipment from Gorosabel at will after capturing the rebound. Imanol already warned him, the canary and ten more was his plan.
Even luck has long since turned its back on pimples. In a muddled play, Roger Martinewly admitted, scored to put the granotas ahead on the scoreboard, but the lineman was right to annul the goal due to a previous offside by Morales.
But almost as poetic justice, Rico committed an innocent penalty precisely on Roger. Melero, holding his breath, surpassed Remiro, holding the goalkeeper until the end. The Ciutat exploded with joy. It is not for less, Levante, despite everything that has rained, is only three points away from making the dream come true. The 'yes you can' was the final fireworks.
Changes
Enis Bardi (61′, Dani Gómez), Gonzalo Melero (62′, Campaign), Roger (75′, Radoja), Shutter (75′, Oscar Duarte), For your (83′, Isaac), Januzaj (83′, Rafinha), Illarramendi (90′, Merino), malsa (92′, Morales)
goals
1-0, 52′: Miramon1-1, 65′: David Silva2-1, 89′: Gonzalo Melero
cards
Referee: Javier Alberola Rojas
VAR Referee: Jose Luis Munuera Montero
Isaac (37′, Yellow) Robert (51′, Yellow) Diego Rico (86′, Yellow) Shutter (88′, Yellow
[