Two important updates will come to the Litecoin protocol in the next version of its software: Taproot and MimbleWimble, solutions aimed at providing greater privacy to your transactions.
Both solutions were confirmed in block 2,249,856mined in the early hours of today, May 3, 2022. At the moment they are only active in the candidate version of the software Litecoin Core 0.21.2rc6. In a few weeks, Taproot and MimbleWimble will be included in the final software version of this protocol.
Litecoin has been going through a validation process of these two solutions by their minerswho to date have indicated their approval by more than 75%, according to Litecoin founder Charlie Lee.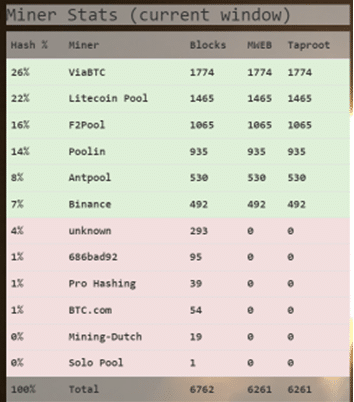 Thus, the Litecoin network adds the Taproot solution, which was previously activated in Bitcoin in November 2021 to improve the privacy and scalability of this network.
Also, it integrates MimbleWimble, which does not exist in Bitcoin because it is difficult to implement in this protocol, according to specialists as Pieter Wuille. This update also aims to improve transaction privacy.
according to the website LitecoinSignalsmajor cryptocurrency mining pools like ViaBTC, F2Pool, Poolin, Antpool and Binance have approved MimbleWimble and Taproot alikeas has been trending among miners since the beginning of this month in various signaling periods.
Regulatory Measures Put Litecoin User Privacy at Risk
According to the Litecoin code repository for the MimbleWimble update, there are user privacy risks in the current version of this protocol that make it necessary to implement this solution:
"Due to the transparent nature of the transaction ledger, this history can be publicly tracked. This affects the fungibility of Litecoin in many ways. Personal information is collected from IP addresses, exchange houses (exchanges) or businesses, which once filtered can be related to your addresses [de Litecoin].

Also, data analytics services award risk points based on whether a banned address appears in your transaction history. This results in some businesses treating these coins as "tainted" and returning them to their owners, or worse, confiscating them. This seriously affects the functional fungibility of Litecoin in a world regulated by governments."

Litecoin.
"A solution to this problem is to create private transactions, for example, hiding the amounts sent in a transaction," they detail.
CriptoNoticias has followed up on this Litecoin update, pointing out that now this protocol could enjoy as much privacy as Monero, although these privacy features are purely optional for users.