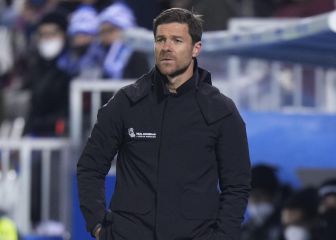 The '€100M club' resolves its future
Kylian Mbappé, Erling Haaland, Vinicius Jr., Mohamed Salah and Harry Kane. These are the names of five of the best players in the world, but also those of the only footballers whose market value amounts to 100 million eurosaccording to the appraisal of Transfermarkt. Several of them aimed to be the soap operas of the summer, but before the arrival of June they have resolved their future.
Erling Haaland was the first to dispel doubts by signing for City and giving Guardiola his great wish: to have a pure '9', one of the best in the world, moreover. Kylian Mbappé was the next to close the doors, renewing with Paris Saint-Germain. The last one has been Mohammed Salahwhose name was on the agenda of many sporting directors when the contract ended in 2023, but who made it clear before the Champions League final that he will stay at least one more year at Liverpool. Finally, Vinicius Jr. will continue to wear the Real Madrid shirt in complete safety and harry kane aims to do the same with Tottenham, since They have achieved a Champions League place and that Guardiola's City has ruled out their signing with the addition of Haaland.
[